Photos: Super League
By Kent Gray/Triathlon.kiwi
A short chute, or lack thereof, has given short shrift to Hayden Wilde's bid to repeat as Super League Triathlon champion in Saudi Arabia overnight.

The Kiwi No.1 has had to settle for second at the season decider in Neom and second overall in the series after Eagle Leo Bergere made the most of a short chute on the final 1.6km run to win the day and the season.

Unbelievably, the Bahrain Victorious Scorpions decided not to give Wilde a short chute that he'd earlier earned the team, a decision which ultimately saw him finish nine seconds adrift of the Frenchman and four points back overall.

Bergere was stunned by the Scorpions decision but not half as much as Wilde who was visibly upset as he crossed the finish line in the Saudi desert, sidestepping assistant coach Michael Gilliam's attempts to explain and console.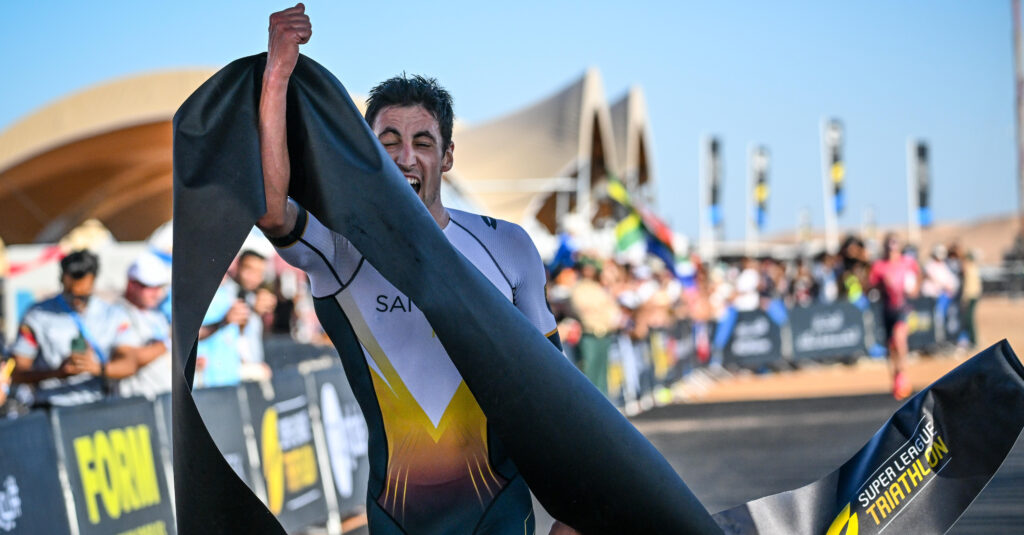 There was eventually a smile from Wilde but it couldn't hide the hurt of the back end of a season that started so well but tapered away. Added to his injury enforced DNF at the Paris Olympic test event, an off-key performance at the World Triathlon finals in Pontevedra and a transition bungle at SLT Toulouse and Wilde hasn't had much to cheer about in the past few months.
There was fiscal compensation in the form of US$50,000 – $15,000 for the race and $35,000 for his series runner-up effort. Added to his previous race earnings it sees the Whakatane 26-year-old bank US$76,000 (NZ$130,398) in individual earnings plus a share of the $80,000 the Scorpions scooped for second the teams championship behind the last gasp Eagles.

Tayler Reid helped the Scorpions with his gritty 7th place in Neom to move up two places to a noteworthy 8th overall. Partner and fellow Scorpion Nicole van der Kaay, battling illness like all three Kiwis in Neom, was 14th in Neom to finish 15th overall.
But this was a day that will be remembered for the tactical decisions of the Scorpions after Wilde and Bergere had been inseparable for the first eight disciplines.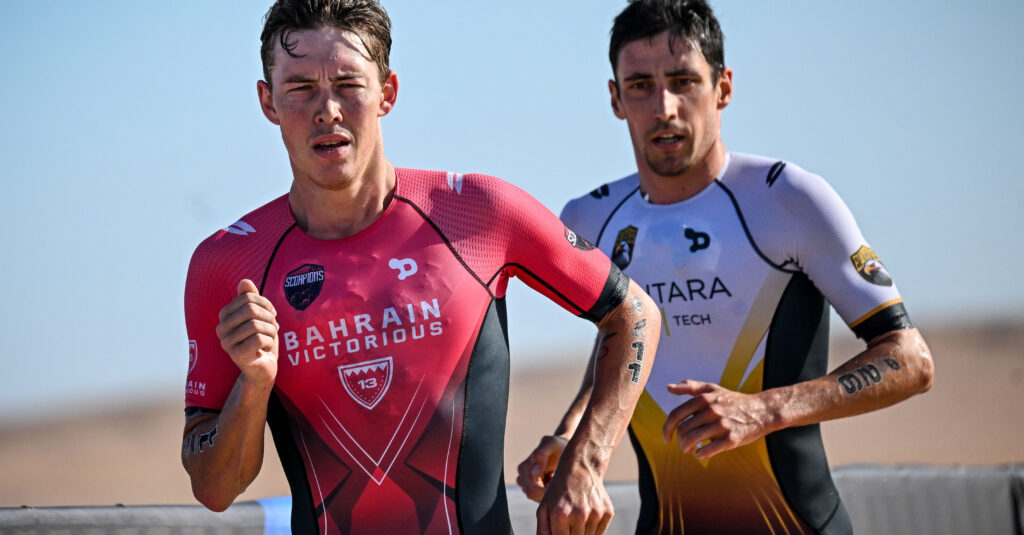 "Until 400 metres from the line I was scared to look behind my shoulder," said Bergere, the 2022 World Triathlon and now 2023 SLT champion

"I knew Hayden would be right behind me, but I could hear my coach Tim Don saying you've got this. And I have to thank Tim, my team and Matt Hauser today for giving me the short chutes, without the help of everyone I wouldn't have had the victory.
"I was quite surprised actually when Tim hold me that I had got a short chute as well, in my mind it was going a bit crazy at this time because I was sure Hayden got the short chute, I saw him being first at one point.
"I was like, okay, it changed a little bit the plan, it was in my advantage and I still have to play it smart to win this race. It wasn't easy even with the short chute."
Gilliam handed the Scorpions short chute to Henri Schoeman and it helped the South African finish sixth behind Bergere, Wilde, Alex Yee, Matt Hauser and Kristian Blummenfelt.
The women's race was won by Frenchwoman Cassandre Beaugrand while Kate Waugh's second place earned the Brit the overall title with Beaugrand ineligible and Beth Potter out injued.
"Going into today's last round, my legs felt so heavy coming out of the swim, so I kept having to tell myself how badly I wanted to win this," Waugh said.
"My form was gone in the last 400m of the final run, but I'm absolutely over the moon [with the series win]."