Photos: Super League Triathlon
By Kent Gray/Triathlon.kiwi
Hayden Wilde finally has something to show for all the form frustratingly wasted by mishap and misfortune in Paris, Toulouse and Pontevedra over the past six weeks.
The Kiwi No.1 has won Super League Triathlon (SLT) Malibu, overpowering Frenchman Léo Bérgere in a foot race denied fans at the previous round in Toulouse by a still controversial transition bungle.
Aussie Matt Hauser was third while Wilde's Bahrain Victorious Scorpions team-mates Tayler Reid and Nicole van der Kaay both finished 11th in the penultimate SLT round early Sunday NZ Time.

Wilde's masterclass in the California "Eliminator' meant a repeat of his Malibu victory last year and has seen him soar from 11th to 3rd in the overall standings behind Bérgere and Brit Jonathan Brownlee.

It gives the Whakatane 26-year-old the chance to repeat as SLT champion heading into the finale at Neom, Saudi Arabia on October 21. More importantly, it gives Wilde a shot at finishing on a high a season that hasn't been bad but could have been so much better.
Since claiming the World Triathlon Sprint Championship and a Mixed Relay silver medal in Hamburg in mid-July, Wilde has been down on luck. A slow speed bike crash in the dark riding to the Olympic Test event sparked the tough period, leading to his withdrawal on the run in Paris and a DNS at the SLT opener in London.

The lost World Triathlon Championship Series (WTCS) points in Paris also came back to haunt Wilde at last weekend's WTCS decider in Pontevedra where a poor swim and a penalty for a dropped swim cap contributed a 10th place finish. With that, Wilde was left to contemplate finishing 3rd and 2nd in the past two world championships he could just as easily have captured.

Throw in the Toulouse fiasco, where both Wilde and Bérgere mistakenly rode through the final transition but only the Kiwi was penalised, and it was little wonder Wilde was fired up in Malibu.
"I'm stoked eh," Wilde said after Sunday's sweet payback.

"Really since Paris I've been on a downward slope, just with unfortunate mishaps and mistakes on my behalf as well, so it's just nice to actually put a race together that I know I'm capable of and stoked to do it again here in Malibu."

Wilde had to fight back from 20 seconds down and 16th (out of 20) place after the opening 300m swim off Zuma Beach to set up his day, trademark pedal power and foot speed eventually seeing him win the first of the three rapid-fire stages.

Out of the water 5th with a stronger swim, Wilde also won stage 2 but the combined 9sec and 11sec buffer he took over Bérgere and Scorpions team-mate Henri Schoeman respectively into the pursuit start of stage 3 was gone before the first buoy in the choppy surf.

It didn't help that Scorpions assistant manager Tim Ford had handed South African Schoeman the short chute Wilde had won for the team by winning the stage 1 run, nor that Eagles manager Tim Don wasn't about to deny Bérgere the short chute he claimed winning the opening bike leg.
But the determined Kiwi pushed the pace on the final bike leg, strategically tucked in behind Bérgere down the back straight and then escaped transition quickest. The Frenchman turned early at the short chute but Wilde sprinted to quickly close the gap and made his winning surge down the back straight on the first lap of the run.
"The whole time I knew I wasn't really in a strong position. The first two rounds I just needed to get time to get myself into a good position into the water [for the third and final stage].

"It was really choppy; it was just luck of the draw out there. I had a real good second swim and Henri [who eventually finished 4th] got onto my feet straight away, we worked together for a couple of rounds on the bike which was really nice and I told him on the run on the second round, just sit on me as long as you can, I'll take the head wind and just get some points for the team and he held on really nicely and yeah it was good to get some points."

The Kiwi laden Scorpions will go into the final round with a shot at majority share the teams' prize-money courtesy of their great day in Malibu and a stinker for the Sharks. The Sharks still lead on 297 points with the Eagles and Scorpions poised on 282 and the Warriors languishing on 183.
In the individual standings, an athletes best two results plus their finish in Neom count, meaning Wilde's 4th in Toulouse and win in Malibu has taken him to 27 points. Bérgere sits top with 29 of a possible 30 points with Brownlee on 28. Alex Yee, 6th in Malibu, is 4th on 26 points with Schoeman 5th on 25, meaning it will again come down to Neom.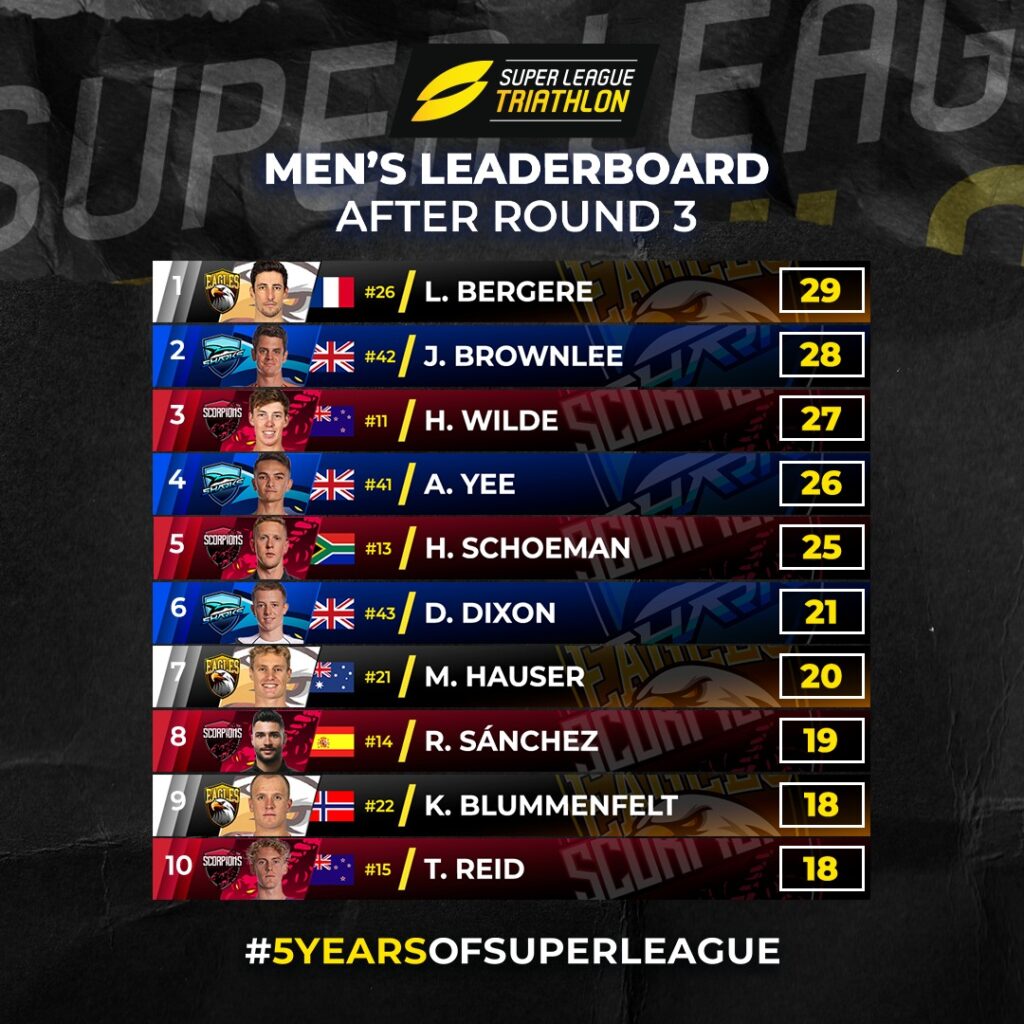 London bronze medallist Reid remains 10th overall on 18 points. The Gisborne 26-year-old had his moments in Malibu including using his surf lifesaving pedigree to catch a big wave and lead out of the water following the stage 2 swim.
Van der Kaay's 11th was especially gritty after she exited the first swim 17th – 20 seconds behind. The Taupo 27-year-old fought to 13th place after stage 1 and up to 8th after stage 2 with a stroger swim but all that effort combined meant she started 11th of the 14 remaining women in the pursuit start.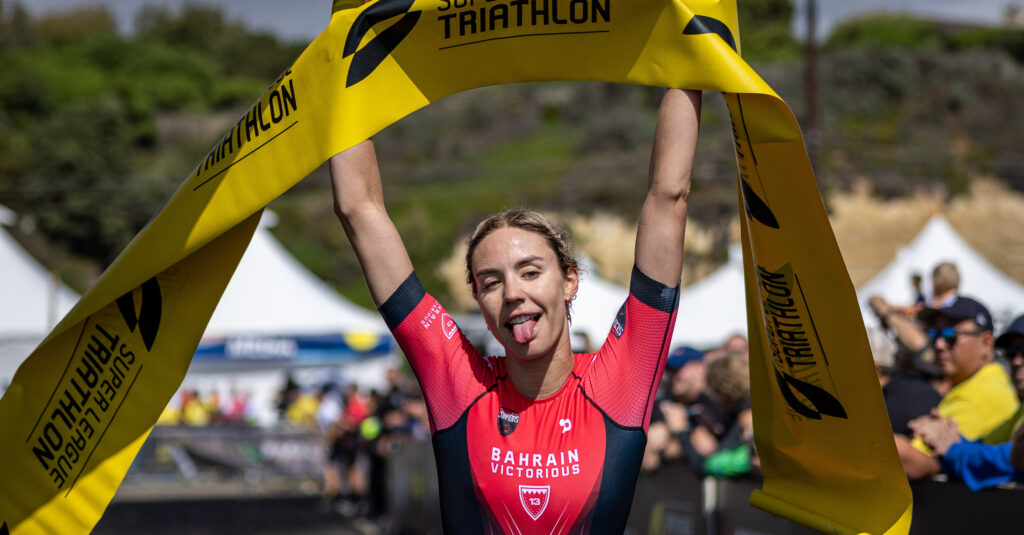 Van der Kaay held that position to the end, eventually finishing 90s adrift of Cassandre Beaugrand in the final wash-up as the Frenchwoman marked her SLT season bow with victory for the Scorpions.  Compatriot Emma Lombardi and Luxembourg's Jeanne Lehair rounded out the women's podium and will start the Neom decider in 2nd and 1st places overall respectively.

After placing 9th overall last season, van der Kaay will travel to Saudi Arabia in 14th and keen to put a challenging end of season run of results right.
The final word in Malibu went to Wilde whose winner's interview was delayed as a bloodied and throbbing finger was patched up in the medical tent. We're not 100 percent convinced the backstory stacks up but we loved the humour in his response nonetheless.  
"Ah, yeah nah, sweet as," Wilde said when the interviewer asked if he was okay.

"I can feel this [finger] beating more than my heart currently. I did it last week, I cut myself with my razor trying to shave my beard, cause I get so much growth, and when I did my transition I just opened it up again but it's fine."