By Triathlon.kiwi
Ange Keen is celebrating a third world title in fourth months after New Zealand scooped 11 medals – five of them gold – on the final day of the World Triathlon Age Group Championships in Spain.

The Rotorua Constable won the 35-39 age group Aquabike title in Pontevedra to go with her Super Sprint Triathlon victory on Friday and Cross Triathlon title at the World Triathlon Multisport Championships in Ibiza in early May.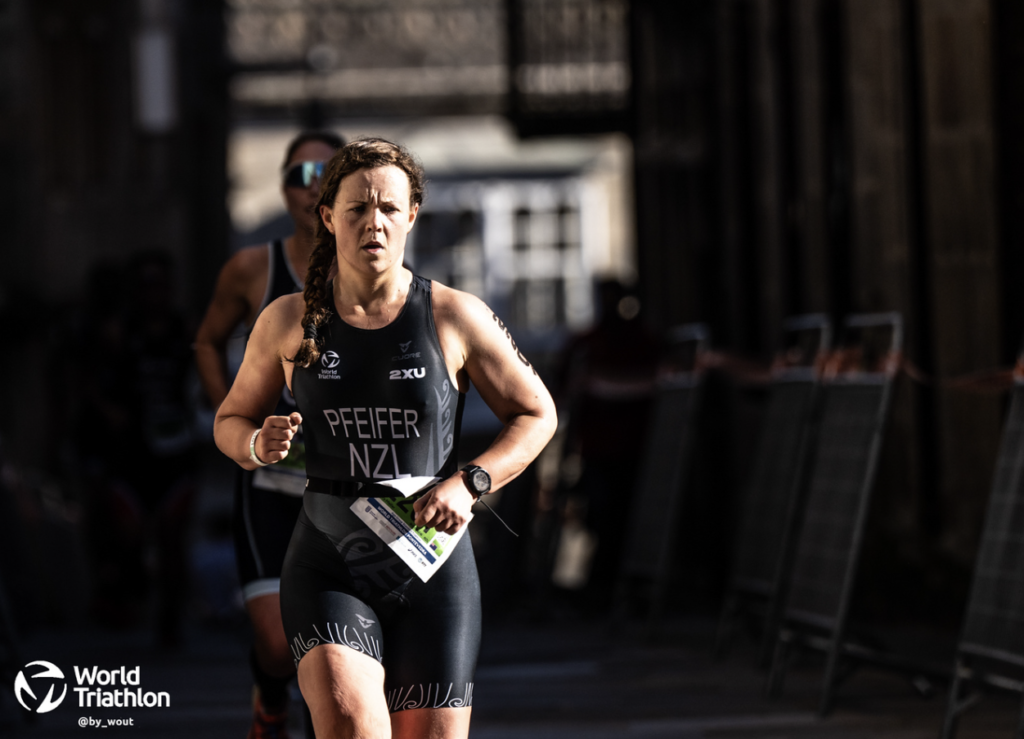 New Zealand's other gold medals Sunday were snared by Triathlon Tauranga's Edward Fuller and Sarah McClure (Canterbury Triathlon Club) in the 18-19 and 20-24 age group Aquabike and Emma Payne (Auckland City Triathlon Club, pictured below) and Laura Pfiefer (Canterbury) in the 20-24 and 30-34 Standard Distance Triathlon races respectively.

There were Aquabike silver medals for Joy Baker (Taranaki Triathlon Club), Liam Miller (Triathlon Tauranga) and Terry Jack (North Harbour Triathlon Club) and aquabike bronze medals for Nikita Coleman (Tri Tauranga) and Dave Bradding (ACTC).

For Baker and Miller, the performances backed up gold and silver medals respectively in the Super Sprint Triathlon on Friday.

Mike Trees secured silver in the 60-64 Standard Distance Triathlon ahead of North Harbour Triathlon Club mate and Team NZL flag bearer Stephen Farrell in 5th. It reversed their 2nd (Farrell) and 4th (Trees) places in the Super Sprint Triathlon.

Fuller has juggled studies with triathlon all the way to and including in Pontevedra with the Canterbury University Engineering student completing a chemistry exam in Spain before his golden race.
"There have been some late nights on rollers and indoor training during winter," Fuller said of sqeezing training around lectures and tutorials – and the all-important uni social life.

"I fit in some downtime during training like watching movies on the indoor trainer. I tried to ramp training up during holiday breaks but still managed to fit in social life with mates."

NZL finished the World Triathlon Age Group Championships with a total of 15 medals after Baker and Keen headlined a five medal haul on Friday.

World Triathlon Age Group Championships – Kiwi Results from Sunday (local time)

Standard Triathlon
Female
20-24
1st: Emma Payne (Auckland City Triathlon Club) – 02:24:14
30-34
1st: Laura Pfeifer (Canterbury Triathlon Club) 02:17:07
33rd: Tegan Harrison (Canterbury Triathlon Club) 02:47:41

40-44
35th: Mitzi Taylor (Canterbury Triathlon Club) 3:00:03

50-54
34th: Jo Baker (Triathlon Hawke's Bay) 2:51:17

55-59
41st: Sue Abraham (Tri Wellington) 3:17:41

60-64
13th: Catherine Alderton (Tri Wellington) 2:51:19
Male
20-24
9th: Ryan Williams (North Harbour Triathlon Club) 2:10:04

25-29
35th: Ollie Brazier (Tri-Sport Taupo) 2:21:28

30-34
22nd: James Thorstenson (Overseas) 2:16:27

35-39
23rd: Paul Preston (Southland Triathlon Club) 2:16:44

40-44
4th: Brad McNamara (Triathlon Tauranga) 2:10:12
9th: Robin Harris (Overseas) 2:11:38
18th: Chris Thomson (Tri Wellington) 2:15:33

45-49
55th: James Madden (Auckland City Triathlon Club) 2:36:36

50-54
DNS: Jerym Brunton (Auckland City Triathlon Club)

60-64
2nd: Mike Trees (North Harbour Triathlon Club) 2:16:32
5th: Stephen Farrell (North Harbour Triathlon Club) 2:20:23
71st: Conrad Young (Overseas) 3:22:24
***
Standard Aquabike
Female
18-19
3rd: Nikita Coleman (Triathlon Tauranga) 2:00:05

20-24
1st: Sarah McClure (Canterbury Triathlon Club) 1:31:22

35-39
1st: Ange Keen (Taranaki Triathlon Club) 1:34:59
 
70-74
2nd: Joy Baker (Taranaki Triathlon Club) 2:02:26

Male
18-19
1st: Edward Fuller (Triathlon Tauranga) 1:31:20

20-24
2nd: Liam Miller (Triathlon Tauranga) 1:25:13

40-44
2nd: Terry Jack (North Harbour Triathlon Club) 1:24:03
DNF: Tom Burgess (North Harbour Triathlon Club)

50-54
14th: Neil Baker (Triathlon Hawke's Bay) 1:41:49

60-64
3rd: Dave Bradding (Auckland City Triathlon Club) 1:34:22

65-69
6th: Niels Madsen (Tri Wellington) 1:44:35
DNF: Malcolm Elley (North Harbour Triathlon Club)