Photos: World Triathlon
By Kent Gray/Triathlon.kiwi in Paris
First Hayden Wilde crashed en route to the race venue and then Tayler Reid started mysteriously puking after setting up his bike and running kicks in transition.

The imperfect lead-in to the Olympic test event ended miserably for Wilde who had flexed his pedal power to get back into the standard distance dress-rehearsal for Paris 2024 only to WD a few metres into the run when a muscle, the right hip flexor perhaps, painfully protested.
Fortunately Reid was able to battle through, capitalising on another trademark front of pack swim to finish 25th. Dylan McCullough was 41st on a day dominated by Great Britain's Alex Yee ­­and misfortune, the latter though a Kiwi lens at least.

"I was pretty close to not starting, saved by Dr Sam Mayhew and the coaches, they were a bit concerned," Reid revealed afterwards.

"I just set my stuff up in transition and then I just started throwing up which is crazy, that's usually an after race thing. I don't know what caused it, maybe the tummy was a bit off but it didn't seem to affect me too much today.
"From potentially not starting to having a decent race, I can't really complain about that."

Indeed, Reid had every reason to be "reasonably happy" with his result and happier still with his race execution.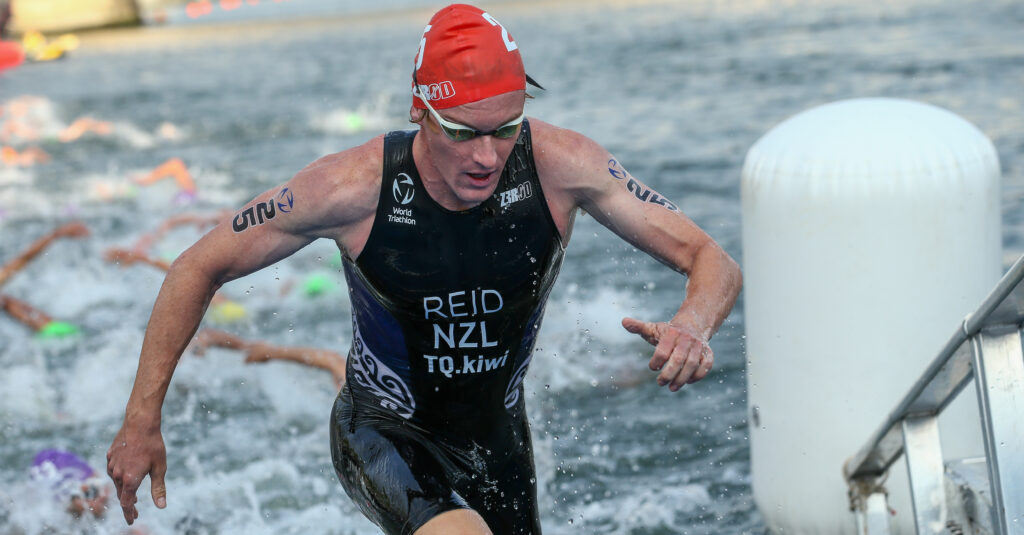 The Gisborne 26-year-old was fifth out of the River Seine, kept his nose clean in the huge front peloton and then ran a 31:07 10km despite whatever energy reserves he lost courtesy of the mystery vomiting.

Yee ran to gold with a 29 minute flat split with Vasco Vilaca (POR) and Dorian Coninx (FRA) rounding out the podium.
"I couldn't have done anything else today, I think I raced as perfectly as possible and that's where it gave me today. I was really happy with how I executed," Reid said.
"The swim, I had a great pick of the start [position], started in the middle and I think I was maybe third to the first buoy and that gave me a pretty easy swim which is cool. I bet a lot of guys behind me were fighting and I just had a clear path to follow and found myself really comfortable."
The next part of Reid's race debrief gave a fascinating insight into how next year's Olympic race is likely to pan out.

"The swim set me up for a great position and the bike was really easy, just because the course was so fast and the group was so big.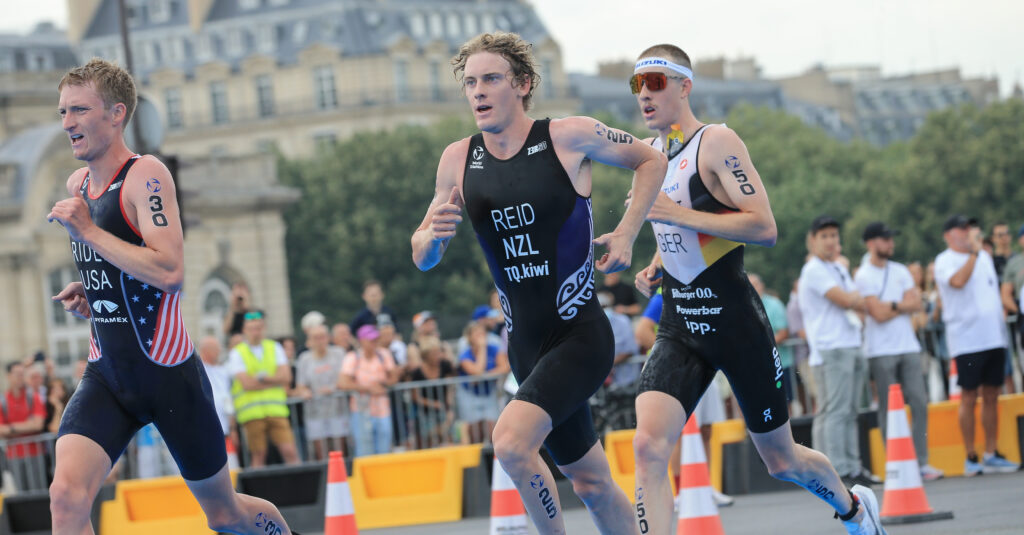 "The main thing was just positioning which was a skill in itself, staying towards the front of the group was super important because if you are in the back it is really hard. Staying in the front is a bit of an art… you've just got to not touch the brakes and you've got a bump a few shoulders, you've got to risk crashing to stay there and some people did come down I think but that's just part of it."
The run, as evidenced by Yee's time, will be fast in 12 months time. Reid just hopes he gets the chance to test his legs on the Parisian roads again with the second Kiwi nomination behind Wilde for the XXXIII Olympiad still up in the air.  
"It was a weird feeling for me, I just didn't have the legs," Reid said of the run, perhaps hinting at an as yet undetected virus that caused the vomiting.

"Aerobically and breathing wise I was very comfortable which was very strange for me because that's usually the first thing that goes.

"I was so comfortable and I tried to push on but I just didn't have any more legs today. I was happy with the run, I'll be interested to see what the time was, but [ultimately] it's a good starting point and I've learned a lot for next year."
When Reid passed Wilde early on the run, he knew his mate was hobbled and hurting.

"I was gutted for him. I knew he had taken a tumble leading into the race but he's a hard man so…

"I've seen him smash a World Cup the day [after] crashing so it all depends on how you fall. If he pulled up and couldn't finish, he's definitely in a lot of pain so I hope he heals up good."

It seems unlikely Wilde will race Sunday's Mixed Relay, meaning McCullough will probably get his senior debut alongside Reid and two of either Nicole van der Kaay, Ainsley Thorpe or Brea Roderick. The Kiwi quartet won't be finalised until nearer Sunday's start at 8am local time (6pm NZT).
McCullough will be keen for redemption after being among the leading pack out of the water and on the bike on Friday only to fade on the run. He's overdue a relay start too after being denied starts in Montreal and Sunderland by Quebec's wildfires and illness respectively.