Photos: World Triathlon
By Kent Gray/Triathlon.kiwi in Sunderland
When Nicole van der Kaay's hands slipped off her handlebars and sent her tumbling along a greasy road at WTCS Montreal in late June, the sudden state of shock quickly gave way to frustration and soon afterwards, embarrassment.

The Kiwi No.1's rookie error had been not to scrub all the baby oil off her hands, applied pre-race to ease herself into her wetsuit. Mix in the rainy race day, a literal bump in the road and all van der Kaay could do was get up, dust herself off and eventually limp home in 42nd.

It was a blow following a ho-hum 27th at WTCS Yokohama six weeks earlier and before that 48th at the previous season's grand finale in Abu Dhabi, where van der Kaay suffered so badly from stitch she was forced to stop and walk during the run. Indeed, the road-rash van der Kaay suffered in Montreal wasn't half as bad as the bruising her psyche was taking.
RELATED: Under-the-weather Wilde 'proud' of Sunderland bronze as French resistance strengthened ahead of Paris Olympics

The weird bit was she knew her form was good. A perfect five start-five win Oceania campaign didn't so much hint that as it shouted it from the rooftops. Yet the results in Abu Dhabi, Yokohama and Montreal threatened to spiral into a worrying trend of under whelming performances at the top level and ramp up the Olympic qualification blowtorch as a result.

Luckily, you are only as good as your last race in triathlon, or in the Taupo 27-year-old's case, her past two starts.
After claiming 6th at the World Triathlon Sprint Championships in Hamburg a fortnight ago, the Tokyo Olympian backed up with 8th at WTCS Sunderland on Saturday (early Sunday NZT).


The significance of her gritty run in Sunderland cannot be understated; a second top 8 at WTCS level means van der Kaay has achieved the secondary qualifying criteria for next summer's Games in Paris.

For van der Kaay, the most pleasing aspect was that she produced despite being below her best, the result of all those energy-sapping races in Hamburg (including anchoring NZ to silver in the mixed relay) and another nagging stitch. Not to mention being caught up in the washing machine during a buoy rounding in Sunderland Harbour.

"Today I was actually feeling pretty rough to be honest, so I'm really happy to get 8th," van der Kaay told Triathlon.kiwi.

"I had a fairly good swim start and then an elbow came into my eye and I had to stop twice to put my goggles on. Then I was still close enough, struggling on the bike but strong enough to hold on and in the run, I just happened to have a low-grade stitch so I'm just really, really happy to get that 8th.

"I really had to fight for it. I was lucky it wasn't as bad as Abu Dhabi where I had to stop and walk, so I'm very thankful for that and yeah, stoked to get that top eight."

A French 1-2 by Pierre Le Corre and Léo Bergere in the men's race (ahead of Kiwi Hayden Wilde) was replicated by Cassandre Beaugrand and Emma Lombardi in the later women's race.

Beaugrand increasingly looks the standard bearer for Paris, though the likes of Beth Potter and Taylor Spivey, absent in Sunderland, will likely argue that in coming races. Still, like Wilde, van der Kaay knows how high the Olympic bar is being set and is grateful to have her nomination to the NZOC all but sown up.
It means she can focus on increasing her swim and bike strength without selection stress. The trick now is getting the first two disciplines to click so van der Kaay can cash-in with her run prowess in a big race.

"It's great to get that done," she said of meeting the Olympic Games criteria.

"I was definitely counting out there [places on the run], I was feeling pretty rough so I was giving it my all to get that second top eight.

"I think that's what makes those places even better, when you actually have to fight, you're not feeling your best.
"Even on not a great day, I was still good enough to get that position so really happy with that and it takes a bit of pressure off so I can enjoy the next few months."

Brea Roderick is another Kiwi enjoying herself immensely, the Cantabrian claiming a career-best 28th ahead of Kiwi No.1 Ainsley Thorpe in 42nd place.

Roderick hadn't anticipated racing at WTCS level this year but was subbed in for Olivia Thornbury in Montreal where she finished 42nd individually and has not looked back since.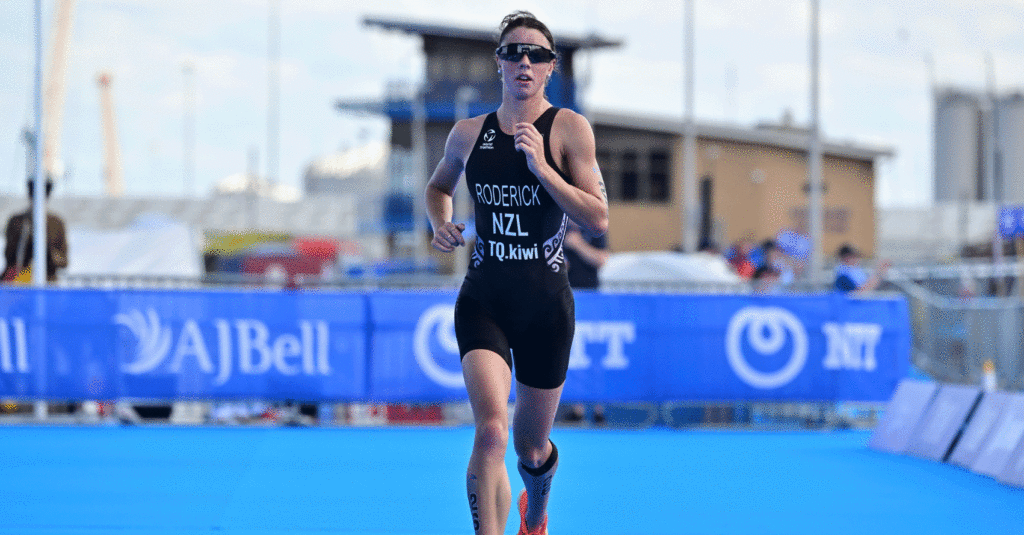 The 21-year-old was 41st in Hamburg and pivotal in the NZL team's run to bronze in the U23 relay. Her reward for another eye-catching performance in Sunderland is the chance to anchor the senior team in Sunday's relay (early Monday NZT) alongside Tayler Reid, Thorpe and Dylan McCollough with van der Kaay and Wilde named as reserves.

Like Roderick, McCullough will race the relay fresh from a WTCS best 12th on Saturday. Reid was 18th while Thorpe will look for a repeat of her Hamburg relay heroics.

Saxon Morgan completed the Kiwi results in Saturday's individual races. The Cantabrian's 33rd wasn't his best result at WTCS level though his 25th at Hamburg in 2021 came with a COVID-era asterisk.