Photos: World Triathlon

By Kent Gray/Triathlon.kiwi in Sunderland
As the new pole-sitter in the World Triathlon Championship Series (WTCS) standings with two rounds to race, Hayden Wilde will leave Sunderland with exactly what he came for. What the Whakatane 25-year-old perhaps hadn't anticipated was also departing with a fresh reminder of the vast French resistance rallying against his world championship and longer-term Olympic ambitions.

Wilde had started Saturday's sprint race as the warm favourite courtesy of his tactical masterclass to clinch the World Triathlon Sprint Championship in Hamburg a fortnight earlier, coupled with the absence of Alex Yee and Matthew Hauser in England's North East

Clearly, that 'man to beat' memo got through to Pierre Le Corre and Léo Bergere who secured a French 1-2 in Sunderland, conspiring to out kick Wilde late in the 5km run.
RELATED: Van der Kaay meets Olympic qualifying criteria with gritty 8th in Sunderland
Wilde's bronze headlined a memorable day for the Kiwis in Sunderland with Nicole van der Kaay's gritty run to 8th her second successive top 8 at WTCS level, ticking off the secondary Olympic qualification standard. There were also career best WTCS 12th and 28th placings for Dylan McCullough and Brea Roderick respectively while Tayler Reid mixed it up early en-route to 18th. Saxon Morgan's 33rd was arguably his finest effort at World Triathlon's top level, albeit not on paper, while Ainsley Thorpe battled to 42nd after suffering a dunking during a buoy rounding off Roker Beach.

While Wilde wanted gold, third place at WTCS level is never to be sniffed at, especially not when it emerged afterwards that he's been battling an actual case of the sniffles since Hamburg.

Added to his Yokohama and Hamburg golds, and a Cagliari silver in between, a fourth successive podium makes for impressively consistent reading and means he can officially discard his deflating (as in a flat tyre) 46th in Abu Dhabi to open the season.

Indeed, with just Paris and Pontevedra to come, Wilde has now overtaken Portugal's Vasco Vilaça atop the world championship standings and is ideally placed to avenge his last gasp slip to third overall in last year's WTCS.

Still, every race from now to next summer's Paris Olympics will see the French target Wilde, Yee and Hauser with sortie-after-sortie of rich swim, bike and run talent.

If it's not reigning world champion and bike beast Bergere, it's Vincent Luis or Dorian Coninx. And now, it seems, Le Corre. As they had in Abu Dhabi in the 2022 WTCS finale in Abu Dhabi, the French were sitting-in-wait for Wilde, as Le Corre admitted after snaring his maiden WTCS gold.

"I train with Léo all the summer, and we have a special 'Hayden Wilde' training session – we have trained for this situation, so we knew when we should attack him," Le Corre said.

"We played his game and it worked. I have been waiting five years for this [first WTCS victory], so I am really happy today."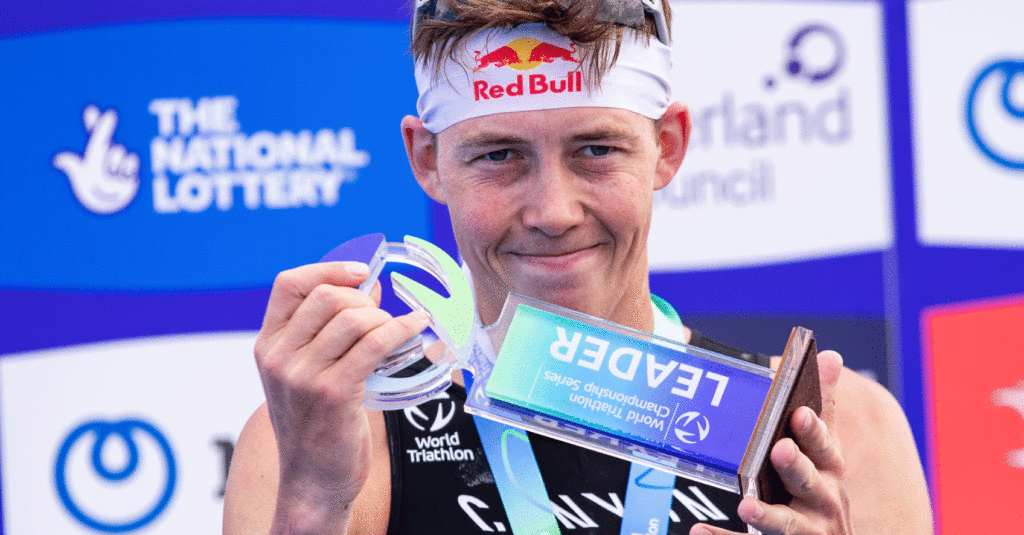 Wilde was 14 seconds adrift out of the water and made to work hard on the tight, technical and undulating bike course to bridge the gap to Bergere, Le Corre and Reid off the front. But after another sublime T2, it seemed Wilde might run away with the race. That bug he picked up in Hamburg and the equally pesky French meant it wasn't to be.

"As you saw I went out pretty hard [on the run] and I actually felt pretty good [but] it just went backwards from there," Wilde told Triathlon.kiwi

"I attacked right at the top [of the cliff leading down to the finish chute] to get pole position into the turn, into the downhill…but I didn't have anything at the end so I was happy to hold for third."

Wilde, as ever, was refreshingly honest and gracious in defeat, not that it felt like that to him with the beauty of hindsight.
"Even though the result wasn't what I wanted, you always want to come first, but I'm actually really happy with how I got to third today," he said.

"Since Hamburg I've been on quite a big high and it's really hard to recoup from that. I think from the six races in a few days [five in Hamburg plus Sunderland] and seeing a lot of people around, I actually got a little bit sick after the race and I've had that bug for about two weeks now… it's kind of just stayed in the nose.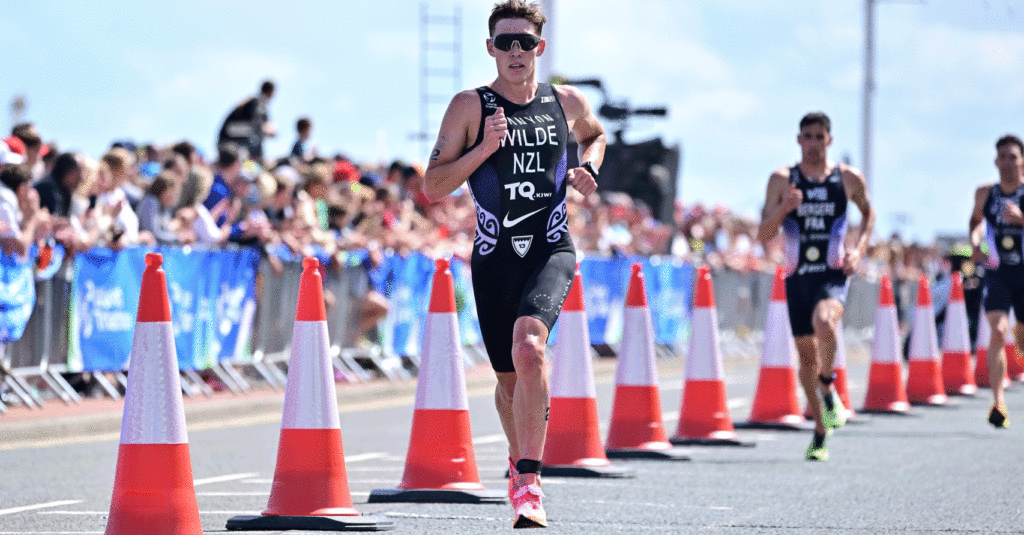 "Training's actually gone really, really well. I went back to Andorra and the feeling was good but the recovery was shocking and after every day out on the saddle, I just came home and would be super tired. It took me a good three or four days to recover leading up to this race, so I'm feeling really good to put a result out there that I'm pretty proud of. I gave it everything until the end and kudos to the French boys, they did an amazing job."

Indeed. Expect the French might and team tactics to only strengthen Wilde's resolve. He went too close to the world title last year not to fight till the final tape in Pontevedra this September and is desperate to add Paris gold to his bronze at the 2020 Tokyo Olympics.

Next up is the Paris test event from August 17-20. Not that it is in any doubt, but Wilde can secure his nomination to the NZOC by being the first Kiwi on any step of the podium in the romance capital. More important will be the counterstrike to the French 1-2 in Sunderland, especially over the longer standard distance.

"Yeah definitely, it's big points there [in Paris]. This is only 75 percent points so in some ways it was just a replacement for my Abu Dhabi race and I'll be looking to Paris to have a better result there.

"We reassess till Paris and go from there."