Images: World Triathlon


By Kent Gray/Triathlon.kiwi in Hamburg
Hayden Wilde piled a tactical masterclass on top of trademark display of Whakatane-fuelled grit to run away with the World Triathlon Sprint Championship on Saturday. Then he whipped off those super swift kicks of his and picked one to wash down the golden moment with a classic Antipodean shoey.

Wilde's beer-soaked celebration capped another red-letter day for New Zealand triathlon after the NZL team of Dylan McCullough, Brea Roderick, Saxon Morgan and Hannah Knighton had earlier clinched a brilliant bronze medal in U23 Relay Championship in Hamburg.

"You kind of keep forgetting it's World Champs eh, you are just so focused on the job at hand," Wilde said, in his typical down to earth way, not long after snatching one of the sweetest tapes of his increasingly impressive career.

"I've been training in Andorra for the last 10 weeks and for me it's a new area. So, if I did absolutely terrible, it might have been a bad decision but it looks like it's paid off pretty well. Just stoked to win and to take the world title."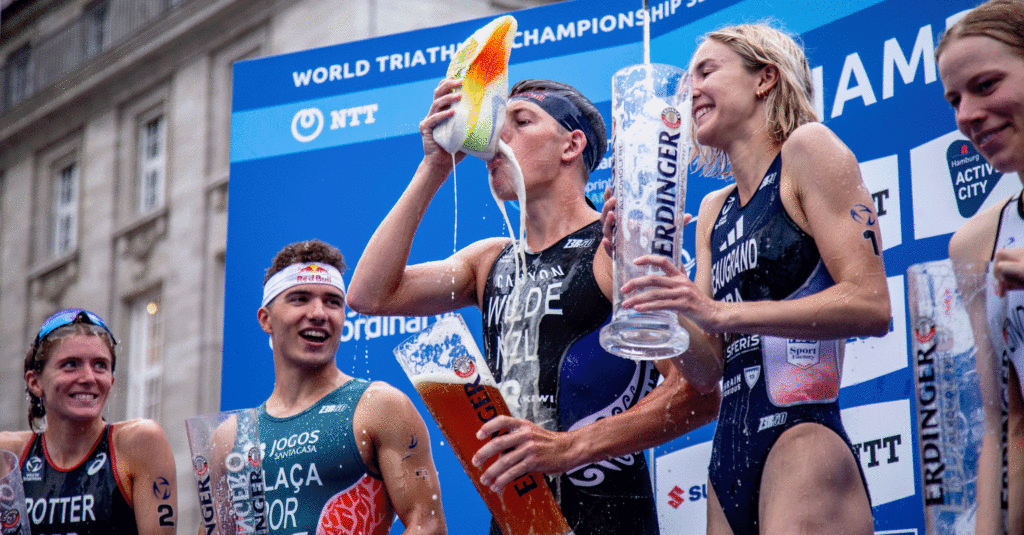 The Kiwi No.1 had to dig deep to advance from the first of Saturday's three stage finale, a lung-busting eliminator format where the 30 qualifiers found on Friday where whittled down, 10 at a time, to leave that number fighting for the title in race three.
A poor swim in stage 1 meant Wilde had to use all his pedal power to bridge a big gap to the leaders but any fear the early exertion might haunt him later proved unfounded. The Maltese/Whakatane Falcon had a plan and executed it to perfection.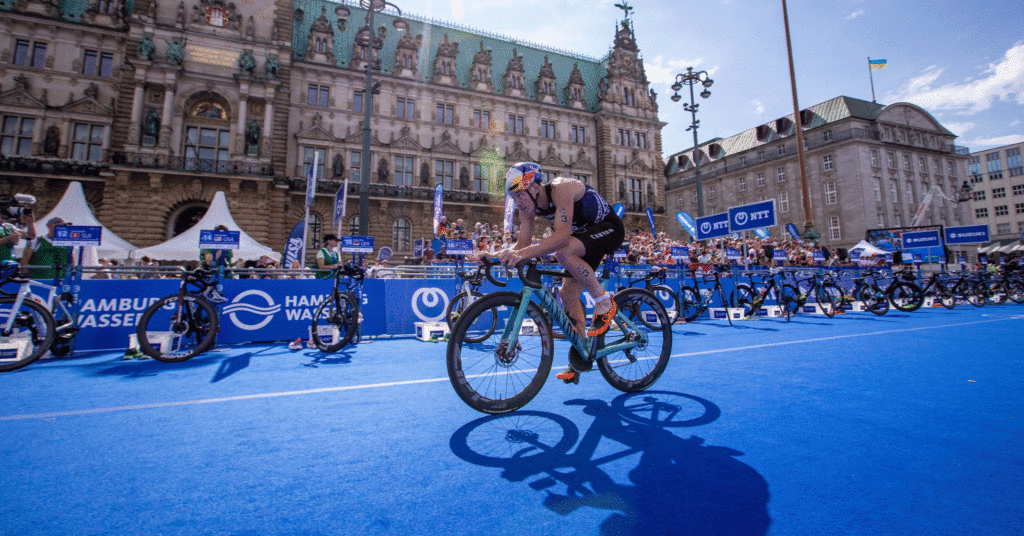 After squeezing out of the tight stage 1 spot, Wilde cruised through stage 2 before unleashing a surprise, last-gasp bike attack he'd cunningly devised with coach Craig Kirkwood. Combined with a lighting T2, it proved the decisive move of the top-10 shootout.

"My tactic, I was talking to Craig, and the plan was if the pace was hot, if I got on a good wheel, surge through that technical section [late in bike course], try and make some sort of gap coming through transition and just cross my fingers that my Islander feet would fit into my Vaporflys and they sure did," Wilde told Triathlon.kiwi.

Indeed, Wilde's T2 was a thing of such blink-and-you'll miss it beauty that it left the stunned superstars behind him essentially fighting for silver with all of the 1.75km run still to race.

"My tactic was always to try and get a couple of seconds swinging round into transition and get away. It was a bit of a gamble and I normally fumble a bit in T2 then it was just keep pushing and keep pushing and got the win. Everyone's upping their game and starting that race it was always going to be difficult to get it done."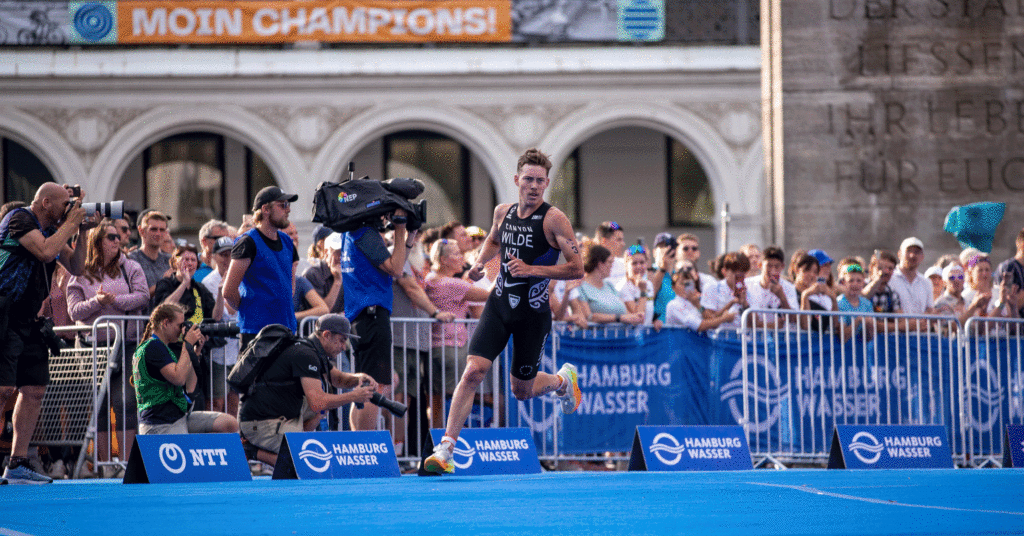 History will show Alex Yee, Vasco Vilaca, Kristian Blummenfelt and Matt Hauser followed Wilde home. It was particularly sweet to get one over his great British rival Yee with Wilde now moving up to second in the WTCS standings behind Portugal's Vilaca. With Sunderland and Pontevedra to come, combined with his statement of intent in Hamburg, Wilde might yet avenge his world title near-miss in last year's WTCS.
"Yeah, it's really nice [to edge Yee] but he's a classy athlete, even the other guys, Matt [Hauser] has been on amazing form, Vasco was there as well, and Kristian the Olympic champ was there, so to get a result on any of those guys is always a good day.

"Yeah, it's nice to get Alex but I've got to look at the rest of the competition as well. It's an amazing line-up and even to make the top-10 is good."

Kiwi team-mate Tayler Reid very nearly did just that, finishing 11th to narrowly miss the top-10 shootout. Still, it was easily the Gisborne star's best result of the year and a timely return to form as the Paris Olympics loom.

Reid's partner, Nicole van der Kaay, also produced her WTCS season-best with a gritty 6th place. After the Taupo 27-year-old's perfect five from five Oceania summer, it was a performance that seemed only a matter of time and could easily have come in the previous round in Montreal save for a spectacular bike crash.

Earlier, Janus Staufenberg and Ainsley Thorpe were eliminated at the first and second stages respectively, Thorpe gallingly so by a single spot after she finished 21st. It was still another huge step in the right direction for the clear Kiwi No.2.

For Staufenberg, the week was a success by simply getting a start off the waitlist. The Southlander capitalised by reaching the final 30 via Friday evening's repechage and as much as he'd loved to have advanced further on Saturday, 27th place on WTCS debut was a brilliant result on a Wilde day for New Zealand in Germany.