By Kent Gray/Triathlon.kiwi in Hamburg
The best way to convince yourself, and plenty of others besides, that you've got a big future in triathlon? Performing on the loftiest of world stages available to you.

Benjamin Airey did just that by claiming 23rd place in the World Junior (U19) Sprint Championships in Hamburg in the early hours of Saturday (NZT).

The 18-year-old Cantabrian topped the Kiwi results on day one of the combined World Triathlon Sprint & Relay Championships in the welcoming German city, finishing just over a minute behind Portugese gold medalists Joao Nuno Batista.

Tauranga's Finnley Oliver, also making its World championship bow, produced an eye-catching swim-bike to be on Airey's tail out of T2 en-route to 46th position. It was highly encouraging considering Oliver is just 16 and has two more years in the Junior ranks.

It was a tougher day for the Kiwi women with Sophie Spencer 25th after getting roughed up in the swim while Boston University-bound middle-distance star-in-waiting Hannah Prosser DNF'd during the bike leg.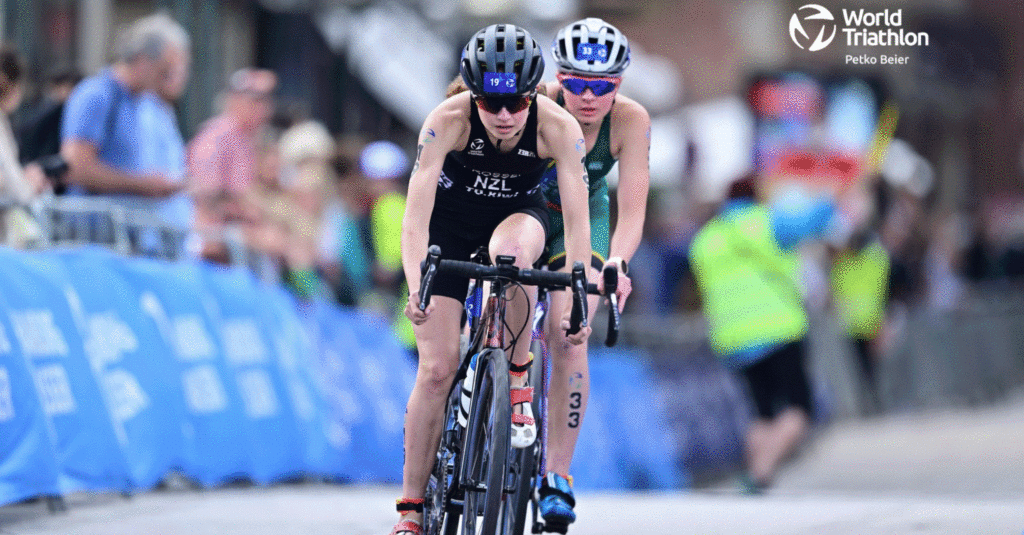 The day though belonged to Canterbury Triathlon Club teen Airey who backed up his 14th place and silver medal performances at European Premier Cup Wels and Holten respectively en route to Hambury.

"Yeah, I'm pretty stokes with that," Airey told Triathlon.kiwi.

"Felt pretty good in all three, swim was a little bit off but we made that up on the bike and just ran pretty solid for me."

Airey was 11th out of T1, 26 seconds down on the leaders but produced a big shift on the bike and a 15:44 split for the 5km run.

It hurt, of course, thought the epic Thursday evening crowds in Hamburg dulled the pain.
"Oh yeah, it was a lot more hectic, a lot more people, the atmosphere was wild," Airey said of the step up in intensity.

"Like, you couldn't hear anything the coaches were saying from the sideline, there was just so many people cheering for us.
"It was just awesome. This makes me very determined to go on next year and hopefully make it again to the Junior Worlds and like, one up my placing I got this year."

Airey is set to return to Christchurch and will reflect on a three-race campaign in Europe that trended perfectly towards Hamburg.

"My campaign in Europe started in Wels, had a pretty decent race, executed well, then we went to Holten, had an even better race, executed that perfectly, I reckon, and this race has just topped it off," Airey said before paying tribute to his supporters' back in Canterbury.

"I'd like to thank my parents for getting me over here, I've really enjoyed it, it's probably one of the best experiences of my life. And yeah, thanks to the Canterbury Tri Club, they're really good supporters.'

Very proud supporters now too.
The good folk at Triathlon Tauranga will be just as happy for Oliver who fought to a position well off the foot of the 67-strong field.

Oliver clocked a 9:22 split for the 500m swim, just three seconds adrift of Airey, the produced a 26:17 time for the 20km bike which proved two seconds faster than Airey.

Full results – Male
Full results – Female