By Kent Gray/Triathlon.kiwi

Hayden Wilde has vowed to fight back after offering a brief but brutally honest "hurt the soul" appraisal of his World Triathlon Championship Series (WTCS) finale performance in Abu Dhabi.

Speaking publicly for the first time since finishing sixth in Sunday's race, which essentially meant he finished 10 seconds shy of claiming the WTCS crown, Wilde said he was "lost for words and trying to find answers…pondering what the heck happened over the weekend."

Wilde went into the season-deciding standard distance race wearing the No.1 bib but finished third overall. It was still an excruciatingly close run thing: had the Whakatane 25-year-old not been overtaken by Aussie Matt Hauser in the last 800m of the run, the title would still have been his.
"Yep, that one definitely hurt the soul but it's made me so much hungrier for next year," Wilde said in summation.

The perplexing thing for the Kiwi No.1 is the near month-long training block he nailed in Abu Dhabi to familiarise himself with the race day conditions.

"After such a positive four weeks in the Middle East, I knew my team was super happy with where I was," Wilde said before rolling into a race debrief.

"The day started well with a strong swim but as I jumped on the bike, it wasn't going to be the day I wanted and unfortunately that's the beauty of sport.

"Feeling completely useless on the bike and not being able to help the chase group on the front I knew it was going to be a game of survival. As the ride finished I started running okay but about 1km in everything fell apart and [I] went into some sort of panic, couldn't breathe and overheated all that drama stuff."
"Had a pep talk to myself while in pain [picture below] pulled myself together and tried to focus on the little things. All of a sudden I started to get back in the game but I was a long way back to being where I wanted to be.
"Kept grinding [but] blew up in the last km and limped home 😅 10secs 1 position short of becoming the World Series champion."
In trademark style, Wilde managed to park the disappointment to praise eventual race and world champion Léo Bergère, along with his great British rival Alex Yee who finished fourth on Sunday and second in the WTCS overall.

"Leo @leobergere, mate, honestly I'm so happy for you mate, congratulations on the world title absolutely well deserved!!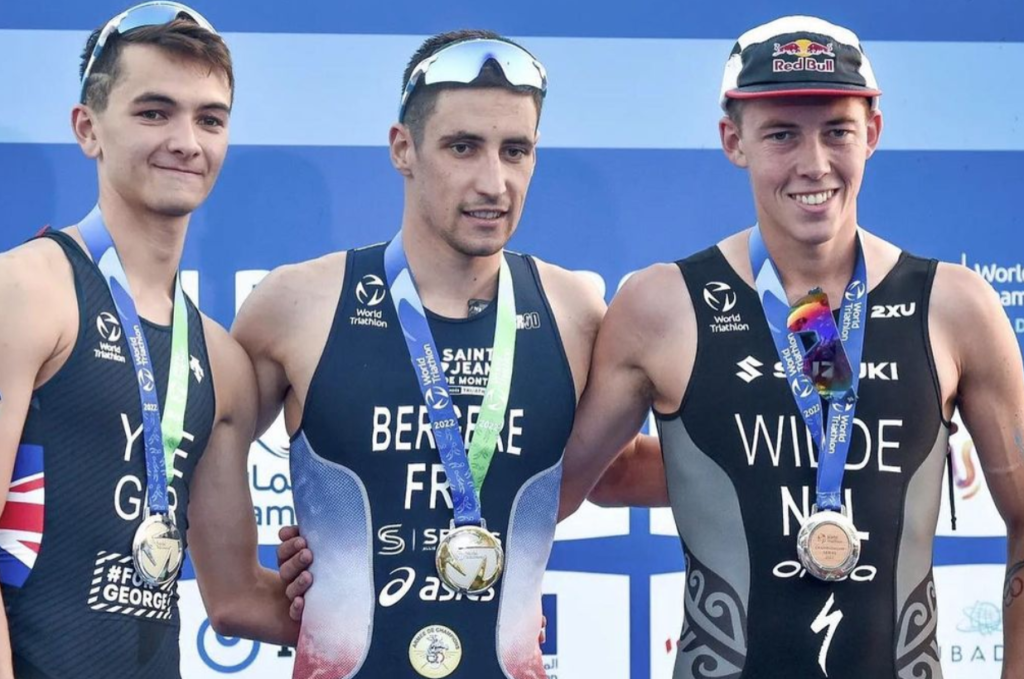 "@lixsanyee what a year mate, legendary status… proud to fight side by side champ."

Wilde is understandably looking forward to Christmas in Belgium with girlfriend and fellow WTCS athlete Hanne De Vet. It is understood the 2023 WTCS opener, by fate of calendar back in Abu Dhabi on March 3-4, will be Wilde's first race back ahead of a star appearance at World Cup New Plymouth on March 26.
"It's been such an amazing year with some awesome results," Said Wilde who finished with Commonwealth Games silver and the Super League Triathlon title in addition to his WTCS bronze medal.

"Disappointed with the way it finished but proud to keep fighting and proud of the season as a whole. Now we keep building.

"I'm signing out having a few beers and going to enjoy some well-needed rest with my favourite person @hannedevet.
"P.S: Huge thank you to my team this year. It's been one heck of a ride and many more years to come. To my new Abu Dhabi family, thank you so much for all your hard work!"