By Kent Gray/Triathlon.kiwi
The legend of Garth Barfoot grows more remarkable with every finish line the gentle and generous Auckland real estate giant crosses.
Tri NZ's inspirational 86-year-old patron added a World Triathlon Age-Group Championship silver medal to his lifetime of business and athletic achievement in Abu Dhabi overnight.
Barfoot completed the 400m swim, 10km bike, 3km run super sprint race on Yas Island in a sizzling 1:19:15 to finish runner-up in the 85-89 age-group to Germany's Manfred Klittich (1:15:12), a relative spring chicken at age 85. American 89-year-old Jim Farr was scheduled to race but didn't start, underlining that making it to the water, let alone the finish chute, is an achievement in itself.
Barfoot revealed his own struggles after a health scare between his World Triathlon silver in Abu Dhabi and becoming the second oldest finisher of the London Marathon in 08:17:19 early last month.
"I've had so many obstacles and things gone wrong with me. Four weeks ago I was in hospital and so to recover and to be able to do the race, it was quite something for me," Barfoot told Triathlon.Kiwi.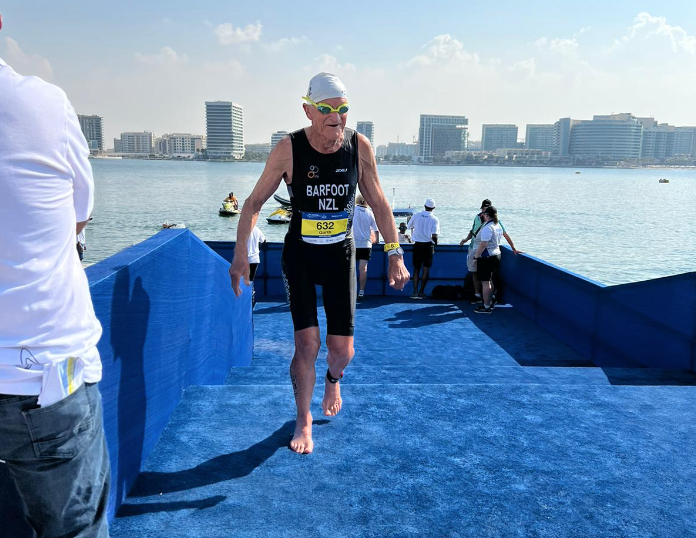 "Even to be able to start… I mean there was [Jim Farr] from the United States and he was very good and he was older than me but his bike was there and he never started. You know, lots of things happen, even for me at my age.
"I'm so lucky. I've had everything…I've got an artificial heart, I've got an artificial hip, I've got glasses, I've got false teeth. The only thing that hasn't been worn out is my knees and ankles, the knee joints and all those muscles in the legs, I'm so lucky that that is fine."
Barfoot is listed to start Saturday's standard distance race – all 1500m swim, 40km bike and 10km run of it. Given the 30+ degree heat, no one would blame him putting his feet up in the stands and cheering daughter Kiri home in the aquabike race after she finished 15th in the 50-54 women's super-sprint on Thursday before cheering Dad home.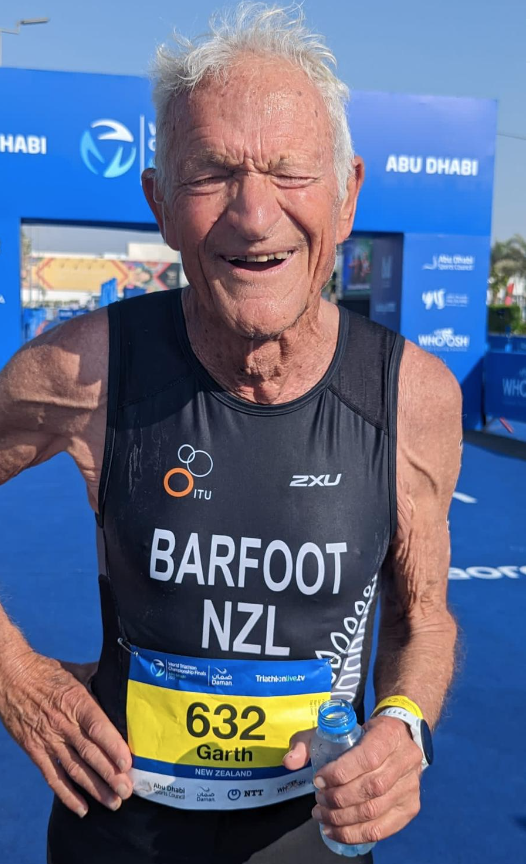 But chances are, Garth, Tri NZ's co-flag bearer with Stephen Sheldrake in Wednesday night's Parade of Nations, will line up. This triathlon lark, which he started at age 55, is super addictive you see.
"I thought this will be my last World Triathlon but of course, it's very tempting when you do so well to keep on going but I don't know about that," he said.
"I did my first ITU (now World Triathlon) event 30 years ago. Then there was no Sprint Triathlon and the oldest age category was 70 plus. I am very fortunate that triathlon has aged up with me. Even now the advent of Super Sprint might be one way of keeping the door open."
The empty step on the podium in Abu Dhabi told a story and so too did the World Triathlon mantra above Barfoot's head. 'Be your extraordinary".
Some, it seems, are a little extra extraordinary than most.