Photo courtesy: Delly Carr/Noosa Triathlon
By Kent Gray/Triathlon.kiwi
In just about every corner of the triathlon world, Shane Reed affectionately answered to the nickname Snuffy. It was, apparently, a playful reference to the beloved Sesame Street character, Mr Snuffleupagus, and a distinguishing facial feature they shared.
A close domestic rival and even a former New Zealand team-mate reckon that to be true but then again, they aren't entirely sure either.
That's the thing with Reed. You knew the tenacious, serial and seriously fast racer, the bloke who didn't think anything of racing 30 successive weekends to earn a crust and who, in his moment of moments at the 2008 Beijing Olympics, selflessly sacrificed his own ambitions for the greater Kiwi cause.
But there was so much you didn't know about the man, even when Reed shed the tough-as-teak exterior once the tape had been broken to become one of the "good guys" to hang with on the then ITU circuit.
Like how he earned a diploma and honours in arts and contributed cartoons to magazines including triathlon titles. How he swam 110km a week after moving to the Gold Coast when he was 11, only to suffer from burnout and retire from the pool at 16. Or how he recently became head coach at Kiwi West Aquatics Club in Palmerston North, a proud full-circle moment.
Indeed, inspiring the next gen was a post-racing passion and a tandem act with the love of his life, wife Tamara. As well as raising two sons, the couple established the Manawatu Triathlon Academy, a critical production line still nurturing talent to this day.
Academy alumni and countless others have left touching tributes online. Reed wasn't a product of the social media era and probably wouldn't have embraced it like athletes must do nowadays to keep fans and sponsors happy. He preferred to go under the radar, the very epitome of the self-effacing Kiwi male sports star. So much so his exploits surprised many who paid their respects at his funeral in Palmerston North on Thursday, even triathletes well-versed at international level.
Three-time World Cup winner with no fewer than 35 top 10s at what was then the sport's highest level. Three-time World Aquathlon champion. Fifteen years ranked inside the world's top 25. The deliverer of the eulogy was only just warming up and the list of accomplishments could have gone on and on.
When Snuffy zipped up his wetsuit, clipped into his pedals or slipped into his sneakers, a mentally tougher competitor you would go a long way to find. He embraced pain and especially in the heat where others quickly wilted. Then he embraced his often-vanquished competitors like a brother.
"What most people saw during his athletic career was the Shane that raced. Fierce, competitive, prepared to empty the tank fully and always a threat," said Brendon Downey who coached Reed at the "back end of his long career" including through to the 2008 Olympics.
"He was always prepared to do the work necessary to be successful. When it was race time, it was game on.
"But Shane was so much more than his sporting persona. What most people didn't see was the Shane outside of the sporting arena. Humble, unassuming, quietly going about his business getting the job done, no fanfare and no fuss. That's how I will remember him."
Hamish Carter, the 2004 Athens Olympic Games champion who spent the middle half of his career racing against and alongside Reed, remembers the same admirable character traits.
"Shane was really just one of the nicest, most genuine guys on the circuit …everyone knew him really well," Carter said.
"I've seen a few people describe him as the quite achiever and it's a really apt description because he really just quietly worked away… he was on his own journey but got on with everyone.
"He's just one of those guys who personifies the sport. Not flashy, worked hard, committed to always getting better, never made a fuss, always just got on with it. It's a real tragedy for triathlon and for his family."
Reed travelled to more than 50 countries in 18 years of competing and did so in an age when High-Performance funding wasn't a thing. That resonates with Tri NZ's current Performance and Planning Manager, Stephen Sheldrake, who lined up on many a start-line with Reed in his day.
"There were no hand-outs for him, he had to do it all for himself," Sheldrake said.
"There wasn't really an academy system at that time that had funding to support athletes. You had to go and do your apprenticeship, grind it out and make as much money as you could so you could survive to make it to the next weekend or the next continent."
At Thursday's moving farewell, Sheldrake was another to learn something he didn't know about Reed – that he'd spent a decade as a safety and surface technician in the Royal New Zealand Air Force after retiring from racing. The emotional haka from his Air Force mates and a three-plane formation flyover afterwards, a tribute not normally afforded former recruits or lower ranks, illustrated just how much he was respected by his other family.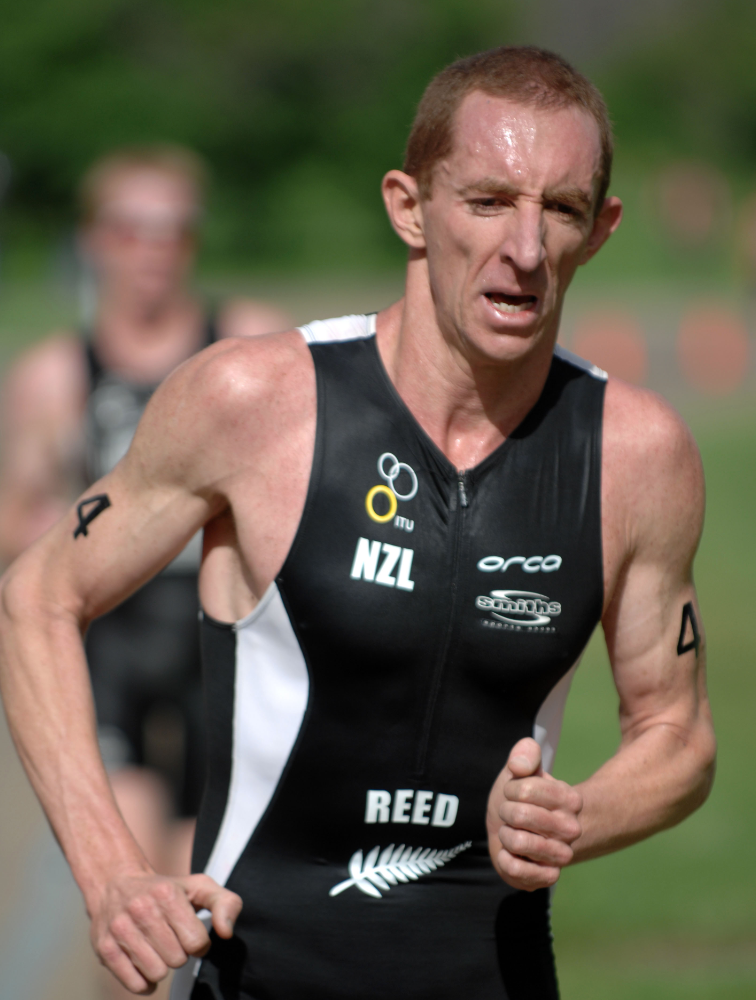 Beijing Brilliance
Tamara, or Tammy as she is mostly known, revealed to Stuff that Reed "…wrote a list of goals when he was eight years old and at the top of his list was going to the Olympics, which was the last thing he ticked off. They were all about racing."
Many consider Reed unlucky to be bypassed for Athens 2004 and everyone now salutes his selflessness when he finally made it to the sport's big dance four years later.
Reed was one of the first triathletes to play a domestique role, traditionally a tour cycling task, in an effort to help either Bevan Docherty or Kris Gemmell medal. He delivered a masterclass, leading a fast swim from start to finish and helping bridge gaps on the bike in protection of Docherty who would go on to add a Beijing bronze to the silver he'd won behind Carter in Athens.
Reed eventually crossed the line 34th, 50 seconds and two places below his brother Matt who was racing for Team USA. It is believed to be the only time two brothers had raced triathlon for different countries in the same Olympiad.
"He was not only willing to do his own race but he was willing to help me and Bevan as potential medalists," Gemmell told NZME. "He made sure the swim was really fast and he got on the bike and he was willing to come back and help us and make sure everything was alright."
Graham Park, who had been Reed's predominant coach up until roughly six months before Beijing, wasn't surprised to see his former charge accept the worker ant role in Beijing.
"As a person, we always speak of people being humble, but Shane really was," Park told the Taranaki Daily News.
"He always gave 100 percent and was always well-mannered and a gentle sort of person. He never really raised his voice and if the politics of the sport went against him then he would express his disappointment and simply move on."
For family and friends, it's hard to move on as Beijing team-mate Gemmell perhaps sums up best.
"It seems the world has a funny way of taking the good ones."
Now doing the hard mahi as the Head of Marketing and Commercial for World Triathlon (formerly the ITU), Gemmell didn't need to add "way to soon" because that went without saying. It turns out brain cancer was the only foe Reed couldn't find a way to beat. But he didn't go without an almighty fight.
"It's super sad," Gemmell continued.
On that last point, Reed's family, his global army of friends in triathlon and comrades closer to home in the Defence Force were also universally aligned.
Rest in Peace Shane Reed, New Zealand Olympian #1079, family man and eternal "good guy".
Triathlon's 'Quite Achiever' may be gone but he will never be forgotten.
Editor's Note: A Give-A-Little page has been set up to support Reed's family. Click here if you would like to contribute.