Images courtesy Super League Triathlon
By Kent Gray/Triathlon.kiwi
Nicole van der Kaay is making a nice habit of leaving her best till late in the season.
Last year the Taupo 26-year-old waited till mid-September and World Triathlon Championship Series (WTCS) Hamburg to produce her standout performance of 2021, a runner-up finish to Germany's Laura Lindermann. This year, it took till the last weekend of October with van der Kaay ticking off a series-best fifth place at Super League Triathlon (SLT) Neom on Sunday.
The final flourish was unsurprisingly lost in the hoopla of Hayden Wilde's title-clinching performance in Saudi Arabia but meant van der Kaay finished her debut SLT season ninth overall. That's especially promising when you consider an injury post the New Zealand summer put her back "seven or eight weeks" in the eyes of coach Stephen Sheldrake, before a bout of COVID-19 once she finally made it to Europe further complicated her mid-season plans.
There was more frustration at the Commonwealth Games in July where van der Kaay was running fifth but finished ninth after being slapped with a 10-second penalty for a helmet clip violation. Even in Super League before Sunday, van der Kaay had consistently fought off the threat of in-race relegation after struggling in the swim before running to three respectable top 10s.
Elimination could not be avoided in the penultimate round in Toulouse in early October and van der Kaay was again off the pace at WTCS Cagliari, registering a 33rd in the Olympic distance race the following week. It seemed all the travel was taking its toll but van der Kaay found another gear in Neom to mix it with eventual champion Georgia Taylor-Brown, fellow Brit Sophie Coldwell, Scot Beth Potter and American Taylor Spivey.
"I was chuffed with my race. Having better swims put me in great positions between the three rounds of [back-to-back 400m swim, 4km bike, 1.6km run] triathlons," van der Kaay told Triathlon.kiwi
Van der Kaay was part of the Sharks team featuring Wilde and her partner Tayler Reid throughout SLT. Unfortunately, the Sharks couldn't hold onto the lead at the final hurdle with the Bahrain Victorious Scorpions snaring the teams title by two points.
Still, it barely dampened van der Kaay's appreciation of her SLT lot. She eventually banked US$22,000 (NZ$37,845) for her season.
"@superleaguetriathlon you were the most incredible experience! One of a lifetime! Thank you for the opportunity, memories and new friends that have become like family. You were a treat ," she wrote on social media.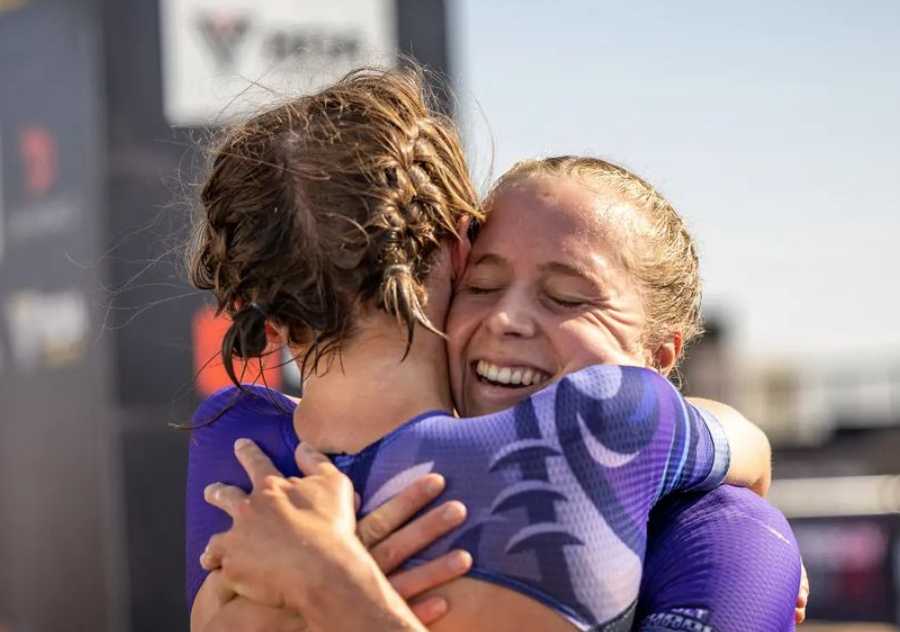 Van der Kaay later told Triathlon.kiwi that "Saudi was an amazing experience, unlike anything I've ever done before."
"So proud of our team, we really came together and supported each other, we became a bit of a family. SLT has been the best experience of my life, so many amazing moments."
Van der Kaay and Reid have since relocated to the Gold Coast where they'll train with the likes of Neom winner Matt Hauser and Charlotte McShane ahead of WTCS Abu Dhabi, World Triathlon's season-decider on Yas Island from November 24-26.
Like last year in Hamburg, van der Kaay will hope she's timed her season to near perfection once again.