By Kent Gray/Triathlon.kiwi
Hayden Wilde and Amelia Watkinson have punched their tickets to next year's Ironman 70.3 World Championships in Taupo with contrasting victories in Sunday's shortened Melbourne half.

Wilde (3:19:29) signed off his topsy-turvy season is style, declaring himself "proper stoked" to win the men's GWM Ironman 70.3 Melbourne title by nearly eight minutes from Aussie Nick Thompson. Defending champion Steve McKenna was a further 30 seconds adrift in third.

The Kiwi short course star's reward is a confirmed slot for the December 14-15, 2024 worlds in his birthplace and more immediately a well-deserved week's R&R in Fiji with partner Hanne De Vet, fourth in the women's race, en route back to New Zealand.

It was an altogether more stressful morning for Watkinson (3:53:30), the Sunshine coast-based Kiwi only overhauling Australia's Natalie Van Coevorden with a kilometre of the half marathon left. Watkinson, who had already sealed her slot for Taupo with her 5th place finish at August's Ironman 70.3 Tallinn in Estonia, eventually stretched away to win by 40 seconds with Lotte Wilms third. There were also notable pro field top 10s for Kiwis Sam Osborne and Deborah Fuller, 5th and 6th in the men's and women's races respectively.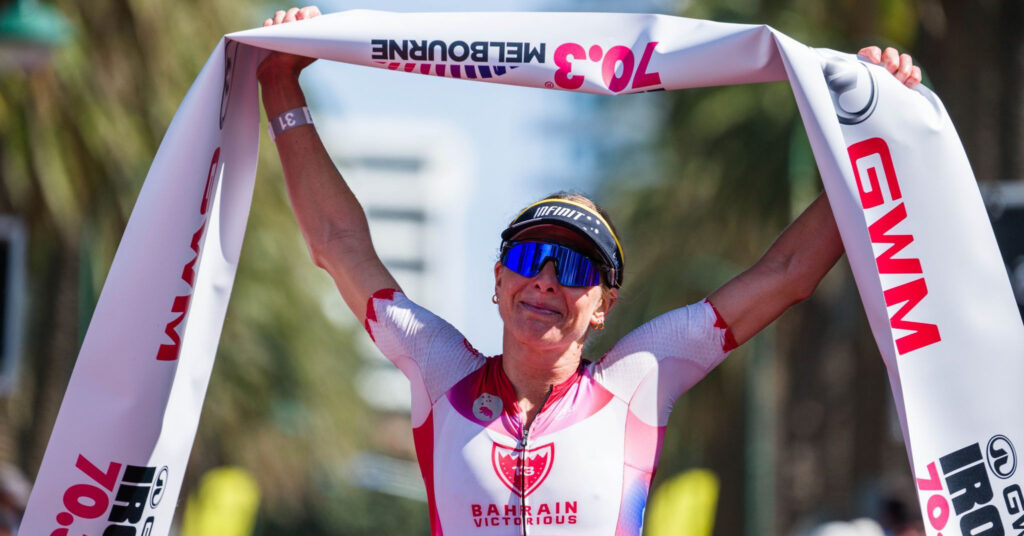 Strong winds at the race start on St Kilda Beach saw the swim reduced from 1.9km to 900m due to safety concerns, a decision that did not please some emboldened by social media. For Wilde trhough, it ultimately proved the right decision and saw him surprisingly lead out of the water.
"… there were a few ups and downs this morning with what the swim was going to be like but I think the organisation made the right call and I'm stoked that we got to get wet which was lovely, it was actually still a pretty hard swim out there, it was pretty rough," said Wilde.
"It wasn't the fastest swim but it was nice and I was stoked to lead out of the swim."

Wilde made the race his to lose with a 1:56:37 split for the bike leg, averaging an impressive 46:31km/hr over the 90km.
"For me I wanted to apply pressure through transition and that first 20km of the bike. I turned around and had a pretty healthy gap and I thought while I'm here I might as well keep pushing and see what I can do. My goal was to ride sub two hours and to ride a 1:56 I was really happy with.
"I had a four minute lead off the bike and coming onto the run the coach said we're not here to prove points or anything, we're just here to qualify and get the job done."

A 1:08:01 split for the half marathon meant the 26-year-old achieved just that.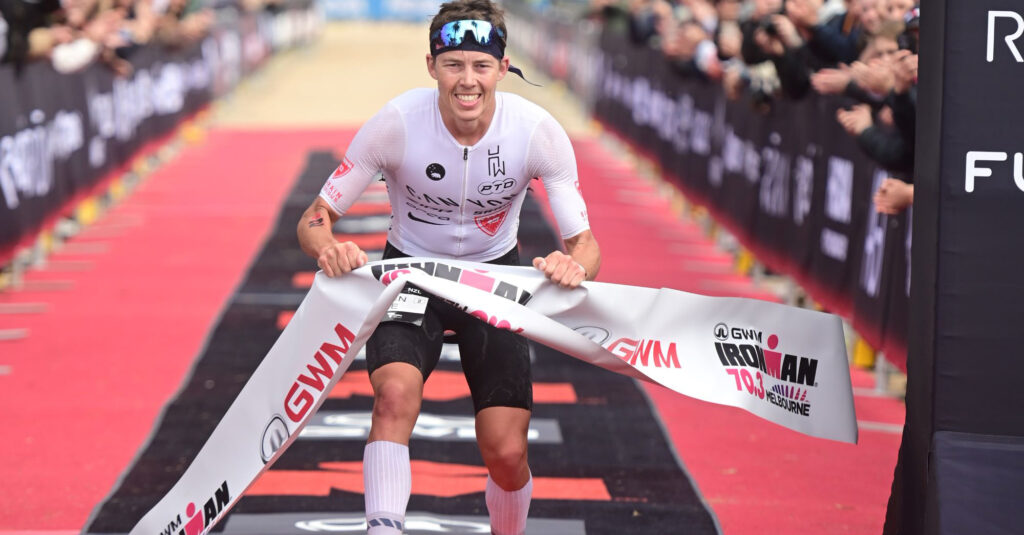 "For the first 10km I pushed it at a 3:05 pace and from there I eased up and I was kind of stoked that no-one was around because at the 15km mark the legs started to hurt a little bit and so I shut it down and I'm stoked to have crossed the line here in Melbourne and get the qualification spot for Taupō next year."
Wilde's win in Melbourne capped a busy year in style, coming a week after his record setting Noosa Garmin Triathlon win.
"I ticked all of the boxes to finish the year that I wanted to, winning Noosa with a course record, I was gutted that we didn't get to do the full swim course because legitimately I can't take the course record here but I'll have to come back another year and try and take it, mission accomplished, time to put the feet up and get onto a flight to Fiji for a week."
Watkinson had to fight from the start, coming out of the water almost three minutes off the lead. From there she chipped away throughout the 90km bike leg, eventually returning to transition just 40 seconds adrift in fifth. Once onto the run the consistent Kiwi charged her way through the field to win her first Ironman 70.3 since the Sunshine Coast in 2020.
"I really had to dig deep for that one but to be honest it's more satisfying when that's the case, I'm really happy with the performance and thank you to the other girls for making it a good race," said Watkinson.
"There was a little bit of anticipation this morning with weather conditions, the swim was shortened a little bit, I don't know what the time was, it was still pretty cold and choppy out there which is definitely a weak point of mine so I had to quickly change my mindset and get through that. The deficit was certainly more than I would have hoped for, in some ways I expected that and I knew it was going to be a solid opportunity to push the bike and run.
"I think there were four girls ahead of me when we hit the run, I got a few splits, I think it was close to a minute and a half, I knew that two of those girls were short course athletes and definitely recall from being new to the longer distance that around 15 to 18km is when it really hits you. I had some patience and kept on digging and I don't think I got Nat [Van Coevorden] until about a k to go and I didn't look over my shoulder until the finish line."
Watkinson said that the crowd support helped get her across the line in the final stages as she closed in on Van Coevorden for the win.
"I was really pushing, I was talking to my coach on the phone prior to this race and we know that in those last few ks a lot of it is mental and it's just a matter of how bad you want it and I think someone said that to me out on course.

"I had a lot of support which was great."
GWM IRONMAN 70.3 Melbourne – Professional Men's Results
Hayden Wilde – 3:19:29
Nick Thompson – 3:27:28
Steve McKenna – 3:27:54
Matt Burton – 3:28:54
Sam Osborne – 3:30:21
Nicholas Free – 3:32:11
Kieran Storch – 3:33:29
Jye Spriggs – 3:36:49
Calvin Amos – 3:40:09
Harry Wiles – 3:40:50
Professional Women's Results
Amelia Watkinson – 3:53:30
Natalie Van Coevorden – 3:54:10
Lotte Wilms – 3:55:15
Hanne De Vet – 3:58:35
Aleisha Wesley – 4:04:17
Deborah Fuller – 4:05:12
Sophie Perry – 4:06:11
Laura Armstrong – 4:07:53
Samantha Kingsford – 4:09:44
Melanie Daniels – 4:11:42