Photos: World Triathlon



By Kent Gray/Triathlon.kiwi in Sunderland
Triathlon at the top level is a constant tightrope walk where giant leaps forward in performance can just as quickly become frustrating steps backwards, often through no fault of your own. Just ask Dylan McCullough.
The Cambridge-based Aucklander was an impressive 12th at World Triathlon Championship Series (WTCS) Sunderland on Saturday but sadly had little time to savour his career-best performance before going down with gastro-like symptoms in the early hours of Sunday.

McCullough and room-mate Saxon Morgan spent much of the night vomiting which forced the former to relinquish his spot in the NZL quartet for Sunday's (12.15am Monday NZT) mixed relay. The duo were being cared for by NZL team management while Kiwi No.1 Hayden Wilde, who had been named as a reserve after his bronze medal in the individual race, was slotted back into the starting line-up alongside Tayler Reid, Ainsley Thorpe and senior debutant Brea Roderick.

It was a particularly cruel blow for McCullough who had rebounded so positively from his 45th at WTCS Hamburg a fortnight ago, first with a critical leg in the U23 team's run to relay bronze in Germany and then with his eye-catching Sunderland sprint.

He had also been named to race the senior relay at WTCS Montreal in late June only for that race to be cancelled due to poor air quality caused by Quebec's wildfires at the time.

Given his form this year, it seems only a matter of time before McCullough is handed another chance to prove himself in the relay, although opportunities in 2023 are fast running out. Regardless, his improving results at WTCS level – 26th in Yokohama, 14th in Montreal and now 12th in Sunderland after the blip in Hamburg – has been one of the Kiwi highlights internationally this year.

"I'm pretty happy with 12th, improving on my 14th in Montreal so moving up slowly. A top eight would have been nice but not there yet, so just keep working away and yeah, see how things go for the rest of the year," McCullough said on Saturday.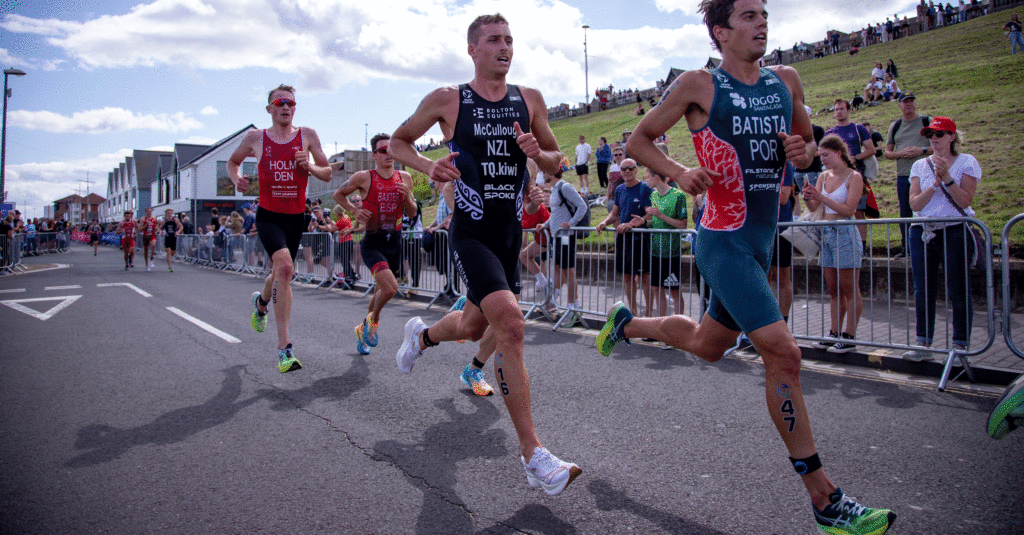 "Hamburg wasn't so great for me the other weekend but I just quickly put that one behind me and moved forward and looked towards this race. And yeah, really happy with 12th and see what we can do in Paris in three weeks time."

The Paris Olympic test event from August 17-20 includes individual and relay races, the former a chance to reinforce his personal claims for an Olympic nomination and perhaps also press for that relay start that keeps eluding him.

A first Kiwi on the podium finish in Paris would guarantee a nomination to the NZOC for next summer's games. Otherwise, two top 8s at WTCS are needed and McCullough feels he is closing in on the first of the latter.

"Obviously you don't want to put too much pressure on yourself, you just want to keep performing and putting your best out there and yeah, see how it goes," he said.

"But yeah, it's definitely within touching distance. I just need to play my cards right I think and keep on training good and racing smart and we'll see. You never know what might happen."

Saturday's race in Sunderland again proved McCullough has the goods across the disciplines to consistently compete at the pointy end of WTCS races.
"My swim was alright, I was there or thereabouts at the front, it was freezing cold but got through it.

"Got onto the bike and the front group wasn't working so well. Léo [eventual silver medalist Léo Bergere] was pushing the pace a lot and I didn't really know what to do because obviously we all commit, or if some weren't committing, there is no point you committing and just wasting energy.

"So, I kind of did a little bit, my share for the first few laps and then sat in and then the others attacked."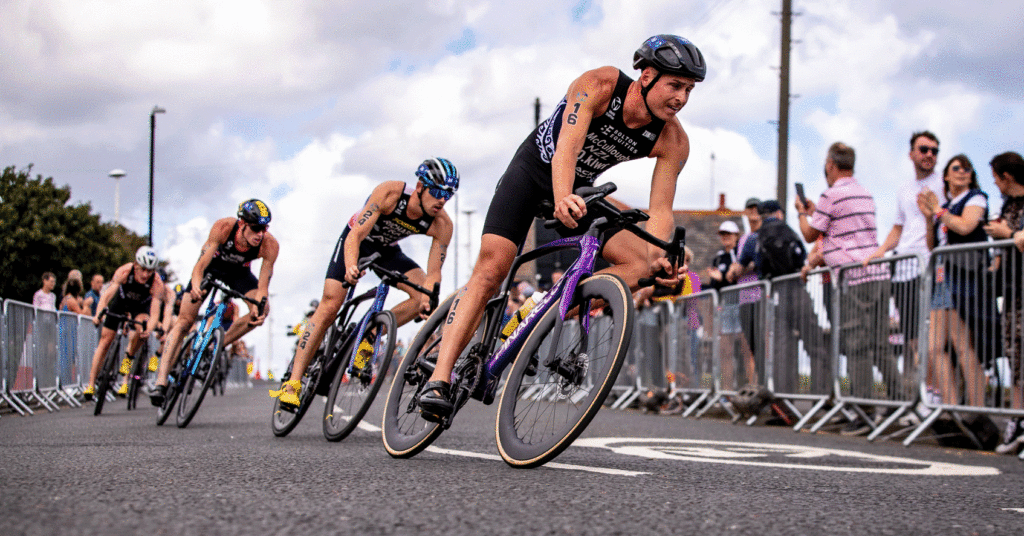 McCullough was pleased with his 15:14 split for the 5km run and enjoyed the longer distance compared to the super sprint format in Hamburg. He overtook Reid (15:37) who had been part of the breakout bike group including Bergere and eventual winner Pierre Le Corre.

"My legs were alright for the first 1km and then they just got better and better, got into my stride and started bouncing a lot more," McCullough said.

"So yeah, I think the 5k and the 10k is a lot more suited to my ability for the running."