Photo: Tommy Zaferes/ World Triathlon

By Kent Gray/Triathlon.kiwi
Dylan McCullough called it a "step in the right direction for me." Others might describe it as a giant leap.

Hayden Wilde justifiably hogged global headlines with his Yokohama masterclass but it wasn't the only pleasing performance from a Kiwi perspective at the second round of the World Triathlon Championship Series (WTCS) on Saturday.

McCullough's eventual 26th place, after a pace-setting swim and an eye-catching 10km PB off the bike in the Japanese port city, was a career-best WTCS result and kept him firmly in the conversation for next year's Paris Olympic Games.

The 22-year-old Cambridge-based Aucklander won't be drawn on Paris, publicly at least, instead reminding everyone that he still has two years at U23 level and that his immediate focus is just on producing a consistent season after a topsy-turvy 2022.

So far, so good with his 1:44:21 performance in Yokohama (Wilde won in 1:42:13) a step up from victory at the Oceania U23 Sprint Distance Championship in Devonport, 4th place at World Cup New Plymouth and earlier 4th and 6th placings at Oceania Cups in Wanaka and Taupo – all over the sprint distance.
It all bodes well for the U23 World Triathlon Championship, to be held on the sidelines of the WTCS season finale in Pontevedra, Spain in September. Whether McCullough can squeeze a start in at the Olympic test event the previous month remains to be seen but he's none himself no harm with the Yokohama ranking points haul.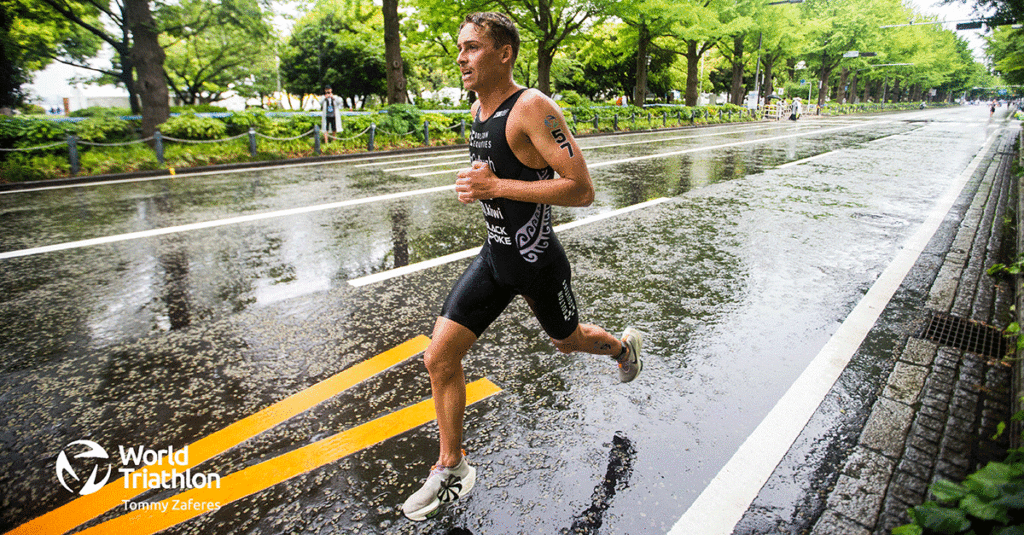 The trick now is to keep the points trickling in and the form ticking over, next up in the U23 race at the Oceania Standard Distance Championship in Port Douglas on May 27.

"I'm not sure when the next WTCS race for me will be, I'm still not at the stage where I can get on the WTCS start lists automatically, but I would love any opportunities that do come my way," McCullough told Triathlon.kiwi from Japan.

"I really enjoy this level of racing so we will have to wait and see what's next after Port Douglas."

McCullough led for much of the first lap of Saturday's 1500m swim and was eventually fifth out of the water, just four seconds down on noted Hungarian fish Mark Devay. After a crash resulted in a DNF at WTCS Leeds last year, McCullough then took a conservative approach on the rain-drenched Yokohama roads, safely tacking himself onto the back of the main peloton.
He rattled off a handy 31:29 10km split to head home Kiwi team-mate Tayler Reid by 1:10, the Gisborne 26-year-old eventually finishing 31st in a performance that looked to be partly impacted by a virus picked up after his memorable run to silver at World Cup New Plymouth.
"Yesterday was a step in the right direction for me. A solid race all round," McCullough continued.
"I wanted to lead the first lap of the swim out, then settle in a bit on the second lap to conserve a bit of energy. The bike was slippery and scary, with every man for themselves. I never felt under pressure, I was just trying to be cautious in the position I was, as the last thing I wanted was to be caught in a big crash in the middle of the pack if it happened and break a bone.
"It's a long season ahead, with the goal of consistency, so for me it wasn't worth the risk of pushing for a slightly better position on the bike with too many uncontrollables.
"The run went not too bad, a 31:29 is my fastest 10km off the bike to date, so I was happy with that but there's definitely still a lot more work to be done."