Photo: World Triathlon

By Kent Gray/Triathlon.kiwi
Bank the lessons and move on. That's the sage strategy quickly adopted by both Nicole van der Kaay and Ainsley Thorpe after the Kiwi women struggled at World Triathlon Championship Series (WTCS) Yokohama.
Van der Kaay entered Saturday's standard distance race (1500m swim, 40km bike, 10km run) on the back of a perfect four-start, four-win Oceania campaign highlighted by victory at World Cup New Plymouth in late March. Unfortunately, the Taupo 27-year-old was a minute behind out of the water in the Japanese port city and out of contention as a result.
Van der Kaay did make up eight places on the bike-run despite the treacherous road conditions to finish 27th in her WTCS season bow but it was not the podium challenge she'd envisaged.

There were high hopes too for Thorpe after the Cambridge-based Aucklander finished 17th in the opening round of World Triathlon's blue-riband series in Abu Dhabi in early March. The 25-year-old suffered even more in the Yokohama swim however, exiting a 1:18 down en route to 43rd in the 60-strong field.
RELATED: Wilde channels inner 'mongrel' to park Abu Dhabi aberrations with Yokohama masterclass 

Both New Zealanders will now reset for the Oceania Standard Distance Championship in Port Douglas on May 27 before jetting north for busy European summer campaigns where the Paris Olympic test event looms large.

A podium finish (for the highest-placed Kiwi if two or more happened to medal) at the mid-August Olympic dress rehearsal will take care of a Paris nomination to the NZOC.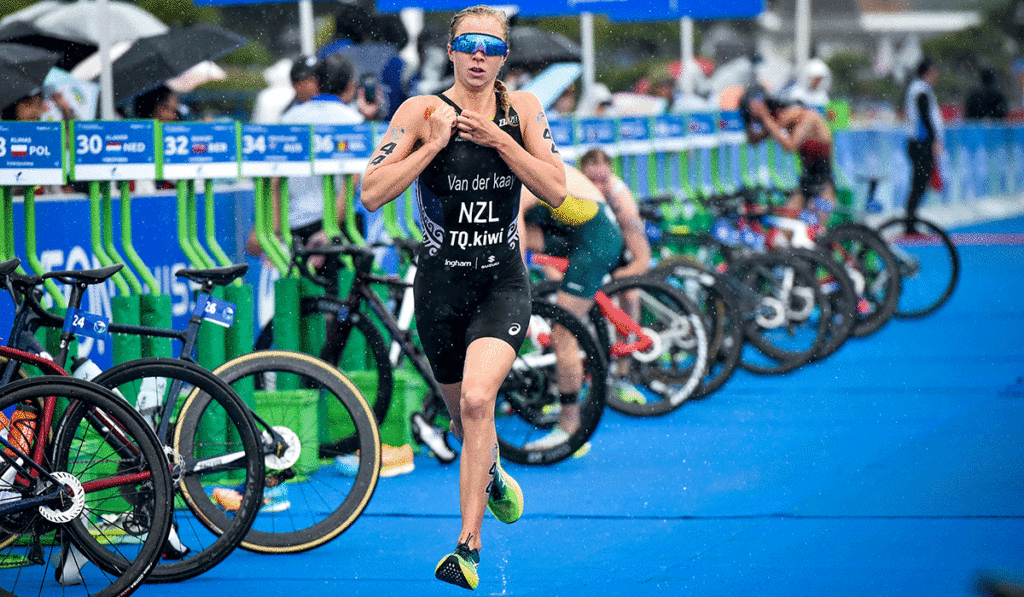 Van der Kaay certainly cannot wait for warmer climes after performances in Yokohama that she described as "not my best day, but not my worst."

"My average swim set the day up for me. I was surrounded by strong riders but we didn't bridge the gap," van der Kaay said.

"I got pretty cold in the bike, struggling to change shoes [in T2], it took me a lap or so to warm up in the run, then felt pretty good so drove it home with the Germans and Belgium, unfortunately getting out sprinted by our little group."


Van der Kaay went on to produce the 15th fastest 10km split of 34:33, just over a minute slower than run-best Nina Eim (GER) who clocked 33:27 to climb to 11th. Brit Sophie Coldwell had the fourth fastest time at 33:53 to seal her maiden WTCS win in 1:53:32.

"So both good and bad points, but will continue with what I'm working on, bridging that gap in the swim," said van der Kaay who finished in 1:56:48.
"On to the next and hopefully see some more progress in the up and coming races. Hopefully it'll be much warmer!"

Thorpe finished in 1:59:21 after 19:53, 1:01:08 and 36:09 splits.

"Was not a good day for my first experience in Yokohama," Thorpe told Triathlon.kiwi afterwards.

"Got caught up on the first lap on the swim and couldn't bridge back on the second lap which made it tough from start to finish. I'm looking forward to another opportunity in two weeks to improve on my Olympic distance racing."