Photos: Hamish Collie

By Kent Gray/Triathlon.kiwi
There were imposing white caps rolling into the swim course when Maria Williams dipped an inquisitorial toe into the infamous waters of Bass Strait shortly after arriving in Tasmania on Tuesday. The cycle course has lots of "twirly whirly" in it too, another trial the Wellingtonian had just Thursday's short bike familiarisation ride to come to grips with.
They're stock-standard challenges every elite triathlete must confront at an unfamiliar offshore venue but just a little more daunting when you're a visioned impaired athlete, "essentially totally blind" as Williams puts it.

Fortunately, the 54-year-old has trusty guide Melissa Moon, oodles of intestinal fortitude and Paris Paralympic ambitions to mask any nerves ahead of the opening race of the 2023 World Triathlon Para Series in Devonport.
With the Paralympic qualification window opening in July, things are ramping up for the duo who only began their triathlon journey in October 2021. Together they're quickly learning how to double-team the sport's three disciplines, two of them very new to both proud Wellingtonians.
As a two-time World Mountain Running champion, the holder of 21 national athletics titles and a two-time winner of the race up the Empire State Building's 86 floors and 1576 stairs, Moon's running pedigree is quite handy. Williams tapped into the training know-how and race prowess to finish 2nd in the T11 category at the 2015 World Para Athletics Marathon Championships, run in conjunction with the London Marathon, in a smart 3h 44mins.
But they've both had to quickly upskill swimming and bike skills left dormant for years.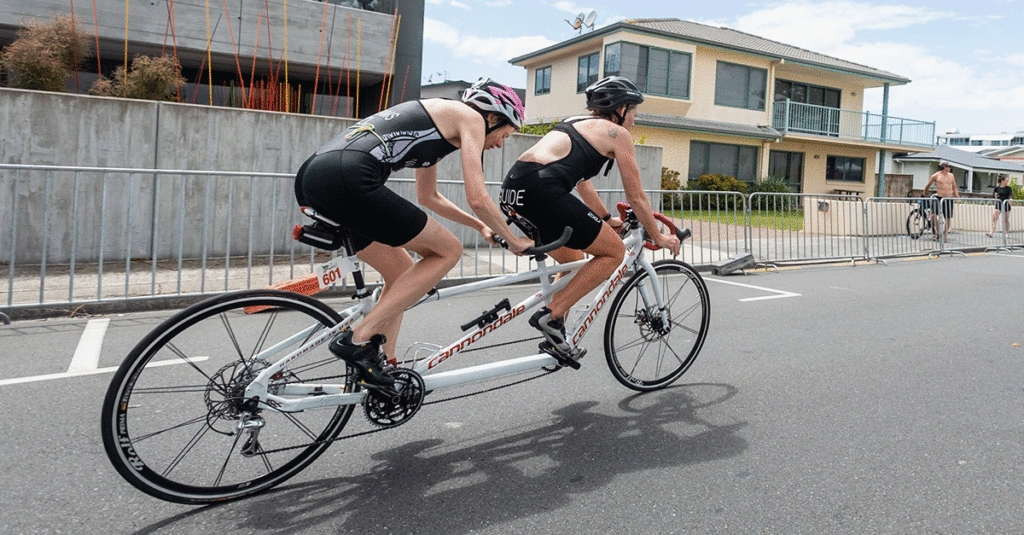 "Neither of us had biked or swum since we were kids. Obviously, we'd run together and had a lot of experience but not swimming or cycling so that was a whole new thing to get to grips with," Williams told Triathlon.kiwi
"It's been really cool. We started on one of my crappy old bikes and then we transferred across to the racing bike, and we were first cycling in our running shoes and then we got into the clip-on shoes. We've just tried to step things up gradually instead of doing it all at once."

The bike path from Oriental to Scorching Bay and back allows Williams and Moon to tick off the sprint distance's 20km in training, although they have to pick their time "because, as you can imagine, the roads are so busy, there are all sorts of people with dogs and skateboards and everything else out there, so we have to pick our time and our weather."
The sea swimming has been another challenge as conditions off Freyberg Beach for their regular Splash & Dash or Wellington Barefoot Triathlon Series races are never the same.
"Sometimes it's nice and flat, sometimes it's rough and there's current and jellyfish to meet on the way," Williams says with a half giggle.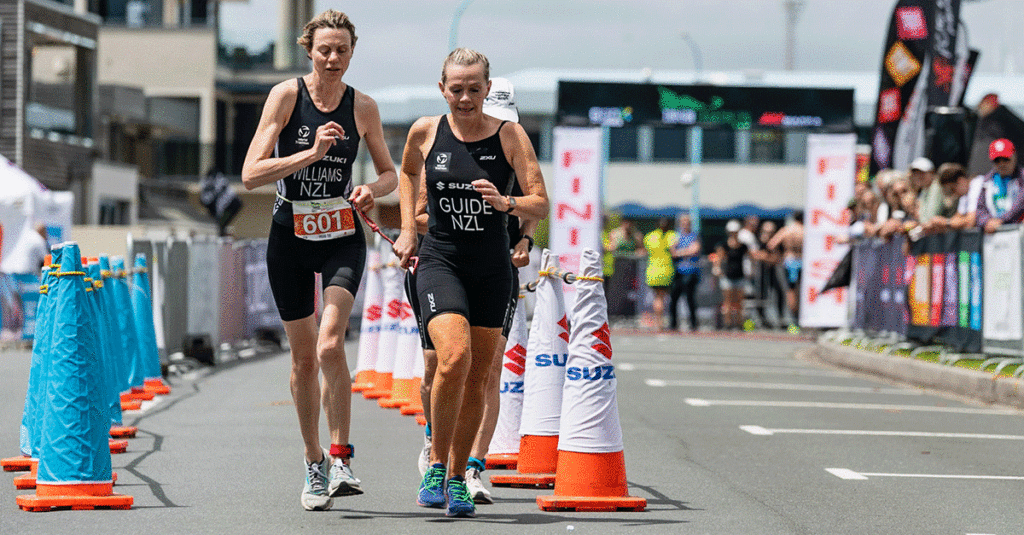 "Sometimes you want to scream because the ones we had the other day were huge, they were so big. It was in the Splash & Dash and Melissa could hear some man screaming …but we didn't scream, we just kept going because we're like, we've got to get past these things. You just have to keep calm…"

Devonport will be Williams and Moon's second international race after their debut at last July's World Triathlon Para Series Montreal where they finished 4th in the sprint distance (750m swim, 20km bike, 5km run) in 1:30:04.
That was a steep learning curve but that experience, and a recent development camp with Triathlon Australia in Melbourne, has accelerated their understanding of the levels required.
"The whole atmosphere is quite, I found it quite intense," Williams said of Montreal.
"We did the marathon, London, and that was an elite setting but Montreal was a very elite setting. I just learned all about the tethers and all the protocols and requirements.
"It was lovely, it was very well organised but it's just getting used to all the formalities and obviously in triathlon, there's the transitional rules about the [mount and dismount] line, when to get off and on the bike, all the order with the helmet, you've got to rack the bike first and then take your helmet off and all that."
Williams and Moon race at 8:54am local time (10.54am NZT) on Saturday (coverage on Triathlonlive.tv from 10am). As a B1 athlete, Williams will start the PTVI race with a 3min 18sec head start over B3 athlete Maggie Sandles (AUS) and knows her 'much younger" opponent and the technical course will make for a tough day.  
"Montreal was a very fast course, this course is not a fast course. This course is quite technical, like the bike is really twirly whirly and has lots of turns and sharp hairpins are on it," said Williams.
"My goal is to get points, to just keep gathering the points up. I think they start from July looking at Paris and stuff but because I'd be an unknown person, the more points I can get, for them to see oh, there's Maria she's been and done some international races…just to get my name out there a bit more and my profile up a bit more."