Images: Tommy Zaferes/World Triathlon


By Kent Gray/Triathlon.kiwi
Hayden Wilde has drawn a list of positives out of his frustrating start to the World Triathlon Championship (WTCS) season in Abu Dhabi and underscored his mental toughness along the way.
The 25-year-old's race was effectively over before it began when he suffered a flat tyre on the first lap of the 20km bike leg around the Yas Marina Circuit F1 circuit. The commentary team wondered out loud if Wilde might pull the pin but that thought never once crossed the Kiwi No.1's mind as he battled to 46th place in the 59-strong field.
RELATED: Thorpe 17th as Wilde's WTCS mission derailed by flat tyre; Smith 30th in Abu Dhabi

"Quitting was never an option. Commentary on the other hand thought I should have tossed it in…😅," Wilde said on social media under a series of pictures, the first of which showed a replacement back wheel on his bike which "sums up my day…"
"Never quit, never give up. No matter the result. If you start quitting when the times are tough, that'll just make you mentally weaker when your pushing for the win in the next race."

Wilde went on to break down his race which didn't start well with the Whakatane/Maltese Falcon out of the water 57th, 42 seconds down.
"Felt good in the swim but a poor decision going too wide…swimming 20m extra cost me a good chunk of time in the water but I felt physically good and not under pressure," Wilde said.

"From being two minutes down from the first lap after my flat tire out of transition, for me it turned into a good old workout. Riding solo, I was surprised I only lost 30secs over 4½  laps."

Wilde's 29:31 split on the bike was 1:58 slower than eventual winner Alex Yee while his 14:42 5km effort at the end was fourth fastest after the podium trio of Yee (14:26), Vasco Vilace (14:32) and Manoel Messias (14:32).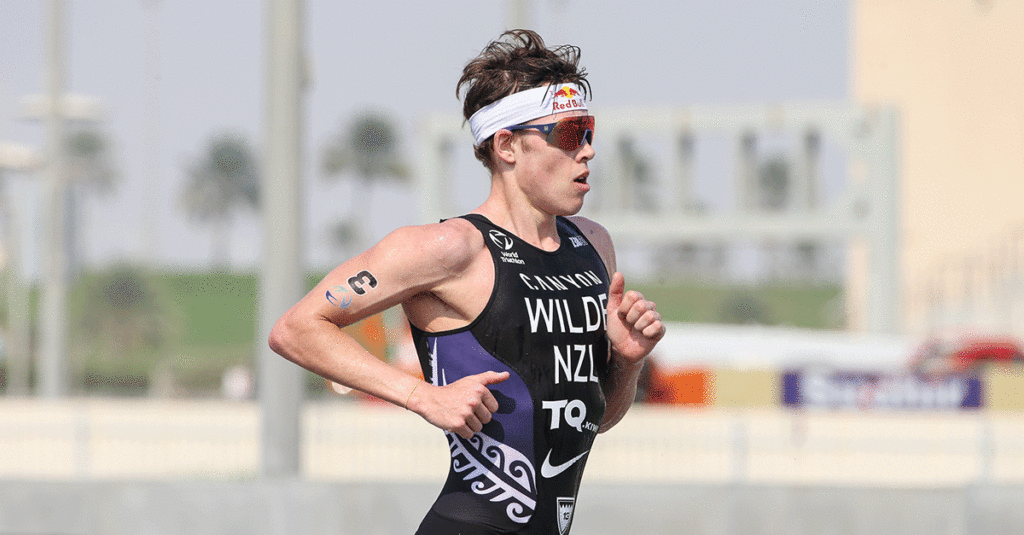 "Disappointed I couldn't show off what I had on the day [but] overall actually really happy how I ran after a good push on the bike.
"Probably the happiest 46th-place guy you'll meet if I'm just looking at pure performance 🤣."

Wilde's next race is World Cup New Plymouth on March 26. Thereafter he's scheduled to resume his World title shot at WTCS Yokohama (May 13-14) and Cagliari (May 27-28).