Visser finished second at Ironman Western Australia in December. Image: Korupt Vision
By Kent Gray/Triathlon.kiwi in Taupō
A five-time champion in Taupō returning to the sport just five months post-partum and a Dutchwoman with one of the greatest backstories in all of sports are set to severely test Kiwi resolve at the 39th Nutri-Grain Ironman New Zealand on Saturday.
Tauranga's Hannah Berry is out to defend her pro title in Taupō, last raced for in 2021 before the pandemic wreaked havoc across the global sporting landscape. Watch also for Rebecca Clarke, the Wanaka-based Aucklander who has much to prove after her runner-up finish to Berry two years ago, her Tauranga Half triumph in January and that costly wrong-turn at Challenge Wanaka last month.

The Kiwis will savour the parochial home-race support and will need it if Dutchwoman Els Visser and American superstar Meredith Kessler have their way in the gruelling 226km odyssey.

Visser is second seed to Berry and perhaps the greatest threat to a Kiwi victory. The 32-year-old is on form after her runner-up finish at December's GWM IRONMAN Western Australia in Busselton. She's fired up too after playing follow the leader with Clarke on a 4k detour en route to a runner-up at Challenge Wanaka.

Having already qualified for October's Ironman World Championship in Kona, Visser's IMNZ debut isn't as stressful as it might have been either.
"It definitely takes a pressure off. I can completely go in free and just give my best without any pressure and maybe I will race a bit different, but I have to discuss it with my coach, and just go out on course and have fun and enjoy being out there," Visser said.
It will certainly be an emotional race for the qualified surgeon given her Kiwi connection in a backstory that could be the script from a movie.
Visser will be reunited with Kiwi woman, Gaylene, nine years after the pair were among 27 passengers shipwrecked in Indonesia in the middle of the night.
Instead of waiting to be rescued, she and Gaylene swam for eight hours to a nearby uninhabited island where they slept for the night before being rescued by a passing boat the next day – the moment Visser says her second life started.
"I don't really know how I will react to seeing her, but I'm really looking forward to seeing her," Visser says recalling the terrifying night in 2014.
"Of course, she has like a super special place in my heart and I'm also pretty sure that it will be emotional meeting up again. But in the meantime, I'm really excited to get to know her as a person as well, because in the end, I only knew her for two days in a completely different setting where we were in such a different state of mind."
Kessler, 44, is returning to her 'second home' in a different space also having given birth to her second son, Crew.
"We didn't think [my] return would begin at Ironman New Zealand, so close to having just had a baby, though, I was fortunate to return at five months post having our first son, Mak, and I will try it again with Crew," said Kessler who will make her ninth start in Taupō after winning the title consecutively between 2012 and 2016 and finished second in 2020 and third in 2017 and 2019.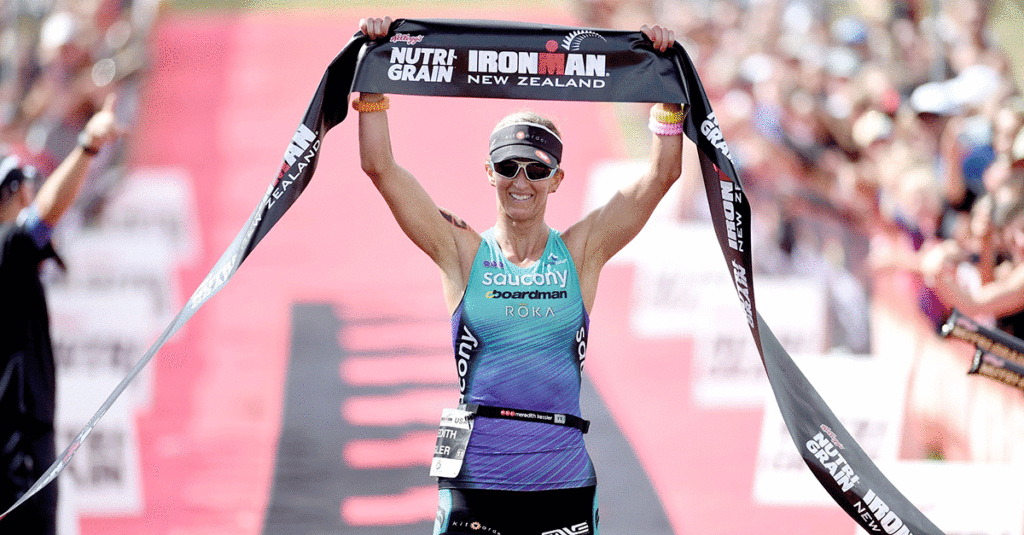 "I feel like the work that I maintained while Crew was in my belly, the recovery after and the push towards getting back, all aided in allowing me to invest in coming back more quickly and I wanted to seize the opportunity while I still could – especially at my favourite race – and place – on the Ironman circuit."

Indeed, Kessler couldn't be more excited for her return in Taupō.
"I am like a giddy little kid getting excited to be back to our absolute favourite haven of a place. A place where my mind is always right, and my body follows. It means a great deal to have the luxury and privilege of racing amongst such greatness, beauty and support. The amazing town of Taupō truly embraces the race and everything that it emulates – I feel beyond fortunate for the opportunity to be back," said Kessler.
"I love this course, from the weather, to the town, the people, the country, the terrain, and everything in between. It has always felt like our second home to us so there is a level of comfortableness and familiarity associated with Ironman New Zealand."
So, can you win a 6th IMNZ title?

"I am focused more on delivering the best race that I can muster during this time in my life and see where the chips fall. I feel like the victory already is getting to the start line of this race," said Kessler.
2023 Nutri-Grain IRONMAN New Zealand – Women's Professional Start List
21 – Hannah Berry (New Zealand)
22 – Rebecca Clarke (New Zealand)
23 – Els Visser (Netherlands)
24 – Meredith Kessler (United States of America)
25 – Jennifer Fletcher (Canada)
26 – Laura Armstrong (New Zealand)
27 – Ai Ueda (Japan)
28 – Laura Wood (New Zealand)