Images courtesy Hamish Collie / Mount Festival of Multisport.


By Kent Gray/Triathlon.kiwi
After the breakout international season, a domestic double down of heroic proportions.
Indeed, so impressive was Rebecca Clarke's successful Tauranga Half title defence on Saturday that even the Aucklander herself is starting to feel like the 'world class' references increasingly tagged to her name don't sound so preposterous after all.
The 34-year-old produced one of the runs of her life to capture the pro women's Mount Festival of Multisport showpiece in 4:07:48 – more than eight minutes faster than her winning 2022 time.
But it was the star-studded cast she beat, as much as the decisive run, that provided the deepest satisfaction for Clarke. Many a pundit had predicted one of either Sunshine Coast-based Kiwi Amelia Watkinson or home favourite Hannah Berry (nee Wells) would earn their third Tauranga title.

Instead, Clarke is now a two-time champion like her vanquished pals after eclipsing Watkinson (4:10:12) by 2:24. Berry (4:10:45) was a further 33 seconds adrift following a ding-dong battle ultimately decided on the first loop of two around the Mount Maunganui base track.
"I'm still in a little bit of disbelief," Clarke said moments after her 1:26:09 split for the 21km run.
It was 2:35 and 2:54 faster than Watkinson and Berry respectively and shocked no one more than Clarke herself. Not that the PTO's 40th-ranked athlete should be too surprised; you don't finish 8th in the PTO U.S. Open and 17th on debut at the Ironman World Championship in Kona without more than a little zip in the legs.
"This is my best New Zealand race by far," Clarke said before referencing her breakout 2022 which started with victory in Tauranga, included silver at Ironman Australia, 5th place finishes at Challenge Roth and Ironman 70.3 Zell am See and 7th at the World Triathlon Long Distance Championships in addition to Dallas and Kona.
"I think sometimes before I kind of felt that I was a swimmer and an okay biker and an average runner. I don't know, you've kind of got to have those moments to believe in yourself and I went actually no, I'm actually up there with the best in the world, I'm a professional athlete, this is my job and I'm not just a fill in, I'm competitive."

On Saturday's evidence, competitive is an understatement.
Predictably first out of the water 52 secs clear of Berry, Clarke was eventually caught roughly two-thirds of the way through the 90km bike leg. An attack from Watkinson 30km from the bike finish looked threatening but Clarke and Berry hung tough to ensure Watkinson's lead out onto the run wasn't much more than 15 seconds.

Clarke then caught Berry on the first little uphill kick onto the Mount base track before reeling Watkinson in on the last third of the trail run segment.
"I was running in third [place] the first half of it, and I'm like, these are two world-class athletes and just, like, amazing, I'm used to being five minutes behind them on the run, so I was like, I'm in touching distance and I then just pushed around the Mount.

"I just had really good legs around the Mount the first time and suddenly found myself in front and I thought, oh, they'll probably get me back on the road section, obviously I'm better on the trail, but I held that and pulled away on the flat bit. It gives you confidence when they [time keepers] are saying you're pulling away and it just spurs you on and you find the extra gear…I just kept pushing, pushing. Man, it was a struggle around the Mount the last lap but really, really happy."

Clarke will now return to her summer training base in Wanaka. She'll contest Challenge Wanaka on February 18 and then see if she can't relinquish Berry of the Ironman NZ title after finishing runner-up to the Tauranga Tri Club star in 2021, the last time the pros raced the full in Taupo.
"I've still got to get the schedule sorted after that but it gives me confidence going into Ironman especially."
Watkinson's immediate future entails Australia Day (next Tuesday) surgery to remove the plate from the elbow she broke during a mid-year bike crash in Europe. Beyond that, she's hoping the bike base miles she put in her legs prepping for last week's Australia Road Cycling National Championships (7th and 10th in the road race and ITT) will pay dividends in Europe later this year.
"I'll do the PTO races, 70.3 World champs, that winter period for us from May will be huge. That's the target but definitely don't discount these races, great to have on the calendar," Watkinson said.
"Today was great, really happy for Bec's getting the win and lucky I managed to find something deep down there to get second over Hannah in the last couple of K's of the run.
"I think we're all in different parts of our season, I know Hannah is doing Ironman, I'm not sure if Bec's is as well? Sometimes I can pull the rabbit out of the hat at these early season races but I appreciate having to dig deep [anyway]."

Berry was likewise accentuating the positives afterwards as she looks to her Ironman NZ defence on March 4.
"We had a really tight race between the three of us. Unfortunately, I ended up with third position but that's how it goes, I gave it everything I have," Berry said.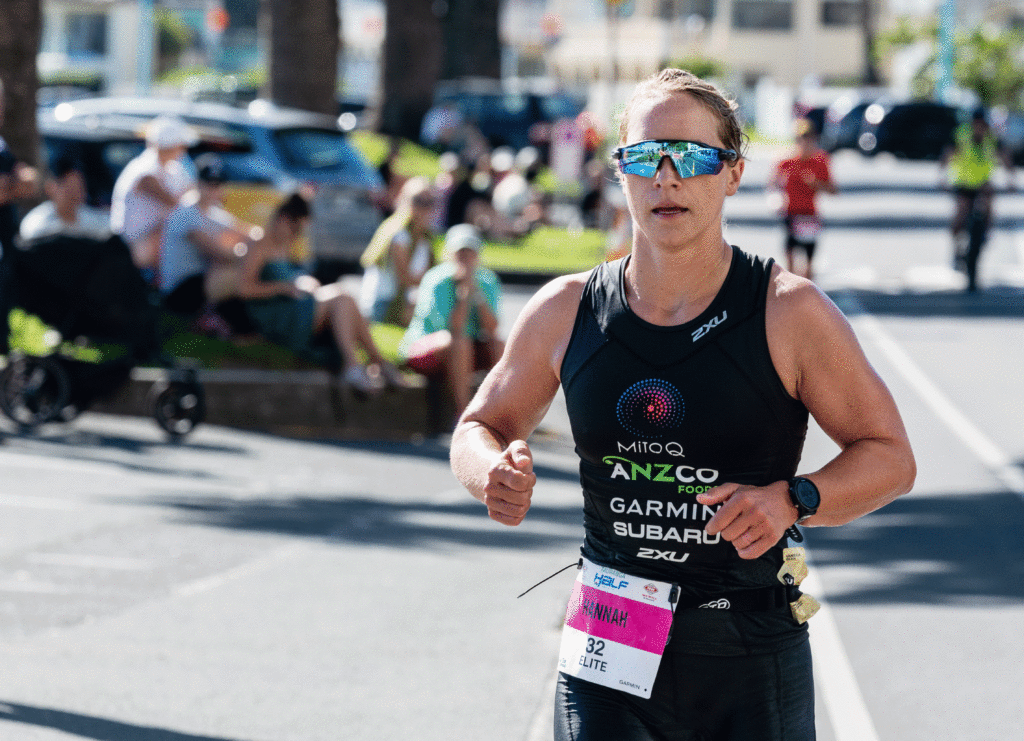 "For me it was nice to stick to Bec's feet for most of the swim, would have liked to have stayed there the whole way but I lost concentration a little bit and fell off the feet. The bike was pretty good but I didn't really feel like I had 100 percent pep in the legs today. It was enough to stick with and work with the girls, we kind of rotated around, and so it was nice to have turns just because the legs felt a little bit sluggish. Then the run, I mean my run is improving but I just need more time really training to get the run to where I want it to be.
"But I can only do what I can do and training is going well so it is positive steps I think."