Photos: Julie Maree Photography/juliemaree.nz

By Kent Gray/Triathlon.kiwi
The Trent Thorpe-Ryan Sissons short course racing re-boot is off to an encouraging start with Thorpe winning Tuesday's EVES Surfbreaker Triathlon to sign off 2022 in style.
The 26-year-old Cambridge-based Aucklander outkicked Palmerston North teen Sam Parry in the sandy finishing straight to capture the 750m swim, 20km bike, 5km run title, raced over two Super League-Esque Enduro style laps, in 54:41.

Parry, 19, re-emphasised his enormous potential with silver six seconds adrift while Tauranga's Lachlan Haycock backed up his Suzuki NZ Standard Distance Championship win at Tinman last month with Surfbreaker bronze in 54:57.

Thorpe had flirted with the idea of giving long-distance triathlon a nudge after a challenging period bouncing between New Zealand and Australia. He hadn't seen his old Aussie coach Cam Watt for the two years since returning home from Brisbane permanently and even entered last month's Ironman 70.3 New Zealand in Taupo with an eye to the longer distances. That was until Sissons, the two-time Olympian and 2018 Gold Coast Commonwealth Games Mixed Team Relay bronze medallist, reignited his short course belief.
Thorpe is now determined to give Paris 2024 and/or LA 2028 Olympic selection a serious crack and has started on the right note on a sunny Mount Maunganui morning.
"I'm happy with that result at this time in the season," Thorpe told Triathlon.kiwi.
"I know I'm fit but I haven't done any speed work yet so I was happy with how I felt, especially the run, I felt quite good."

Sissons has been working to increase Thorpe's aerobic threshold and it came in handy in the final 800m of the run which took the field across the leg-sapping Mount Maunganui Beach sand.
Parry, fresh from fifth in the elite/U23 racing at the Manawatu Triathlon League, stuck with Thorpe for much of the race before Thorpe's hard early pace paid off on the second lap.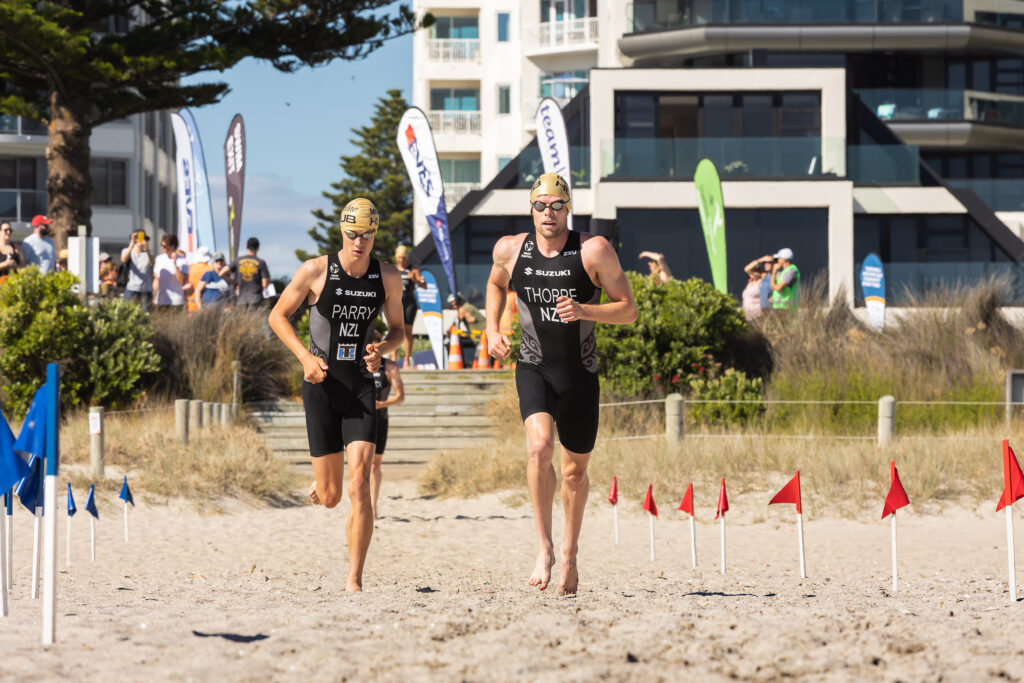 "I thought I'd make the first swim a bit hard and it split the race up which was good…we rode a decent pace and ended up with about five or six of us. But the race always splits on the first run so I'd thought I'd give it some gas and had a good run, took Sam with me.
"On the second bike Sam's Di2 [electronic gearing] ran out of battery so he wasn't able to pull through as strong as he could and the group ended up catching us towards the end of T2."

The main group remained relatively intact on the final 2.5km run until Thorpe hit the sand.

"When we got to the sand I just dug my feet in and ran as hard as I could. Sam started looking back so I knew I had him then."

Thorpe was full of praise for the Manawatu whippet.

"Sam is definitely one to watch. I knew he was a really good runner and down the line, ever for Paris, he's going to be pretty dangerous."
The road to the 2024 Paris Olympics ramps up with Oceania Cup sprint races in Wanaka and Taupo in February before New Plymouth's World Cup return on March 26. Before then, Thorpe will test himself again at the Blue Lake Multisport Festival, run by the Rotorua Association of Triathlon and Multisports (RATS) club on Lake Tikitapu on January 28-29.
"This definitely gives me a bit more confidence for next year. This was a good race to get something done before the New Year. I'll have a little downtime now over New Years and then get back into it."
EVES Surfbreaker 2022 – Elite Men