Photos: Hamish Collie
By Kent Gray/Triathlon.kiwi
Trent Thorpe versus Lachlan Haycock and the Hannah's, Knighton versus Howell. Perhaps a little Madison Keightley too. Mix with a splash of Mount Maunganui surf, a hearty dollop of picturesque Marine Parade cycling and garnish with a pinch of sand and Kiwi triathlon is ready for a fascinating 2022 sign-off.
The EVES Surfbreaker Triathlon has been an iconic post-Christmas date on the domestic calendar since 1985 and while Hayden Wilde and Nicole van der Kaay won't be back to defend their titles on December 27, there are plenty of big names primed for the Super League-esque sprint race.
Haycock will look to kick-on from his Suzuki NZ Standard Distance Championship triumph at Tinman, just around the peninsula at Pilot Bay late last month, and will line up on Tuesday motivated to reverse his fourth to Thorpe's third at last year's Surfbreaker.
Thorpe didn't race the standard at Tinman, instead romping away with the sprint title in what, at the time, was planned as a training hit out before the Ironman 70.3 New Zealand a fortnight later. But the 26-year-old has had a change of heart and jettisoned his Taupo plans after linking with new coach Ryan Sissons.

The two-time Olympian and 2018 Commonwealth Games Mixed Team Relay bronze medallist has convinced Thorpe he has untapped short-course potential and Surfbreaker will be a good marker five weeks into their new partnership.
They're focused on increasing Thorpe's run prowess and are in an aerobic threshold-building phase, meaning the Cambridge-based Aucklander won't be up to top speed until much closer to Oceania Cup races in Wanaka (Feb.17) and Taupo (Feb.24-25) and World Cup New Plymouth (March 26).
RELATED: Trent Thorpe's Surfbreaker circuit breaker
But Thorpe is still looking forward to what shapes as a mouth-watering prelude to the summer of elite racing ahead, and especially so given his swimming DNA and the potential for the race living up to the name on the tin.
You'd be comfortable with a bit of surf, wouldn't you, Trent?

"Um, yeah…I don't mind waves, it kind of mixes it up a bit, makes the second swim really hard if there's a swell," Thorpe said.

"The first swim is just 300 odd metres, we just get out there and get out [of the water] and we're all together normally. But the second swim, if it's wavy, it kind of changes the dynamic a little bit."

Indeed, the Surfbreaker format, encompassing two 375m swims in the pounding Mt surf before two laps of 10km on the bike and two 2.5km loops of Marine Parade running, is nothing if unpredictable. The stinger is the closing 800m of each lap of the run being on the soft, Mt Maunganui beach sand, as Thorpe acknowledged.
"Running in the sand also throws another spanner in the works, it's that much harder."
Palmerston North's Sam Parry and Luke Scott and Austin Carter (North Harbour) will be others to watch in the men's elite race which takes the gun at 9.13am on Tuesday, three minutes after the elite women.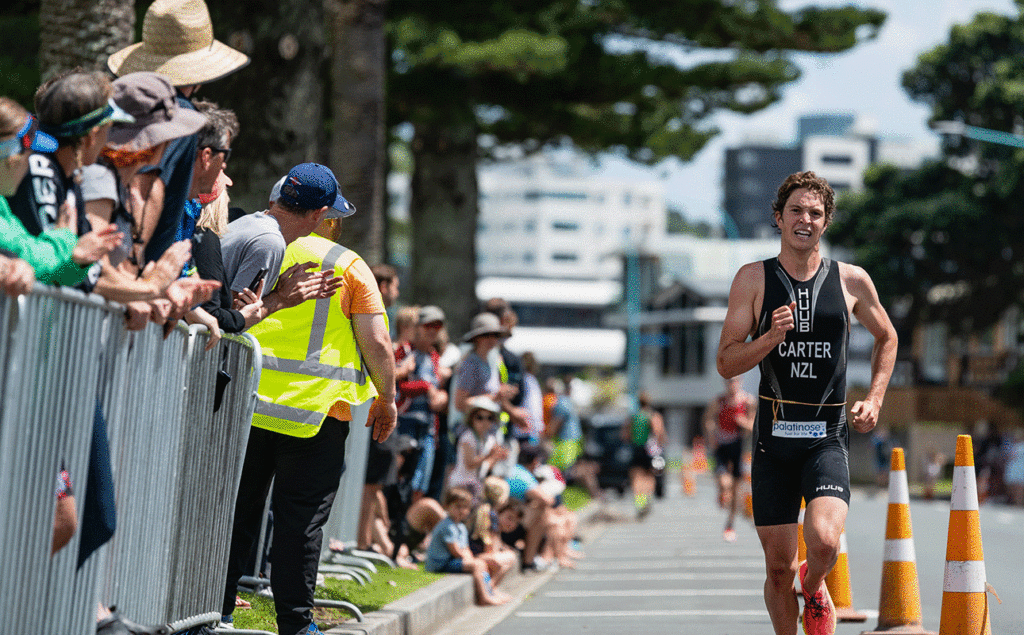 Parry is coming off a fifth-place finish in the Elite/U23 division at last weekend's Manawatu Triathlon League dominated by a quartet of much-vaunted Aussies, while Scott edged Parry into fourth place in the Tinman sprint won by Thorpe.
Carter, meanwhile, finished 11th in the 5000m B Race at the recent 'Night of 5s' festival at AUT Millennium in Auckland's North Shore in a smart time of 15:01:84. (Ed's note: Tri NZ elite squad member Saxon Morgan was 15th in the A Race in 14:47:74; Julian Oakley won in 13:29:74).
Knighton will enter Tuesday as the women's pre-race favourite after easily winning the Suzuki NZ Standard Distance title at Tinman but will be wary of Madison Keightley (Manawatu) and Howell (Taupo) who claimed silver and bronze respectively at the MTL.
Keightley will also be able to draw on her third place in the sprint race at Tinman while Sophie Spencer, another of the Tier 3 Tri NZ elite squad members, will also be watched.
Eva Goodisson was poised to offer Knighton and co. stiff competition but the Havelock North elite is easing her way back to full fitness after suffering a prolapsed disc in her lower back that has pressed a nerve controlling her left leg. It's a minor setback after Goodisson's career-best 7th place at World Cup Miyazaki in October but the 24-year-old doesn't anticipate being out for long.
"There was a chance I could just casually race but not ready yet so I'll be on the sidelines cheering and will be back soon," Goodisson said.