By Kent Gray/Triathlon.kiwi
With his short course dreams going nowhere fast, Trent Thorpe seriously toyed with the idea of transitioning to long-distance triathlon.
Home but unsettled after a stint living in Brisbane, the Cambridge-based Aucklander hadn't seen Aussie coach-to-the-stars Cam Watt for the best part of two years which manifested itself into a series of ho-hum results at home and abroad.
The 26-year-old even entered Ironman 70.3 New Zealand earlier this month but scrubbed Taupo after a perspective-changing chinwag with Ryan Sissons, a one-time rival who twice represented New Zealand at the Olympics and was part of New Zealand's bronze medal-winning mixed relay quartet at the 2018 Gold Coast Commonwealth Games.
Thorpe is now five weeks under the wing of the London 2012 (33rd) and Rio 2016 (17th) rep and completely re-energised courtesy of a fresh path illuminated by his new coach.
"I think I still have a lot of short course left in me," Thorpe told Triathlon.kiwi.
"I was thinking about long distance and was planning on doing the 70.3 but I just wanted to give myself another chance with the new perspective basically.
"I still think I can make the Olympics, whether it be this one [Paris 2024] or potentially the next one [Los Angeles 2028]."
It's a long way from the EVES Surfbreaker in beachy Mt. Maunganui to romantic Paris, geographically and metaphorically, and longer still till LA. But Triathlon Tauranga's traditional post-Christmas blowout on December 27 is a circuit-breaker of sorts for Thorpe, the chance to park the past two years and mark the early progress of the new Sissons' regime.
As a swimmer fast enough to push eventual Rio 2016 400m freestyle gold medallist Mack Horton when the pair were 15 and racing the 200m medley at the Victorian age group championships, Thorpe won't be fazed if the surf is up in the Kiwi holiday hotspot.
But it's the run where the Howick College old boy is specifically targeting improvement via incremental gains.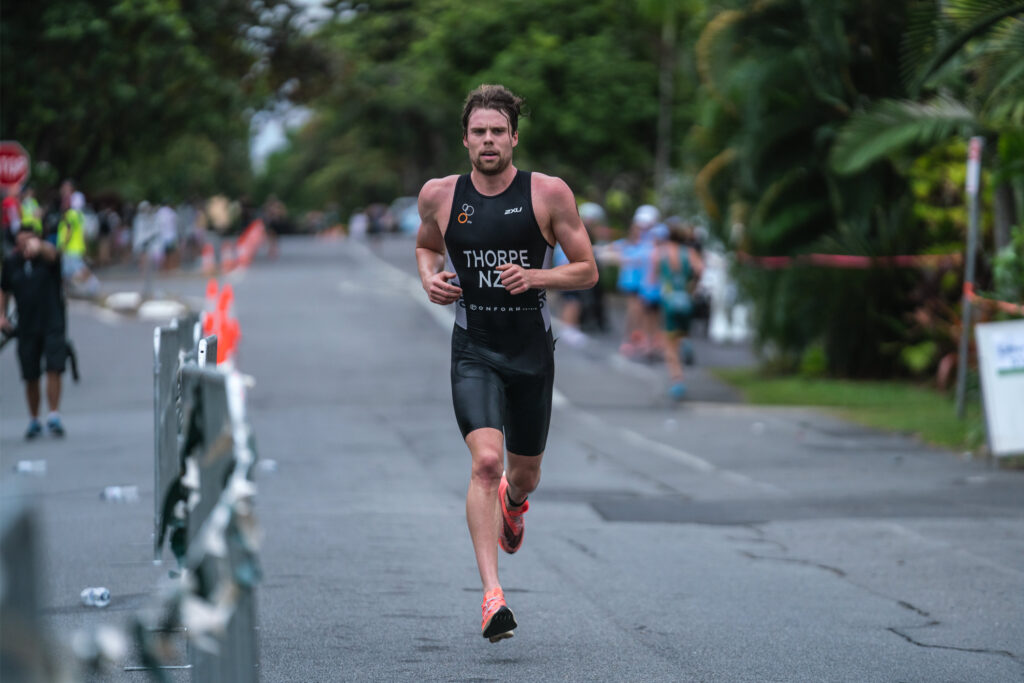 "My weaknesses are probably big pack riding with 70-odd guys and then obviously my run needs to improve if I want to be one of the best of the world," Thorpe says with refreshing honesty.
"I know my 5k and 10k times are just not up to par with the top guys. Basically, what me and Ryan are focusing on through this part of the season, we're beginning to build my aerobic threshold so I have a bigger engine and can just hold the pace for a lot longer."

Just before the Kiwi elite summer calendar kicks off with Oceania Cup racing in Wanaka (Feb.17) and Taupo (Feb 24-25) and the return of World Cup New Plymouth (March 26), speed work will ensue.

But for now, Thorpe is trusting the process and the luxury of Sissons' near-daily input.

"I've gotten along with him ever since I've been doing tri, he's kind of always been there," Thorpe says of their new coach-athlete relationship.
"He's a little bit older than me [Sissons is now 34], he's been doing it for a long time. I wouldn't say I looked up to him because I wanted to beat him at the time but now he's someone I aspire to be as good as. Him having his pedigree and experience, I just thought he'd be a good match for me."
Sisson's input has thus far proved invaluable, as too has a little introspection on Thorpe's part after a year that started with lingering injury niggles and uncertainty about where he should live.
He narrowly missed the podium at Oceania Cup races in New Plymouth (4th), Mt Maunganui (5th) and Taupo (4th) earlier this year before an eye-catching 10th placing at the indoor Arena Games Triathlon finals in Singapore. But thereafter, 22nd place in Huatulco was the best of four World Cup performances sandwiched around 34th place in Montreal in his sole World Triathlon Championship Series start of the year in late June.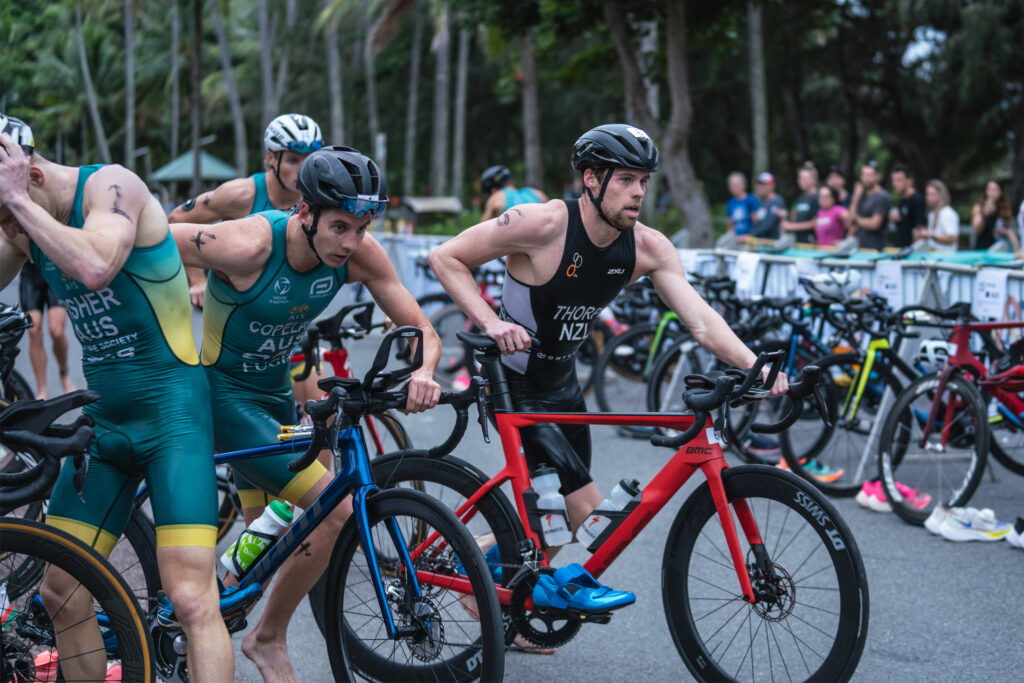 The goal for 2023 is to ascend the world rankings – he's currently 89th in the World Triathlon list and eighth in Oceania behind only Hayden Wilde and Tayler Reid from a Kiwi perspective. But he knows the heat will be on this Oceania summer with Saxon Morgan, Dylan McCullough, Janus Staufenberg and Lachlan Haycock among those with their own Olympic dreams.
He'll get a measure of what's to come in the New Year at Tuesday's Surfbreaker with Haycock set to be one of his toughest rivals in the two Super League-esque swim-bike-run laps, each encompassing 375m of swimming, 10km of Marine Parade cycling and 2.5km of running with a leg-sapping 800m kicker to finish on the main Maunganui Beach.
"Basically I just want to race as well as I think I can race and be a bit more consistent with racing and with the training. And that would include, I'd say, being accountable for what I'm doing and where I am," Thorpe said.
"It's about being consistent week-in and week-out, rather than doing two weeks good and one week bad, that sort of thing."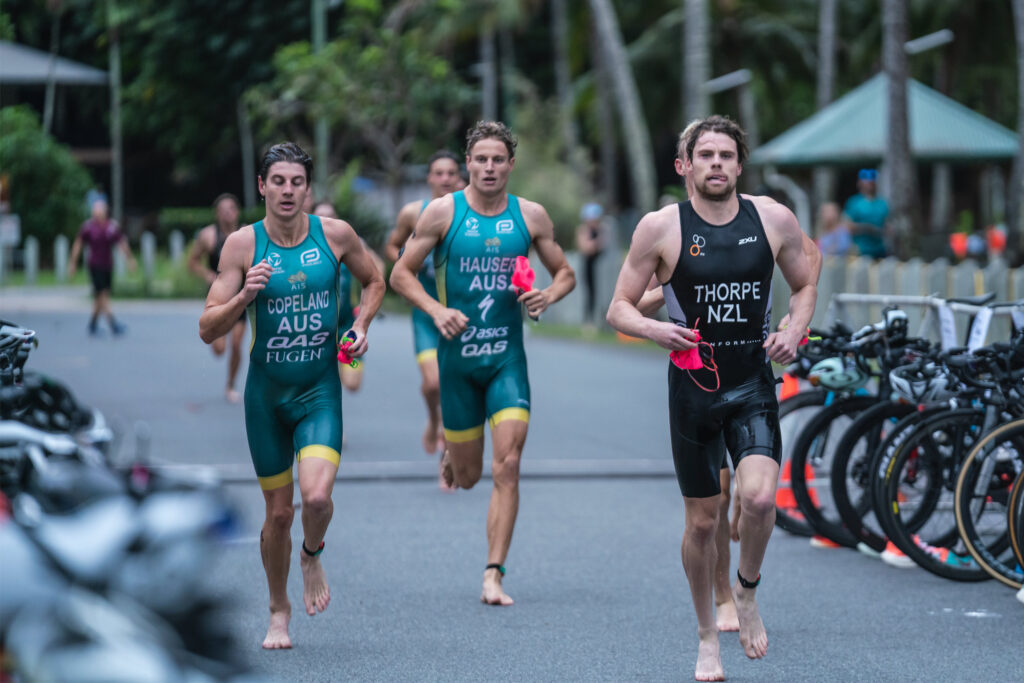 Thorpe, the older brother of Tokyo Olympian and recent WTS Abu Dhabi 25th place-getter Ainsley, has found an anchor outside of triathlon in his political science studies at Waikato University. He's a third of the way through the three-year degree with the long-term goal to graduate by 30, although he's willing to play it by ear if his short-distance goals re-gather steam.
"This year wasn't the best. I struggled with injuries and niggles out of Covid and they lingered at the start of the year. I wasn't really sure where I wanted to be either, here or in Oz, in Auckland or overseas, I was just trying to figure that out.
"My results were okay but I think I have a lot more to give and that's why I wanted a new perspective and to try something fresh."
In Sissons, he looks to have found that, along with a bit more tri-life balance courtesy of a renewed focus on his studies. It's a melting pot that has those stalled short-course dreams back on the boil.