Images: Sportograf
By Kent Gray/Triathlon.kiwi
It was meant to be the Hannah Berry versus Rebecca Clarke show except no one forwarded the Taupō 70.3 memo to visiting Swede Anna Bergsten.
The 31-year-old from Öglunda upset the script at the 2022 Nutri-Grain Ironman New Zealand on Saturday, claiming her maiden 70.3 title in 4:21:09 – 2mins 18sec clear of Berry (nee Wells/4:23:27) with Clarke completing the podium in 4:24:37.
As the 2021 age group world and European Ironman 70.3 champion, no one should really have been surprised by Bergsten's triumph. Mind you, she has endured a tough 2022 after turning pro at the beginning of the year, meaning she slipped into New Zealand largely under the radar and certainly in the shadow of defending 70.3 and full Ironman NZ champion Berry and PTO and Ironman Worlds standout Clarke.
"This is very special because I've had a catastrophic year," said Bergsten who was fourth off the bike, 1:40 down on the Kiwi duo, but produced the best-of-day 1:25:50 split to sweep past Berry at the halfway mark of the half marathon and win going away.
"I had COVID then iron deficiency and then I crashed at the European champs, so it's been a really tough season, so it felt really good to end on a high and go into off-season able to do some good work for the year ahead.
"It feels amazing, really good, I'm so happy to be here. I was going here in 2020 actually for the age group World Champs so I've been longing to come back ever since and finally, I've been able to make it over, as pro, not an age grouper, it feels amazing."
For Berry, the highlight was 2:22:21 bike split but her 1:30:01 half marathon time was 4mins 11sec off Bergsteb's blistering pace.

"Some good parts to it," was the start of Berry's succinct post-race analysis as she looks ahead to the Tauranga Half at the Fulton Hogan Mount Festival of Multisport on January 21 and specifically the defence of her Ironman NZ title on March 4.

"Had a great bike but still some areas to work on."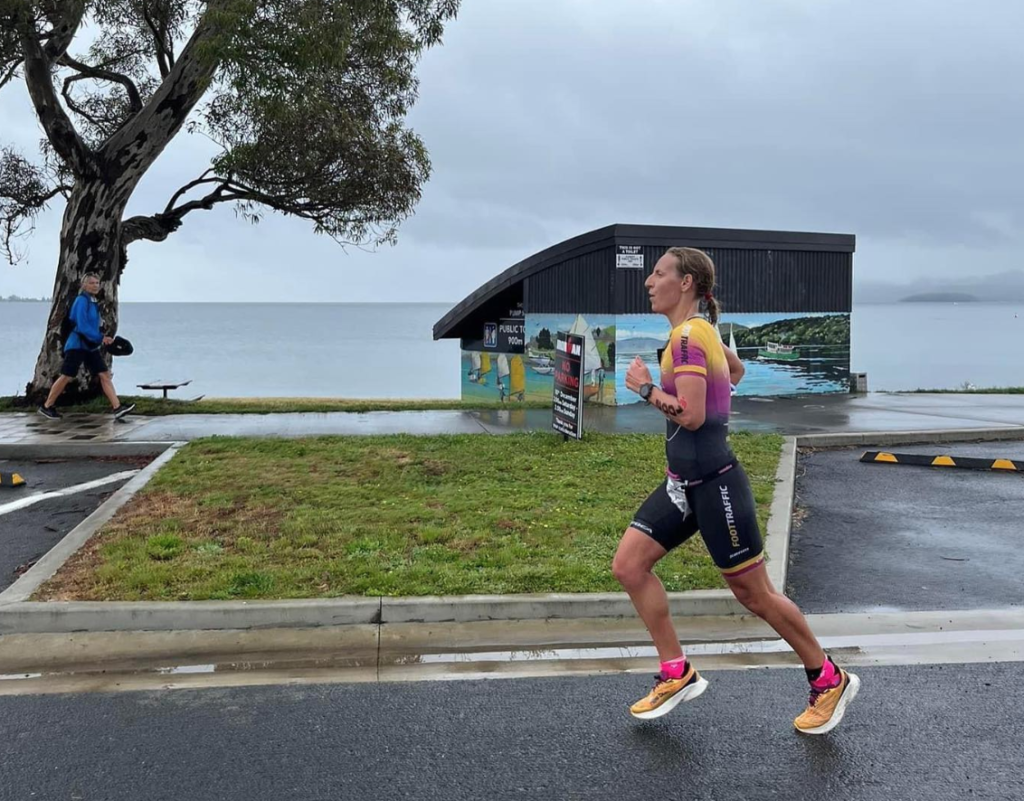 Clarke lead out of Lake Taupo with a 24:50 split, was swift out of T1 and happy with her 2:23:21 bike. The 33-year-old Aucklander pushed Berry early on the run but didn't quite have enough training miles in the tank to stay with her Tauranga rival, eventually stopping the half marathon clock at 1:31:17.

"That was some tough conditions out there, cold swim, rainy bike and run! Pushed some of my best watts on the bike, that course is unforgiving though and wheels fell off bad at end of run," Clarke said on social media.
"After a great season I had high hopes to finish with a win and I put myself in the position throughout the race to do this, just felt like stringing together four weeks of quality training after a break wasn't enough at this level of racing! Regardless it's been an amazing year and I'll take a podium to finish it off."

Like Berry, Clarke will line up in Tauranga on Jan. 21 and Challenge Wanaka on Feb. 18 before Ironman NZ. But that is for later. Right now, she is just happy to be back racing in NZ.
After congratulating Bergsten and Berry, Clarke beautifully summed up the overall feeling in Taupō after all the pandemic delays to Ironman NZ.
"The best part of the weekend? The tri community back in full force in Taupo and seeing athletes smash their races and achieve their goals I love this crazy sport we do!"
NUTRI-GRAIN IRONMAN 70.3 NEW ZEALAND – FINAL RESULTS
Professional Women
1. Anna Bergsten (SWE) – 4:21:09
2. Hannah Berry (NZL) – 4:23:27
3. Rebecca Clarke (NZL) – 4:24:37
4. Chloe Hartnett (AUS) – 4:26:02
5. Rebecca Kingsford (NZL) – 4:39:54
6. Laura Armstrong (NZL) – 4:44:24