By Kent Gray/Triathlon.kiwi
After a mostly frustrating season, Saxon Morgan will race into 2023 with the momentum of a top 10 at the U23 World Triathlon Championship and renewed hope of qualifying for the Paris Olympic test event.
The 22-year-old briefly played the role of frontrunner in the decisive 10km run in Abu Dhabi on Friday before fading in the brutal 37 degree Celsius heat to finish the standard distance (1500m swim, 40km bike, 10km run) 8th in a time of 1:51:12. Morgan was 57s seconds adrift of impressive winner Connor Bentley who powered away from Hungarian Gergely Kiss and fellow Brit Hamish Reilly.
Cantabrian mate Dylan McCullough, just two races back after breaking his elbow following his breakout 7th at the Birmingham Commonwealth Games in July, was 26th in 1:53:51 while Auckland's James Corbett pulled up on the blue carpet halfway through the run and recorded a DNF.
Morgan has struggled for consistency in 2022 but did finish second at Africa Premier Cup Larache in Morocco in late June and was encouraged by his swim – normally his weakest discipline – en-route to 17th place in his last race, World Cup Miyazaki in Japan on October 29.
He targeted a quick exit in Friday's swim and needed it with a mammoth 62 starters flailing about in Yas Bay. Thankfully Morgan got away relatively clean and exited the water in 13th place, just two spots behind McCullough.
The pair then rode the 40km at the tail of a main peloton that swelled from 22 riders to 38.
Tucking in and conserving energy on the bike gave Morgan hope on the run and he set the pace for much of the second 2.5km lap of four. But the pace proved too much and he eventually managed a hobbled, cramming sprint over the line, just 43s outside the medal positions.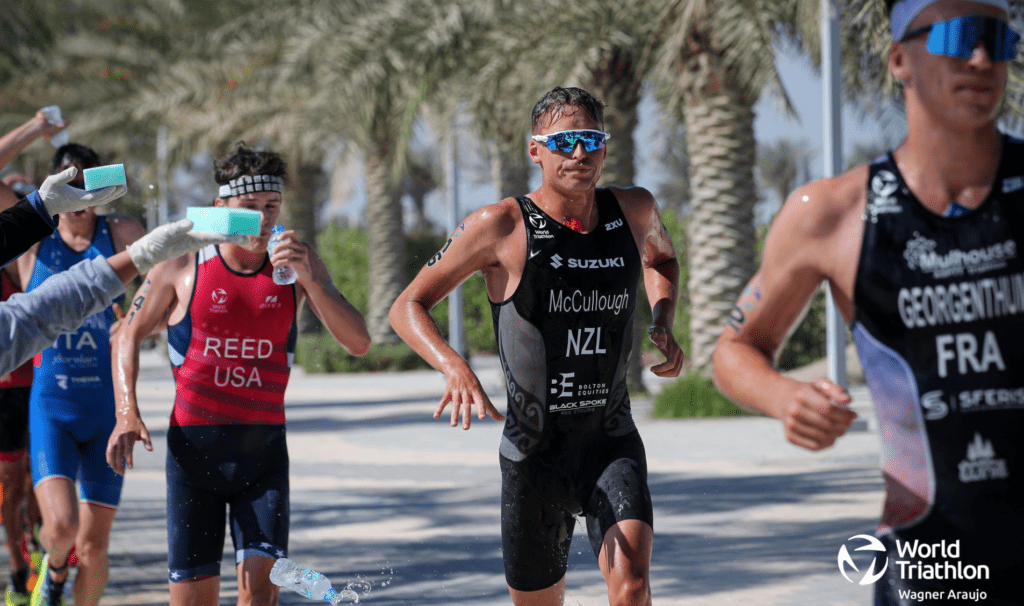 "Yeah, it was pretty good out there, it was really hot," Morgan said of his day which was worth US$900 and a handful of invaluable world ranking points.
"I had a really solid swim which set me up for a pretty good race. The bike, unfortunately, came together on lap five [of eight] but yeah, I managed to get on the run without crashing which was good because there were a few crashes today and then yeah, pretty happy with my run.
"I felt great leading the run, felt I could hold it for longer than I did. Just couldn't manage the heat on lap three and four. It was very brutal."
Morgan will likely contest the U23 worlds for a final time in Pontevedra, Spain next September and is also determined to get more ranking-point-rich starts in WTCS and World Cup races before then. He'll likely start 2023 at the Oceania Cup sprint in Wanaka on Feb.17 and with the ultimate goal the XXXIII Olympiad in Paris 2024, it's the test event in the City of Love next August that will spur him on in every race.
Saxon has a way to go as he's currently ranked fifth Kiwi in the Oceania continental rankings and sixth in the Olympic standings. But Abu Dhabi could yet prove a decent launch pad for a big 2023.
"I had a pretty average season this year, a few up and down results, but happy to finish on a high here," Saxton told Triathlon.kiwi.
"2024 would be awesome, it is coming around pretty quickly, but yeah, 2024 the test event next year, hopefully get a start there and make my way on to the 2024 Olympic start line. That would be pretty cool.
"Even if I just get on the start list for that test event, that will be a good achievement."