By Kent Gray/Triathlon.kiwi
If you see bib number 1180 whiz by during Sunday morning's GenX/Marra Tinman triathlon in Mt Maunganui, give Steph Lockie an extra enthusiastic cheer.
You won't find a more courageous athlete on the start line for Tinman's blue-riband Olympic distance race which doubles as Tri NZ's Suzuki New Zealand Standard Distance Championship.
The Te Awamutu mum-of-one's inspirational story actually has its roots in the Tauranga Half, an endurance race she was training for when she set out on a ride on the afternoon of April 7, 2021. With a good 30km already ticked off around the picturesque Mt Kakepuku circuit well-known by the Waikato tri and cycling communities, Lockie was just 500m from the town boundary but frighteningly didn't make it home after being rear-ended by a distracted driver on a 80km/h stretch of road.
"He hit me from behind pretty much at full speed," says Lockie, taking up a horror story that is sadly an all too familiar tale for road cyclists up and down New Zealand.
"It was a van so my back flew into his bumper and that's how I broke my back in two places. My T8 and T11. Then I've come forward onto the road and broken my collarbone. I got knocked unconscious and rolled into the grass."
Fast-forward two weeks in Waikato Hospital and a surgery to plate her collarbone back together, and Lockie was home counting her lucky stars. The driver was charged with careless driving causing serious injury and got lucky too as Lockie's speedy recovery was nothing sort of miraculous.
"My back breaks actually ended healing themselves so that was really lucky. Don't get me wrong, it was horrendous as you can imagine and the first three weeks were really, really painful but then after that, it was actually probably as smooth [a recovery] as you could have got."
Which goes some way to accounting for the next miracle in Lockie's remarkable story as she discovered she was pregnant that July, less than four months after the accident.
"It wasn't planned necessarily but it was a happy accident," Lockie says with a giggle. "It was a high-risk pregnancy anyway so she was a pre-term baby, born on January 2nd."
Tiny Ava, just 4.5 pounds (2kg) at birth, is now a bouncy 10-month-old and will spend the weekend with Nana as Lockie makes what is sure to be a highly emotional return to triathlon.
It won't be the 31-year-old's first Tinman but it will be her standard distance (1500m swim, 40km bike, 10km run) debut and a good tester to see if she is up for the Tauranga Half, the showpiece of the Fulton Hogan Mt Festival of Multisport on January 21.
"I am really excited because I definitely never thought I'd be doing a triathlon ever again," Lockie said.
The bike leg along Marine Parade will be particularly poignant as Tinman will be the first time she's cycled on the open road since the accident. Lockie's training rides since have been either on a stationary bike in the gym or on the Te Awamutu velodrome, sprinkled with a couple of mountain bike jaunts in Rotorua's Redwood Forest.
"I literally just go around and around and around and it's really boring but I'm just a bit petrified to go on the open road. It was definitely quite a journey as you can imagine with a lot of physio and stuff like that."
So how do you think you'll go on the bike?
"I don't think I will have a problem. I'm actually quite mentally strong in that respect."
Of that, the Tribe Nation is already convinced. You don't go through what Lockie has experienced and zip up your wetsuit again without a heap of intestinal fortitude.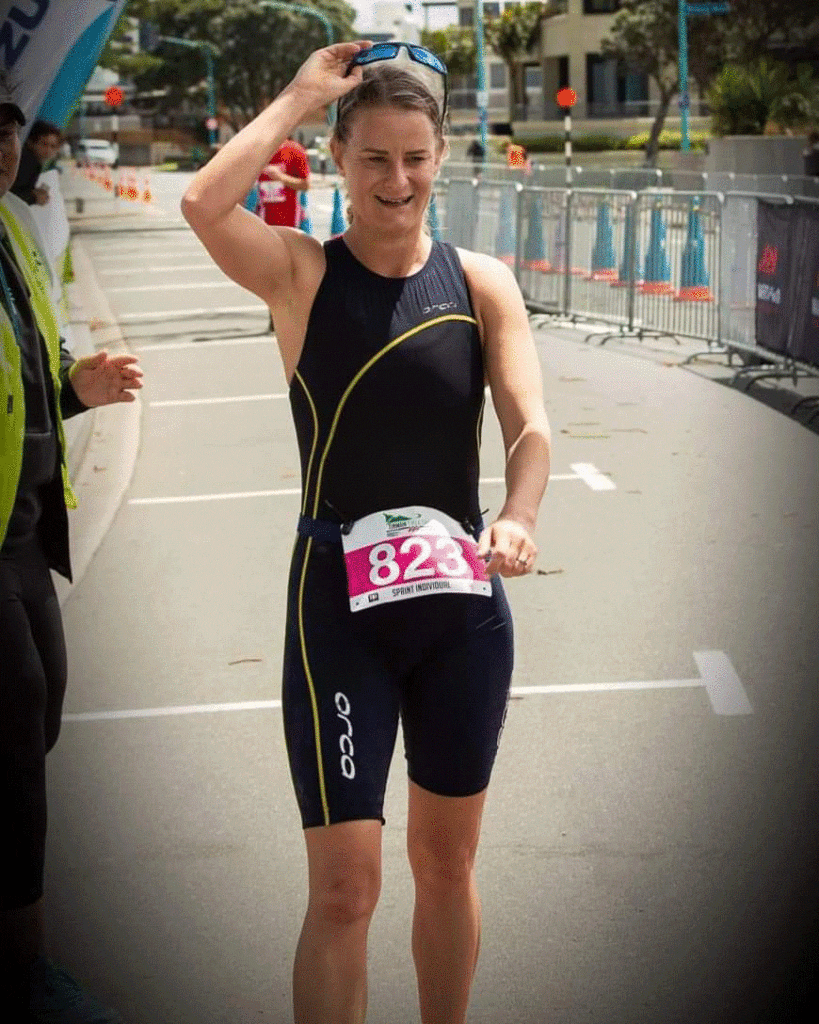 She isn't expecting miracles but Sunday's race is not about her time, more a case of getting back on the proverbial horse bike.
"Basically Tinman is a tester to see how I go and if I keep training towards my half or if I just like do it and that's that. Obviously, I won't stop training altogether but I guess it's basically a see how I go. I think I'll be fine."
Lockie also hopes to inspire others, be they newbies to the sport or those returning from their own adversity, by sharing her story.
"I guess my message is really if you don't enter you will never know and sometimes just entering gives you that motivation and goal," Lockie said.
"When I first started triathlon in 2017 [via Tri Tauranga's Generation Homes Women's Triathlon which will celebrate its 10th anniversary this February 19], I couldn't swim four pool lengths non-stop. But swimming in particular is an awesome life skill and any training or time you move your body is amazing for your physical and mental health.
"You don't have to win you just have to do your best and enjoy the journey. Everyone in the triathlon community is so friendly and supportive so just give it a crack because you might surprise yourself."
We suspect the brave woman sporting bib #1180 might just surprise herself on Sunday. Inspiring others, it seems, comes standard.