Photos courtesy Super League Triathlon
By Kent Gray/Triathlon.kiwi
Hayden Wilde didn't quite get the storybook finish he'd hoped for in Saudi Arabia but duly ticked off the first of his two big end-of-season goals by being crowned Super League Triathlon (SLT) champion early Sunday.
The Whakatane 25-year-old finished third behind Australian Matt Hauser and resurgent Brit Jonny Brownlee at the STL season-decider in Neom, comfortably inside the top 15 he needed to secure the overall title after a dominant season.
What didn't go according to plan for the Sharks talisman or his Kiwi team-mates Tayler Reid and Nicole van der Kaay was the teams' title race with the Bahrain Victorious Scorpions snatching the $120,000 prize by a measly two points.
It was a particularly galling day for Reid who featured strongly early before fading to 10th in Neom. It was the Gisborne 26-year-old's worse result of the series and cruelly saw him slip from third to fifth in the overall standings, a points and fiscal gut punch at the final, dusty hurdle.
There was brighter news for van der Kaay who produced by far her best result of the season, fifth behind women's champion Georgia Taylor-Brown, fellow Brit Sophie Coldwell, Scot Beth Potter and American Taylor Spivey. Van der Kaay's final flourish saw her climb a spot to ninth in the women's standings, an impressive debut season effort.
But this was Wilde's moment, even if he left a few greenbacks in the desert as the Sharks settled for a share of the $80,000 second place prize fund and Wilde's tilt at the individual bike discipline fell short with Rhino Vasco Vilaca snaring that $15,000 bonus.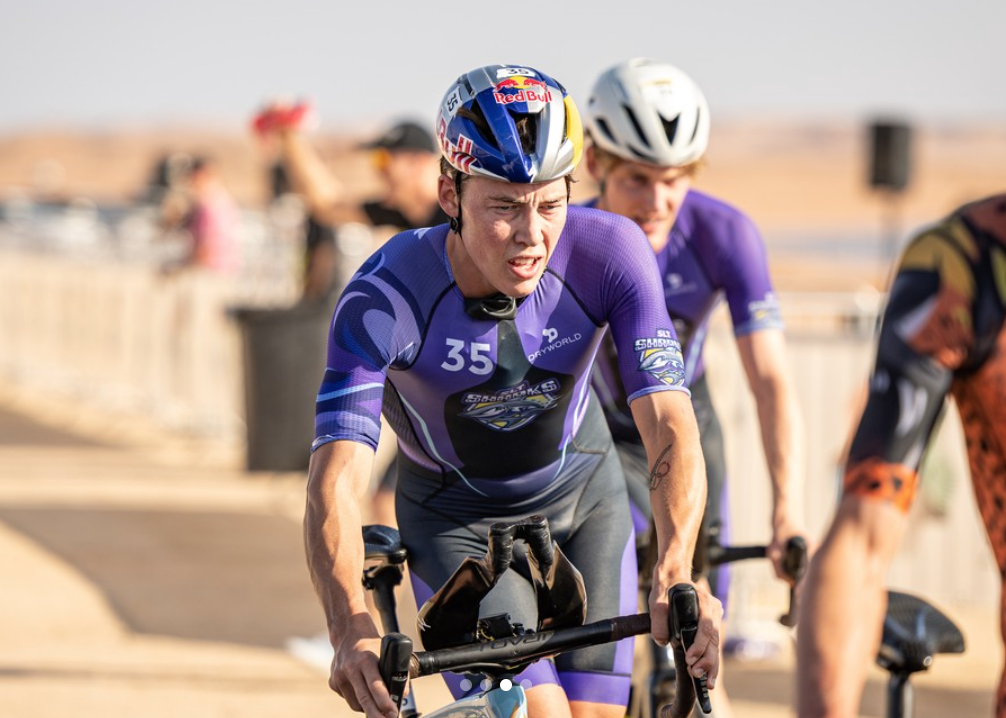 In the end, Wilde waltz away with US$155,000 (NZ$266,000) for three race victories, a pair of thirds, the $15,000 run discipline gong, a $10k cut of the teams' prizemoney and a $50,000 bonus for winning the overall.
"Yeah, it's definitely an experience for everyone, you know, having the gravel [on the bike course] and kind of being in the middle of nowhere," Wilde said of the SLT's unique season-ending destination in the Tabuk Province in north-western Saudi Arabia.
"But the atmosphere was amazing, and it's really nice to finish here with some nice, lovely warm weather and yeah, it's been a massive journey and it's really nice to finish here and get the series done," Wilde said.
The 2022 Commonwealth Games silver medallist's focus now turns to the World Triathlon Championship Series finale in Abu Dhabi next month and his likely title showdown and Birmingham re-run with Brit Alex Yee. But not before saluting Hauser and Brownlee with his trademark grace afterwards.
"I just got outclassed today, those boys were extremely strong…they were on fire today," Wilde said.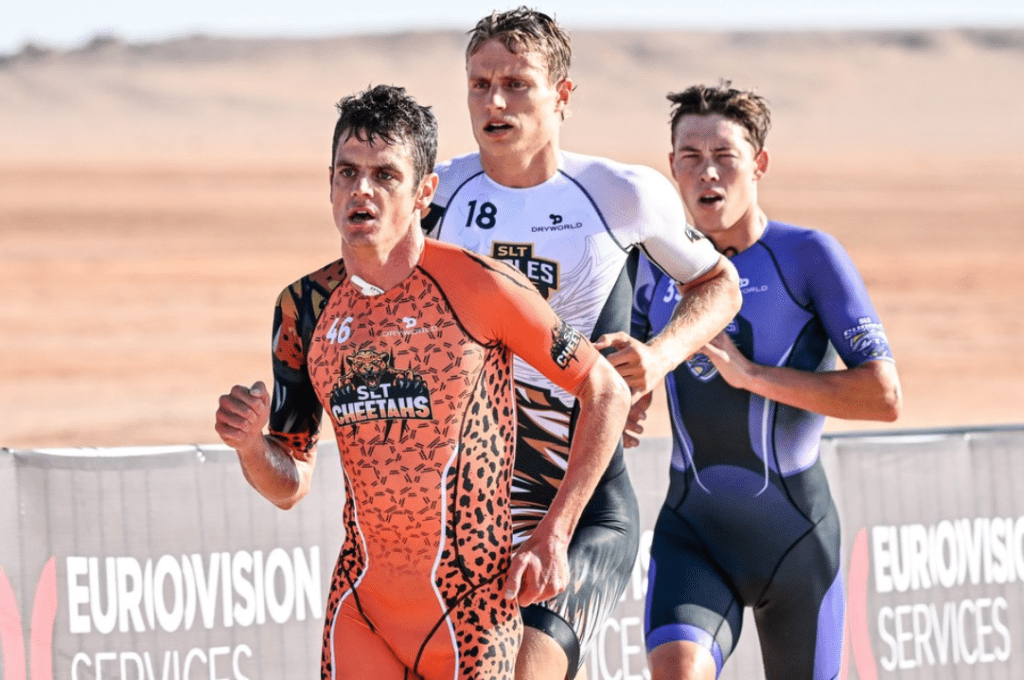 "I was actually feeling quite well in the water, staying in touch really nicely after the first one but the bike and run, I just wasn't there today. Jonny was just pushing, pushing, pushing and then Matt [kicking home], yeah, they deserved first and second. I'm just stoked to hold onto third."
Reid was exhausted, and emotional, afterwards as the realisation of his slide down the individual and team rankings struck home. Still, the Kiwi has US$35,500 (NZ$61,068) to show for his standout season. Partner van der Kaay banked US$22,000 (NZ$37,845) meaning the Kiwi trio snared US$212,500 of the overall SLT purse of $1.4m between them.
"Oh, pretty gutted you know. I just lost my individual podium and we lost the team podium, that is heartbreaking," Reid said just after crossing the finish line.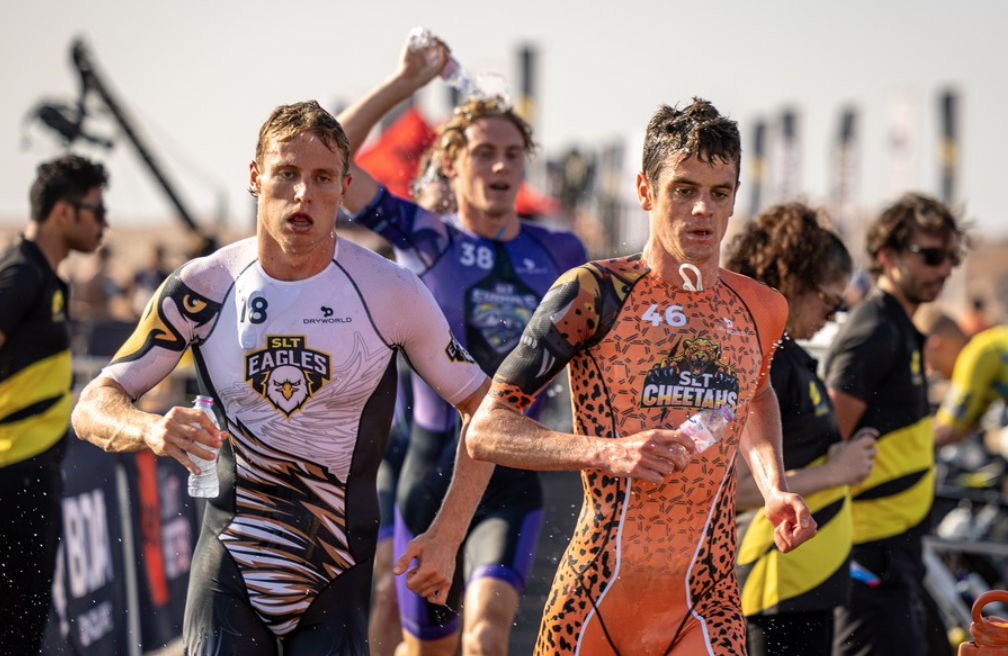 "Like, really hurts but, s…, there's nothing we can do about it. We bled out there today, we bled for the team and I am cooked. Got caught in no man's land and unfortunately, I had nothing left on that [final] run. The desert is unforgiving…out here it was like racing on Mars, it was awesome but relentless."
The on-course reporter then congratulated Reid on an outstanding year as the Kiwi walked off to be with his fellow, stunned Sharks.
"Thank you. We'll be back next year."