Ainsley Thorpe with coach Bruce Hunter (far right) during Wednesday's bike course familarisation. Photo: World Triathlon


By Kent Gray/Triathlon.kiwi in Paris
If you are a triathlete, you get cycling. If you get cycling, you invariably adore the Tour de France. If you adore the Tour de France, you can still really only imagine what it would be like rolling into Paris and around the Champs Elysées in a race. Unless, of course, you're competing in triathlon's Olympic test event that is.
For Nicole van der Kaay, Ainsley Thorpe and Brea Roderick, the Kiwi trio set for the opening act of the XXXIII Summer Olympiad dress rehearsal in Paris on Thursday, it's dream turned reality.
"It's just so surreal to be riding on roads that you can only do if you're doing the Tour de France," Roderick told Triathlon.kiwi ahead of Thursday's race, starting at 6pm NZT on Triathlonlive.tv.
Kiwi No.1 van der kaay was equally in awe after riding a par of laps under the shadow of the Eiffel Tower and Arc de Triomphe during Wednesday's bike familiarisation.
"Oh, stunning," van der Kaay started. "It's probably the prettiest, most iconic bike course I've ever done.
 "The first lap I was just kind of taking in all the history and the beautiful monuments and whatnot but it is a really cool course. It's got a bit of everything, it's got some cobbles, it's got some fast bits, corners…yeah."
Thorpe too was smitten ahead of a standard (or Olympic) distance race where a nomination to the NZOC for next year's Olympics is guaranteed for the first Kiwi on any step of the podium.

"The course is insane," Thorpe said of the middle part of Thursday's mouth-watering 1500m swim, 40km bike and 10km run.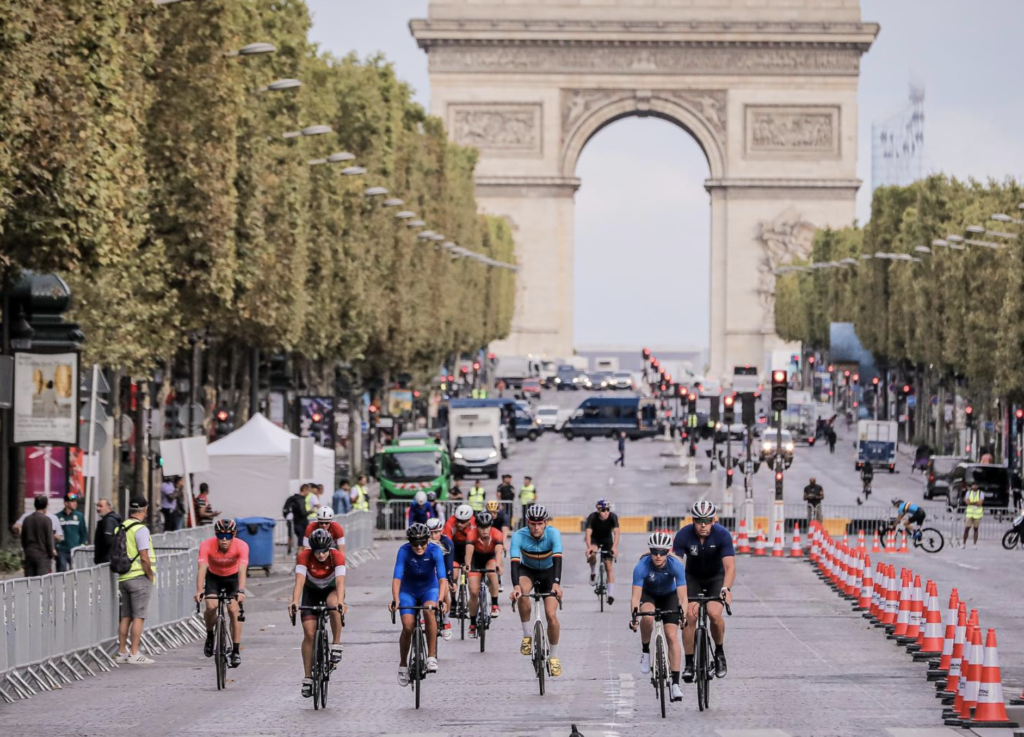 "This is my first time in Paris so to see some of the landmarks today for the first time was pretty cool. You kind of did one lap to see where you are, take it all in and then you're like, oh, I've got to get to know the course as well.

"It looks fast. The first part of transition is more of the cobbles part and then it goes to really smooth road and there's no really narrow sections, so you'll be going fast into corners.

"I don't really think there will be any major slowing down. It's going to be on full gas."
Of that, van der Kaay is sure. The hope is she can capitalise on her ranking of 9th for Paris after back-to-back top 8s at WTCS level in Hamburg and Sunderland. That means she has already ticked off the secondary qualification standard for next year.

"I was surprised…I don't normally look at my ranking, just sign my name off [at athlete registration] and I was like oh, oh s…." van der Kaay said after discovering she is in a top 10 headed by Brit Beth Potter, French favourite Cassandre Beaugrand and America Taylor Spivey.
"It's cool and great to have a higher start number on the pontoon. It gives me a better choice to be around the better swimmers…it's always beneficial being in the lower numbers."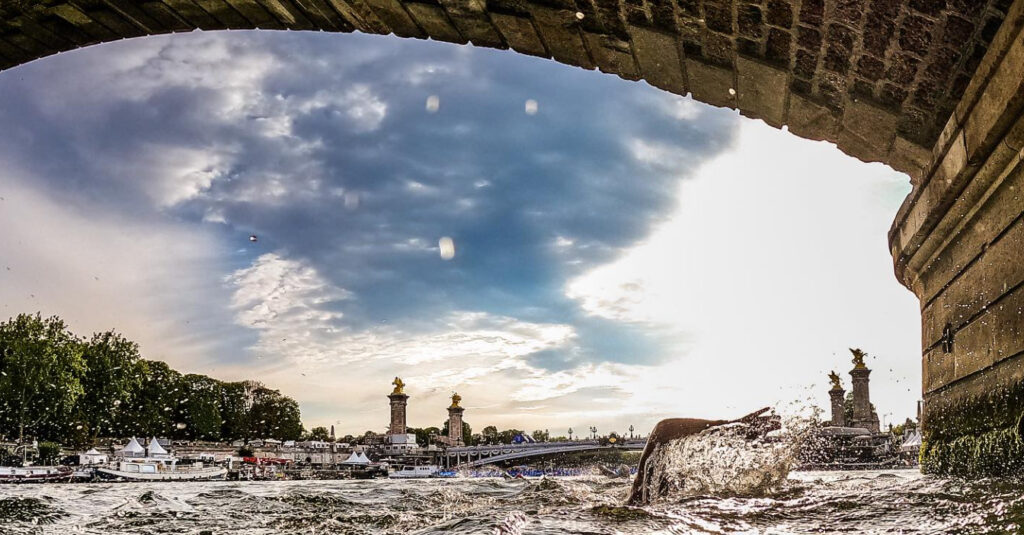 The good news is that it looks like the water quality in the River Seine will be clean enough to avoid the test event being reduced to a duathlon, a fear ever since World Aquatics cancelled the Open Water Swimming World Cup last weekend.
"I think they've said they're monitoring it every couple of hours and they've got multiple monitors in there so they're really taking the health of the athletes into consideration which is really nice," van der Kaay continued.

"It's looking like it's a go, it's all green and healthy, green as in good levels, not as in E.coli, so you never know until after if you feel sick or not but the levels are showing it is okay."
Like all three Kiwis, van der Kaay kind of feels like the pressure is off.
"Obviously I want to do well, so I'm just going to see what I can do in an Olympic distance race," the Taupo 27-year-old said.

"I'm still finding my groove in the Olympic [standard] distance but I'm more of an endurance person so I think once I find my swimming strength comes up, I'll enjoy it a lot more."
Thorpe has had a up and down year results wise but is hopeful some post WTCS Sunderland run hill work in Banyoles, Tri NZ's European summer training base in Spain, will pay off in Paris.

"You do run along the cobbles where we bike along, so that's going to be a bit of an uneven surface to start with on the run, and there's a slight uphill as well. It doesn't seem much on the bike but running you're probably going to notice it much more," Thorpe said.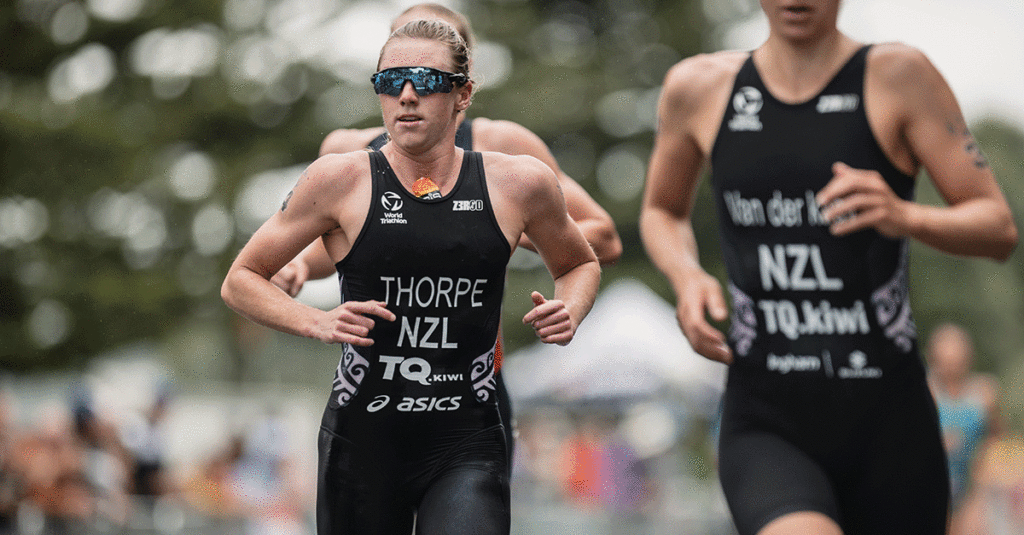 "It's a big race for us but there's not much pressure. For us to be selected [for the Olympics] we have to podium here [or achieve two top 8s at WTCS level], for the other countries, its first across the line for them.

"So it's no pressure for us, we've just got to go out and enjoy it really."

That's almost guaranteed for Roderick who never imagined she'd be racing WTCS this year, let alone in the Olympic test event.
"It's pretty exciting. It's actually only my second Olympic distance event and that just happens to be the Olympic test event. The only other one I've done previously was Port Douglas [the Oceania Standard Distance Championship in late May] so this is a huge step up," Roderick said.

"It's kind of like being thrown in the deep end, sink or swim and hopefully I swim. But yeah, it's super, super exciting, I just feel like real privileged to be here with all these great athletes.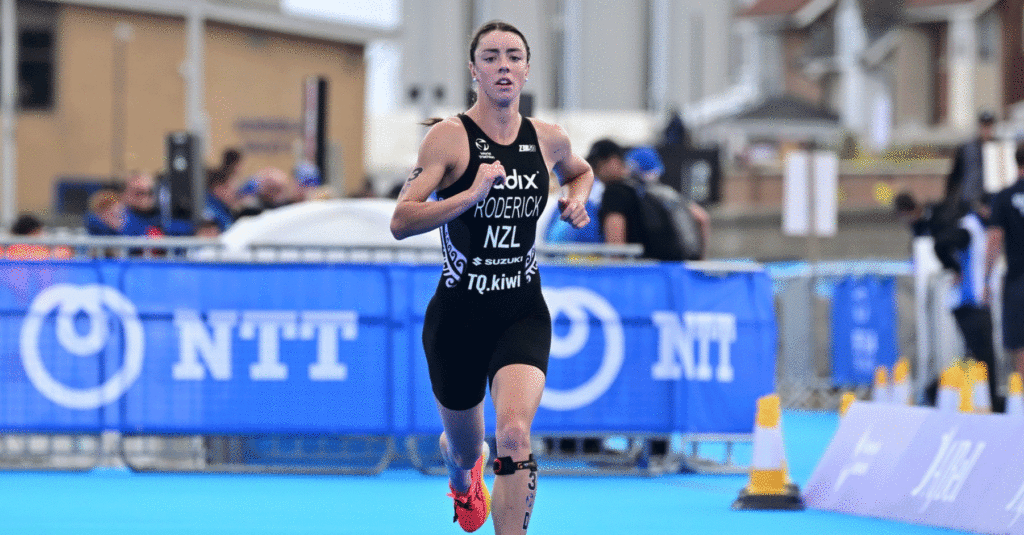 "Whether I get to come back [to Paris] next year or not, it's just cool I'll get to soak it up this year, experience it all and yeah, I'm just really looking forward to getting out there and just doing what I can do.
"I'm not feeling any pressure at all, no one is expecting anything from me so I've just got to go out there are do my best."

The men, including Kiwis Hayden Wilde, Tayler Reid and Dylan McCullough, will do their best on Friday (6pm NZT). The Mixed Relay is on Sunday, also at 6pm NZT, but the spotlight in the City of Light shines first on the women.