Main image: The start of the Suzuki NZ Standard Distance Triathlon Championships at Tinman 2022. Photo: Hamish Collie.


By Kent Gray/Triathlon.kiwi
The Tri NZ Suzuki Series has a race for athletes of all ages and every stage of triathlon – even for those who aren't so enamoured with every aspect of swim, bike and run.

Tri NZ's just announced 2023-24 domestic calendar will feature triathlon, duathlon, aquathlon, aquabike, cross triathlon and cross duathlon races for 18 national titles (at multiple age group levels), spread across 10 Suzuki Series events and 11 race days from mid-August 2023 to late March 2024.

A network of event providers around the country will again help Tri NZ deliver the Suzuki Series, including Para sprint duathlon and sprint triathlons and the New Zealand Secondary Schools Championship.

The best bit? There is a race for everyone and everyone is welcome at any race, from absolute beginners to those who aspire to be a national champion or perhaps even represent NZL at one of the sport's two global, blue-riband age group events in 2024.
Read more about the Suzuki Series-World Triathlon eco-system in our earlier stories on the World Triathlon Multisport World Championships in Townsville (August 14-25) and the World Triathlon Championship Finals in Malaga (dates TBC but late 2024).

The 2023-24 New Zealand season will open at the Suzuki NZ Sprint Duathlon Championships, again hosted by Auckland City Tri Club on August 13 but this year at Ambury Park after the closure of Pukekohe Park Raceway. There are age group, para and school categories and it doubles as the first qualifier for the Multisport Worlds in Townsville where NZL is expected to be well represented.

Qualifying spots for Malaga will be on the line at the Suzuki NZ Standard Distance and Para Triathlon Championships to be hosted again at the Gen X Marra Tinman Triathlon in Mt Maunganui on November 19. A secondary qualifier for Malaga – the Suzuki NZ South Island Standard Distance Triathlon Championship – will be staged at the Canterbury Classic on January 28.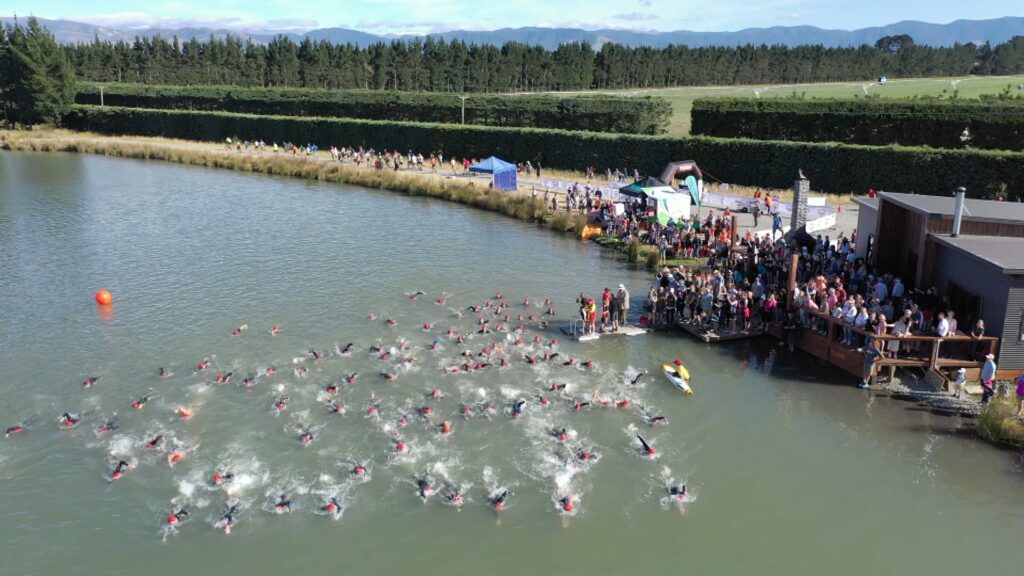 Townsville slots are available at the Suzuki NZ Mid Distance Triathlon Championships at OxMan in Oxford on November 26. A secondary Mid Distance Triathlon qualifier will be held at the Fulton Hogan Mt Festival Of Multisport – you probably know it as the Tauranga Half – on January 20. It will be known as the Suzuki NZ North Island Championship in 2024, as will the Suzuki NZ North Island Mid Distance Aquabike Championship in Tauranga, also on January 20.

The New Year will see the revival of the Suzuki NZ Standard Distance Duathlon at the Canterbury Classic on January 28 – another key date for those aiming for Townsville and happier racing on terra firma.

The Suzuki NZ Aquathlon Championships on February 10 will likewise offer Townsville qualification spots although the Suzuki NZ Standard Distance Aquabike Championships on February 11, the second day of the Seven Oaks Kinloch Triathlon Festival in Taupo, is a qualifier for Malaga.
Integrity Homes Challenge Wanaka on February 17 will feature three national championships: The Suzuki NZ Mid Aquabike, Suzuki NZ Cross Triathlon and Suzuki NZ Cross Duathlon Championships.

On March 2, the Suzuki NZ Long Distance Triathlon Championship titles will be decided at Nutri-Grain Ironman NZ. The Suzuki NZ Sprint Distance Triathlon Championship will again be held in conjunction with World Cup New Plymouth as part of the Tri Taranaki Festival. The exact date is TBC but will be in March 2024, as will the Suzuki NZ Secondary School Championships at a March date and likely North Island venue also to be confirmed.