Photos: World Triathlon
By Kent Gray/Triathlon.kiwi
After a deflating end to 2022 and his flat start to 2023 (quite literally), Hayden Wilde's retort will inevitably seize much of the Kiwi interest at World Triathlon Championship Series (WTCS) Yokohama on Saturday.
Tayler Reid's improving form over the Oceania season marks the Kiwi No.2 as another to watch closely in Japan, especially if the forecast rain eventuates. The Gisborne lad, like supreme bike handler Wilde, isn't afraid of a bit of slippery tarmac.
Indeed, if nominations for the Paris Olympics had to be sent to the NZOC today, one might surmise that Wilde and Reid would get the nod. Don't be surprised though if Dylan McCullough continues to stake his increasingly compelling selection case on Saturday.

The Cambridge-based 22-year-old has been the quiet achiever of the Oceania summer, finishing 4th and 6th in Wanaka and Taupo respectively before capturing the Oceania U23 Sprint Championship – en route to 5th overall – in Devonport, Tasmania on March 18.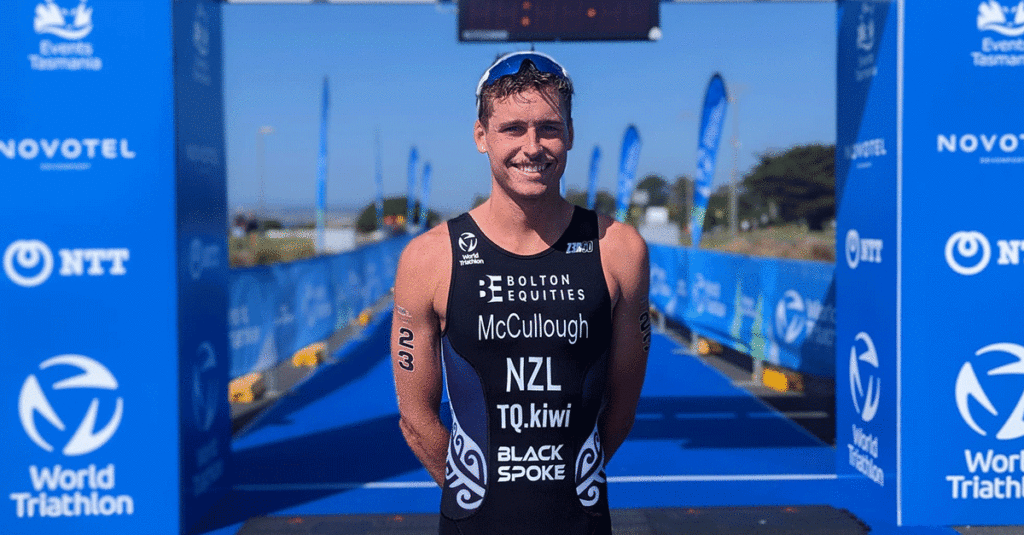 Add 4th place at World Cup New Plymouth a week later, when he came within a whisker of joining Wilde and Reid in an all-Kiwi podium, and McCullough's year is off to a very encouraging start.

The trick now is to keep things going, starting with the 1500m swim, 40km bike, 10km run in Yokohama where the men's race is live on Sky Sport 2 (Channel 52) and Triathlonlive.tv from 3.50pm NZT. Nicole van der Kaay and Ainsley Thorpe fly the Kiwi flag in the women's race from 1pm NZT.

RELATED: Van der Kaay focused on the big picture after perfect Oceania lead-in to WTCS Yokohama
"I had the Leeds WTCS crash at the start of my Europe trip last year and then Covid in Banyoles which took a little while to get my fitness back," McCullough told Triathlon.kiwi of his topsy-turvy 2022.
"A lot of things are uncontrollable. You can't control crashing or getting Covid, sometimes things happen, but hopefully 2023 is a little smoother."

So far so good.

"I was really happy with how my early season races went in NZ and Australia, finishing in a high at World Cup New Plymouth," said McCullough who has added a little heat training block in Cairns ahead of Yokohama. He'll return to Australia for the Oceania Standard Distance Championship in Port Douglas on May 27 before heading to Europe.
"It will be good to see how my form is in an Olympic [standard] distance race. Most of our racing is all sprint distance, so it will be good to get a gauge on what I'm good at and what I'm not so good at in this distance to make adjustments for further races."  

The U23 World Championship in Pontevedra, Spain in September is a key focus after he finished a slightly disappointing 26th in the corresponding race in Abu Dhabi last November. He'll also push hard for a start in the Paris test event in mid-August where a podium finish would facilitate an official nomination letter to the NZOC, provided he's the leading Kiwi.

"The goals for 2023 is to just have a consistent race season from start to finish, something I didn't quite nail last year, and also to target a good result at U23 worlds in Pontevedra [while] knowing I do still have another shot at the U23 race next year," McCullough said.

McCullough's WTCS results last year – DFN in Leeds and 32nd in Hamburg – came before he finished 7th, and second Kiwi behind silver medalist Wilde, at the Birmingham Commonwealth Games. Combined, the results mirrored his up-and-down year.

"The WTCS races are a complete step up in terms of the pace. I'm lucky to have had a couple of race opportunities at this level before to know what it's like, so it's not completely unknown going into the race.
"Japan is a special country and I really enjoyed racing in Japan last year [28th World Cup Miyazaki] so was excited to come back this year. It is my first time in Yokohama and the course here is flat and fast, the complete opposite to my last race course in New Plymouth, so it will be interesting to see how this race plays out."

Wilde will be hoping Saturday's race plays out a whole better than his last two WTCS starts. He was 6th in Abu Dhabi in November to narrowly miss out on the world title and slip to 3rd overall in the 2023 WTCS standings. A flat tyre ruined his redemption plans back in the UAE capital although he'll draw great confidence from his runaway World Cup New Plymouth triumph later in March.
The Whakatane 25-year-old has been training away diligently at home since then, including finishing third behind training partners Sam Tanner and Julian Oakley at the NZ Road Mile Championship in Rotorua last weekend. He then clocked 14:08 to finish runner-up to fellow Olympian Tanner in the Runaway5 on Sunday before jetting to Yokohama.
Wilde was second to Alex Yee in Yokohama last year and will be desperate to reverse that, especially after Yee started the new WTCS season with victory in Abu Dhabi as Wilde rode solo following a puncture pit stop and then kept a little in reserve on the run en route to what the Kiwi No.1 will be hoping will be a non-counting 46th place. Reigning world champion Léo Bergere and Norwegian superstar Kristian Blummenfelt, the latter fresh from a fast-finishing second at the PTO European Open in Ibiza last weekend, will no doubt have a say in any attempt of a Wilde-Yee double act.

Reid, meanwhile, has started 2023 impressively with 3rd, 5th and 2nd places in Wanaka, Taupo and New Plymouth. Perhaps the only question mark surrounding the Gisborne 26-year-old is whether there is any lasting impact a post-World Cup New Plymouth virus.