Images: Sean Beale/ www.seanbeale.com
By Kent Gray/Triathlon.kiwi
Nicole van der Kaay sent an ominous warning to those who covert her crown as the Queen of Kiwi short course triathlon with a spectacular come-from-behind victory at Oceania Cup Wanaka on Friday night.
The Taupo 27-year-old turned a 40-second deficit off the bike into a 20-second, season-opening victory at the sprint race, leading home Cantabrian Brea Roderick in an eye-catching Kiwi one-two.

Aussie Emma Jeffcoat rounded out the podium ahead of Otago med student Olivia Thornbury and race provocateur Hannah Knighton in 4th and 5th respectively, with Olivia Cummings (10th) giving the Kiwis five in the top 10.
But it was van der Kaay's blistering run that turned heads. Her 16:34 split for the 5km was 40 seconds faster than the next best (Aussie Jessica Ewart-McTigue who finished 8th) and will give her a massive boost heading into her home Oceania Cup race in Taupo next Saturday.
"I've just been in base training so I haven't done much speed work yet so I'm really happy to have the speed out there already," van der Kaay told Triathlon.kiwi after completing the 750m swim, 18km bike, 5km run sprint in 53:40.

"I was in the second pack so I didn't expect to run them down but I'm really happy with that. They definitely made me work for it and I think the crowd appreciated it too. It's epic, we've missed this race for a few years so it is really cool to have it back."

Roderick's performance won't have gone unnoticed either as the race to the Paris Olympics and Games beyond heats up. The Cantabrian, just 20, was fourth out of Lake Wanaka behind Jeffcoat, fellow Aussie Aleisha Wesley and Knighton – all part of a cunning masterplan sussed out over the summer.
"We always kind of wanted a breakaway, Hannah [Knighton] and I have been talking about it over summer, we didn't want it to just be a running race and Jeffcoat's such a fast swim-biker so it's kind of handy it all just came together," Roderick said.

"On the run, I just tried to stay relaxed for two laps because I knew Nicole was coming and when she came I tried to go with her but I had nothing, she's just too fast."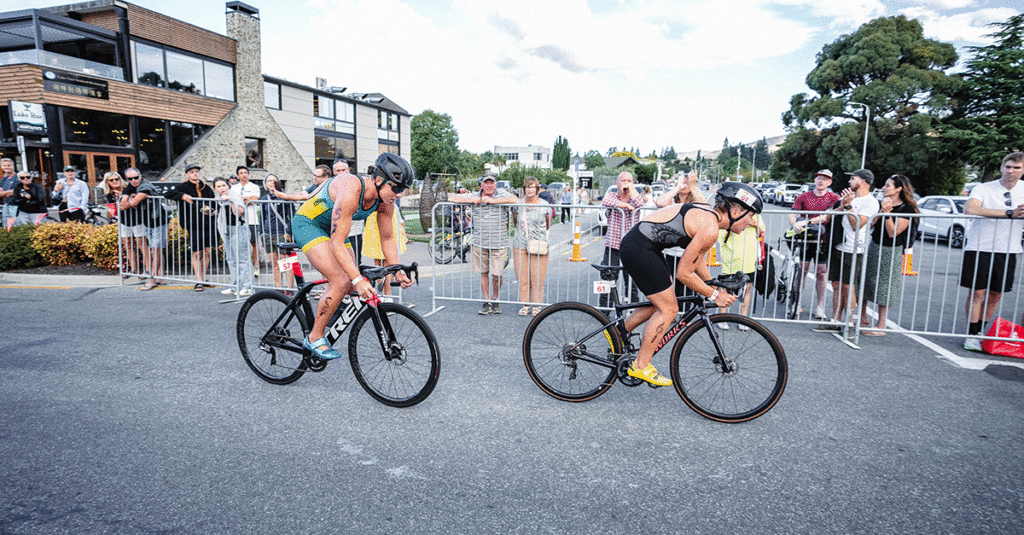 Roderick was still thrilled to be so close to the Kiwi No.1 and justifiably so. The Cantabrian is only just out of the U19 ranks – she won her very first Olympic distance start at the Canterbury Classic on Jan. 29 – and back in the sport after stepping away from triathlon for a spell.
"It's my first elite podium and my first podium in like three years so I'm really, really stoked. I just come out of the junior ranks last year so I'm just getting used to be in the open category but yeah, really happy with that race today," Roderick said.
"It's definitely a big confidence boost moving forward for the season. Glad the first one is out of the way, the nerves are gone and now it's just exciting."
The next Oceania Cup, also over the sprint distance, is scheduled for next Saturday, a day before the Oceania Mixed Relay Championships are also staged in Taupo.