Main image: Hamish Collie
By Kent Gray/triathlon.kiwi
On the ascent up triathlon's steep learning curve, rite-of-passage milestones along the way help convince young athletes they might just have what it takes to make a real go of the sport at the loftiest level.
A first finishers' medal, trips to national races, junior then senior Continental Cup and eventually World Cup starts, podiums at home and abroad, Brea Roderick has ticked them off all. The Cantabrian even has a silver mixed relay medal to show from the 2018 Youth Olympics in Buenos Aires.

Now a graduate of the junior ranks, the 20-year-old will navigate another landmark on Sunday when she lines up in Suzuki NZ South Island Standard Distance Championship at the Tuffnell Drainage Canterbury Classic.

The 20-year-old couldn't have picked a much tougher first crack at the Olympic distance than the hilly course centred around Corsair Bay in Lyttelton.
RELATED: After COVID, it's the Canterbury Classic as Saxon Morgan eyes repeat of World Champs heroics in 2023
"Old School, Honest Triathlon & Duathlon" is how the official CanterburyClassic.com website describes it but Roderick knows from past experience that's code for a particularly gnarly 1500m swim, 40km bike, 10km challenge. And she seriously can't wait for the examination.
"This is actually going to be my first standard distance event. It will be cool to do one here and it's a really brutal course too so it will be interesting to do a hard one for my first one," Roderick said.

"At my stage of development, with my age, my coach [Bruce Hunter, Tri NZ's Cambridge-based Performance and Development Lead] and I haven't had me do a standard yet just because I only just came out of junior ranks [U-19] last year. This year I'll get started on doing a few and I guess I just start this weekend with the Canterbury Classic.
"We don't get too many of them down here so it's really cool to be able to race in front of friends and family."
Last year was one of personal change and steady progress for Roderick. After taking a break from triathlon and moving from Cambridge to Christchurch in late 2021, she kicked off 2022 with encouraging 5th, 4th and 6th places at Oceania Cups in New Plymouth, Mount Maunganui and Taupo respectively.
"I didn't know how it was going to go but I was pretty happy with the results and showed some consistent training so it was a good lead going through to Europe."

Her European campaign featured five races, three of them World Cup starts with a best of 20th place in Coimbra (Portugal). Based at Tri NZ's Banyoles (Spain) training base, Roderick bookended the stint with 16th and career-best 5th placings at European Cup events in Carole (Italy) and Alhandra (Portugal) respectively.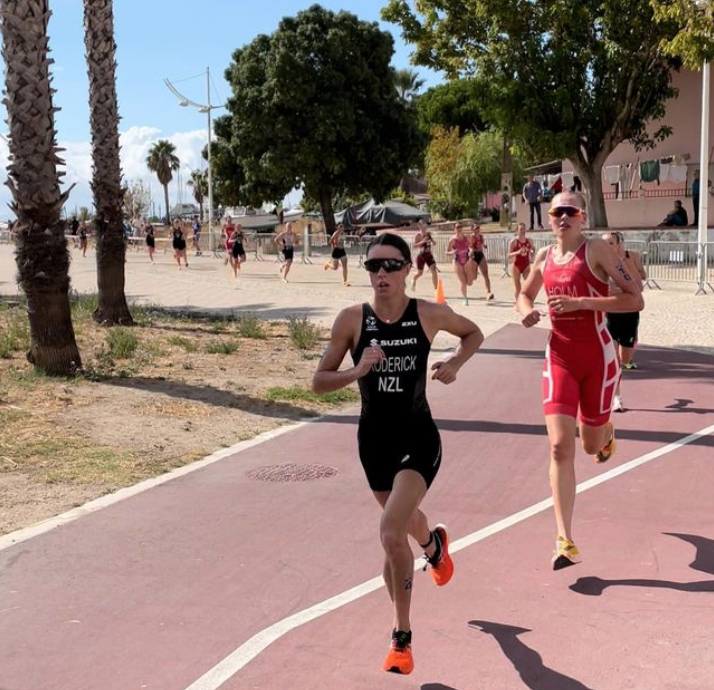 "In Europe I did some of my first World Cups which were like a huge step up but they were really good experience, I learnt a lot and I was pleased with how I went," Roderick said.

"Towards the end of the trip I had a couple of good results. My last race was a Conti Cup in Portugal and I was 5th and I was really happy with that. So my progression last year was really good so hoping to continue on with that this year."

This year entails Conti Cup races in Wanaka (Feb.17) and Taupo (Feb 25/26), the Oceania Sprint Championships in Devonport (March 18) and World Cup New Plymouth on March 26. Thereafter she'll head back to Europe via the Oceania Standard Distance Championship in Port Douglas on May 27.
"Yeah, it will be busy but it should be really good hopefully as long as it all goes to plan and if it doesn't we'll just make plans around it," Roderick said looking ahead to more European Conti Cup, World Cup and ultimately her U23 World Championship bow in Pontevedra, Spain from September 22-24.
"Definitely very motivated at the moment and I'm enjoying the sport, having lots of fun so definitely keep cracking at it."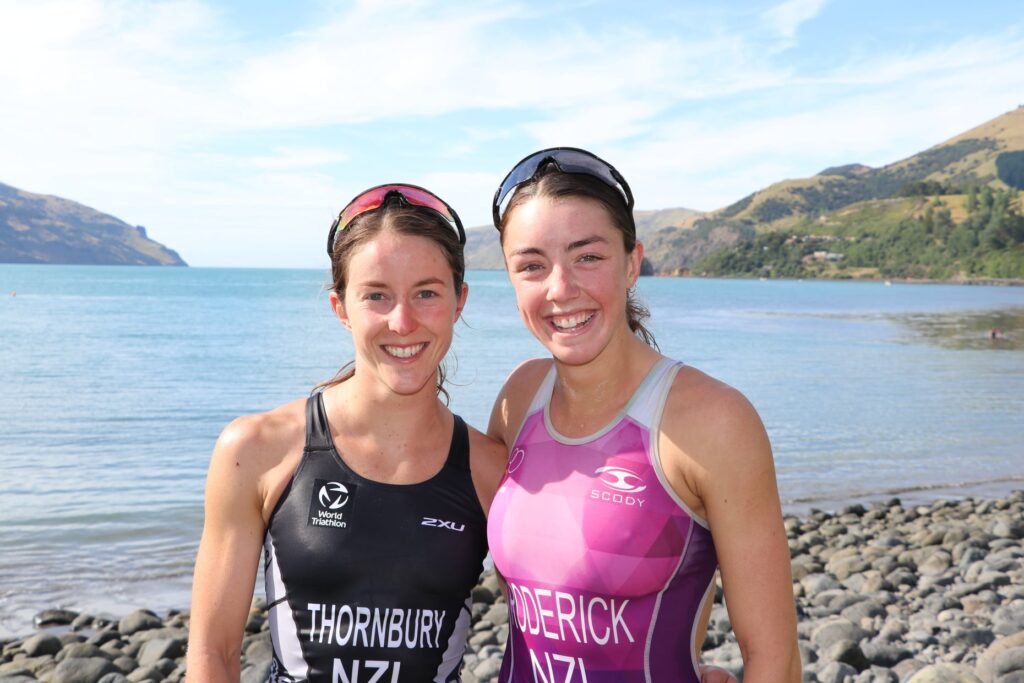 But that is all for later. Right now, Roderick is getting her head around the Canterbury Classic and all those hills.

"It's an interesting course because it is just so hilly, like the bike and the run. And even getting from the swim to T1 you have to run up a huge hill and then go up it again with your bike," she said.
"So it's kind of a slightly alternative triathlon to what I'm used to which is more fast speed so I guess I'm going to have to pace myself that's for sure. It will be more of a challenge but I'm definitely looking forward to just seeing how I go over the distance, pacing for the longer bit of time and seeing how I feel at the end of it."