By Kent Gray/Triathlon.kiwi
Jack Moody will forever be grateful for the chance to play the role of apprentice to the master Braden Currie but is officially done with finishing behind the Kiwi long-distance No.1 at the Tauranga Half.
The 29-year-old Aucklander is primed to finally reverse that long-running narrative at the centrepiece of the Fulton Hogan Mount Festival of Multisport on Saturday, not that Currie has any intention of relinquishing his mantle.
Moody has finished second, third, second and second in the past four editions of the iconic 2km swim, 90km bike, 21km run Tauranga test, the past two editions behind defending champion Currie who won last year and finished second to Kyle Smith in 2021.
RELATED: Currie determined to get 2023 off to a 'Nice' start at Tauranga Half

Illness has sadly robbed Saturday's race of two-time champion Smith, meaning another classic Currie versus Moody tussle is on the cards with Sam Osborne, Tom Somerville, Simon Cochrane and 2019 champion Mike Phillips among those expected to fight for the other podium spot.
When Moody turned pro he was lucky enough to spend time training in Noosa alongside Currie – the link being Moody's current and Currie's former coach Bevan McKinnon – along with Wanaka warrior Dougal Allan and Aussie Nathan Shearer.
"It was quite cool as an introduction to the sport to be with my coach and some absolute legends of the sport at the time," Moody said.

Currie has remained the Kiwi long-distance standard bearer, highlighted by his bronze medal performance at the 2021 Ironman World Championship in Utah (delayed till May last year due to the pandemic). However, Smith, and to a lesser extent Moody are closing the gap, Moody's 70.3 victories in Oregon and Taupo last year underlining his progress.

The Auckland Grammar School old boy certainly isn't sugar-coating his goal for Saturday
"Oh, I'd love to win it. I mean, as you know I've been there so many times now, it feels like I just get so close, usually, it's a come-from-behind performance, having not made that front group. But to actually win one would be enormous."
Moody is a cycling fanatic but perhaps best known for his running. He overcame a 50sec deficit out of the water with a fast bike – 1:15:29 half marathon split combo in the gnarly Taupo weather to win the Ironman NZ 70.3 title in December. That wasn't much slower than the 1:08:05 Moody clocked to win the Queenstown Half Marathon the previous month and he critically owns the Tauranga run record, achieved during the rip-snorter 2021 race as a Smith crumbled around the Mount base track but just held out the fast-finishing Currie and Moody

So, is it a simple case of being closer to the front coming out of the water and letting your run prowess kick in?
"I don't think I have to be. It definitely makes life a hell of a lot easier, particularly at that race. The hardest thing about Tauranga is it's a 10m draft rule so [bike] packs can form…it's the only race I know where we still do a 10m draft rule.
"So if it is an honest and fair race, not making that front group shouldn't be an issue, you should be able to ride up to the pointy end of the race and that would make it exciting. We'll just have to see how it plays out."
Moody will be far too consumed by his own race to worry about what's on with the pro women's battle but bet he will be secretly cheering for Hannah Berry (nee Wells) and workmate Rebecca Clarke (the defending champion) in their fight with Sunshine Coast-based Kiwi Amelia Watkinson.
RELATED: Who is New Zealand's fastest long-distance female? Saturday's Tauranga Half will provide a clue

The Kiwi tri community is close-knit with Moody joining Berry for training and racing in Oregon and at altitude in Boulder last year. The victory in Oregon in particular has convinced Moody he can foot it internationally with more experience.
"Going to race some different people and actually being at the pointy end of those races definitely helped instil a bit of confidence of where I'm at in the sport," said Moody.

"It's not just a domestic outlook for me, there's definitely a bit of international promise and to get a podium in North America was a massive feather in the cap for what I want to do and where I want to go."

Initially, that was the full Ironman distance. But Moody is now refocused on the busy 70.3 calendar and more specifically the lucrative PTO schedule with the announcement of the inaugural PTO Asian Open in Singapore in August sure to pique Moody's interest.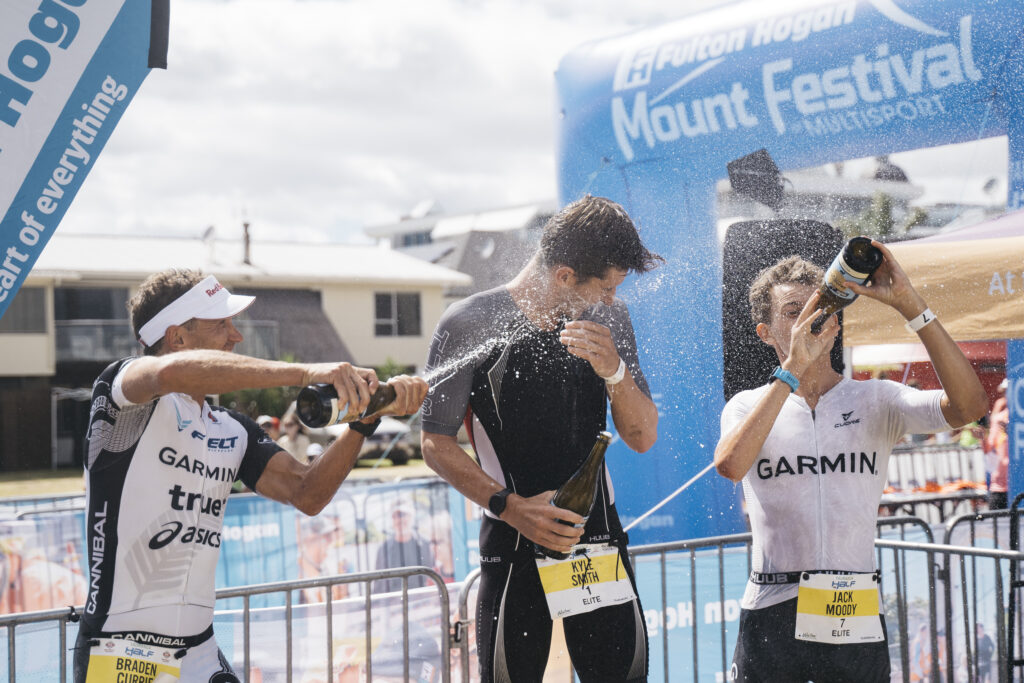 But that is for later. For now, Moody is entirely focused on finally eclipsing Currie, the master, to add domestic credence to that confidence banked offshore in 2022.
For the record, Currie won last year's Tauranga Half in 3:40:13, nearly 3mins 30secs clear of Moody. But expect it to be closer on Saturday.

"Yeah, definitely last year wasn't as close as I'd like, the year before Braden, Kyle and I all finished within 30sec of each other. That was a crazy race down in Tauranga with all three of us going down pretty much to the wire with Kyle falling apart around the base track of the Mount so it's one of those races where anything can happen, especially if it is a hot day.
"Year after year it's kind of become a tussle as to how close I can get to Braden and hopefully one year it kind of flips the order and hopefully this weekend is that time."