By Kent Gray/Triathlon.kiwi
Vanessa Murray has been forced to wait the best part of three years to return to New Zealand so wasn't going to let a bit of Taupō weather, nor a pesky puncture ruin her homecoming.
The Melbourne-based Kiwi waltzed to the overall women's age group title at the Nutri-Grain Ironman New Zealand on Saturday, knocking out the sodden 3.8km swim, 180km bike and 42.2km course in 9:41:10 to head home Queenstown-based Irishwoman Fiona Gallagher by more than 14 minutes.

It capped a memorable year for Murray who won her age group at the 2021 Ironman World Championship in St. George, Utah, in May, finished runner-up at the Ironman 70.3 Western Sydney in September and claimed victory in her age group in last month's GWM IRONMAN 70.3 Melbourne.
She repeated her age-group win from the 2020 Ironman NZ, the last time she raced on home soil, and even managed to eclipse her time by 2mins 30s despite yesterday's wet weather and puncturing 10km before the end of the bike leg.
"It feels awesome, I had a really challenging day, so I was just determined to hang onto the win so that I could come away with something," said Murray who topped a podium rounded out by Auckland's Taryn Ryan.
"I had a great run (3:16:43), so I'm stoked with that, but I had a few challenges on the bike with getting a puncture. It's amazing, as age groupers we don't get the opportunity to take the tape very often, so it was extra motivation to try and get the win.'
Murray was selected as part of the 2021 Zwift Academy Tri Team, one of only six amateur athletes chosen worldwide. She's made the most of the opportunity and especially loved being cheered on by friends and family again.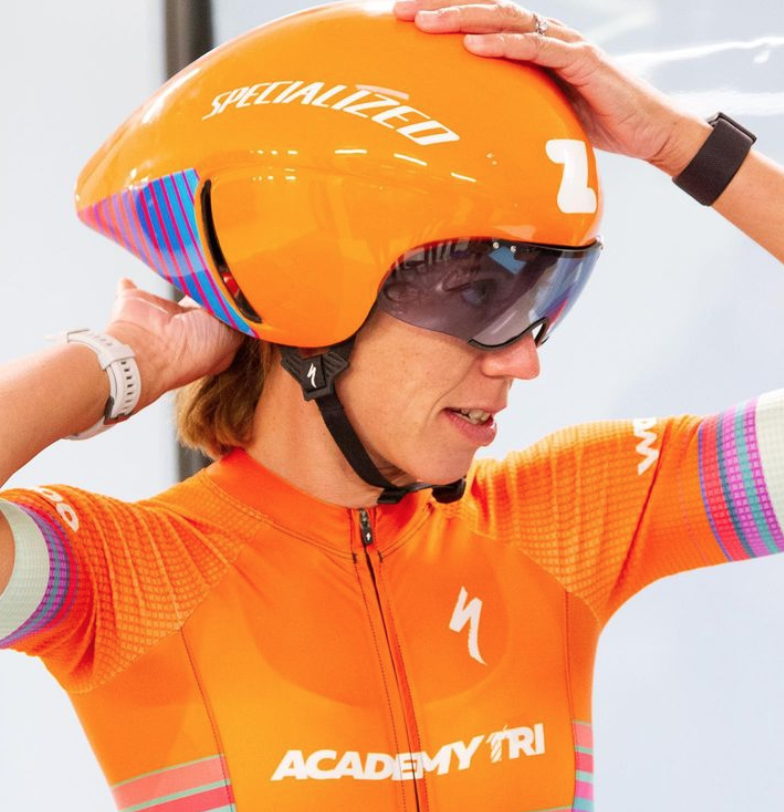 "I raced here in 2020 before COVID lockdown. It was so good to be back, most of my friends and family are still in New Zealand so it was like reunion here. My dad was out on course and whole lot of friends I haven't seen in years, so it was a great day," Murray said.
"I had a great swim, I felt really good in the swim, it's so nice to swim in a lake, living in Melbourne we don't have the best water in St. Kilda, so the lake was beautiful. The bike I was actually feeling really good all day, felt really strong but getting a puncture at 170k's put a dampener on the day but I guess I need to look past that, I had a good day.

"Really wanted a solid run to round it out so overall I'm really, really happy."
Afterwards, Murray promised "more to follow" on her Insta account but first had to take care of a traditional post race feast.

"Right now I've got a date with Macca's. #Post Race ritual."
Earlier in the day, New Zealand's Jack Moody and Sweden's Anna Bergsten claimed maiden victories in the Nutri-Grain IRONMAN 70.3 New Zealand professional races. Auckland-based Englishman Dan Plews, coach of current Ironman world champion Chelsea Sodaro, won the men's full-distance race in an impressive 8:50:12.
NUTRI-GRAIN IRONMAN NEW ZEALAND – FINAL RESULTS

Women's Overall Age Group – Top Three
1. Vanessa Murray (Auckland) – 9:41:10
2. Fiona Gallagher (Queenstown) – 9:55:27
3. Taryn Ryan (Auckland) – 9:16:57