By Kent Gray/Triathlon.kiwi
A former age-group world champion and Kona crash victim making his pro debut. A serial Taupō podium place-getter coming off cycling's Tour of Southland. An Aucklander with Queenstown Half Marathon credentials keen to cash in on all the lessons learned during a maiden offshore campaign.
Throw in the almost inevitable fighting talk from an Aussie and Saturday's Nutri-Grain Ironman 70.3 New Zealand pro men's race shapes as a doozy with Kiwis Matt Kerr, Mike Phillips and Jack Moody (main picture) set to go toe-to-toe with confident Queenslander Charlie Quin in the pro men's field.
Moody is the top seed after finishing third at Ironman Australia in May and second at Ironman 70.3 Oregon in August. Those results came off the back of a lengthy training and racing block overseas which has the 29-year-old Aucklander looking to Saturday's race in Taupō with anticipation.
RELATED: Berry v Clarke as Kiwi quality trumps quantity at women's Ironman 70.3 Taupō
Fresh from winning the Queenstown Half Marathon in 1:08:05, Moody suspects he'll need to produce something special to eclipse his fourth place in Taupo in 2019.
"Professional racing has gone ballistic in the last few years and I wouldn't be surprised to see times that we did back in 2019 to be absolutely obliterated," Moody said who stopped the clock in 3:56:56 in 2019.

"The dream goal is always to win and to take an Ironman 70.3 win on home soil is obviously incredibly special. As long as I execute all three disciplines, I will be happy to see where I stack up."
Moody finished just off a podium featuring Kyle Smith, Max Neumann and Hayden Wilde in 2019. None of the medallists are back for 2022 but Moody, 9th at the recent Noosa Olympic distance tri, knows he'll need to be on his game in Lake Taupō and on the bike if he is to cash in on his run prowess.
"My training has been going great and coming off the back of a win in Queenstown Half I really want to showcase what I have been up to without having to leave it as a foot race," Moody said.
"Looking at the start list I can see some serious swim firepower. The Taupō bike course is not very forgiving so I am hoping for a fair race with plenty of separation on the bike where I wouldn't be surprised to see the likes of Mike Phillips start to make some moves through the field coming off the back of Tour of Southland."

Phillips' main goal is the full-distance Ironman NZ on March 4 with Saturday a timely fitness and form check-in after a year away from the sport battling plantar fasciitis. The Cantabrian finished a creditable sixth in his comeback race at Ironman 70.3 Sunshine Coast and is no stranger to success in Taupo having won the full-distance title in 2019 before finishing runner-up in 2020 and 2021. He's also twice won the Ironman 70.3 Taupō crown in 2017 and 2018 after claiming silver in 2016.
"It's another chance to see where I am at, my training is progressing well now all the injuries are sorted. I haven't raced a lot of the guys on the start list, so it will be good to see where I am at against the current crop as we head into a summer of New Zealand racing," said Phillips.
"It has been a bit of a different build up, I had Tour of Southland a few weeks back which was great training being immersed in a 1,000km week on the bike. It is still quite early season for me, with the bigger goal of IRONMAN New Zealand in March. But Saturday will be a good test of current form."
Kerr will be making his professional debut in Taupō after a traumatic age-group hooray at the Ironman World Championships in October when he collided with an elderly pedestrian towards the end of the bike leg in Kona. The Tairua 31-year-old is the 2021 Age Group Ironman World Champion from St. Geroge, Utah and holds age group course best times at Ironman 70.3 Cairns and Ironman 70.3 Sunshine Coast
Quin, meanwhile, adds Aussie spice to the Taupō half. The 27-year-old Gold Coaster has quickly made his mark after stepping up from short course this year including a record-breaking breakthrough at Noosa in October. Second place at Ironman 70.3 Melbourne and victory at the prestigious Laguna Phuket Triathlon in Thailand has further bolstered the Taupo rookie's CV.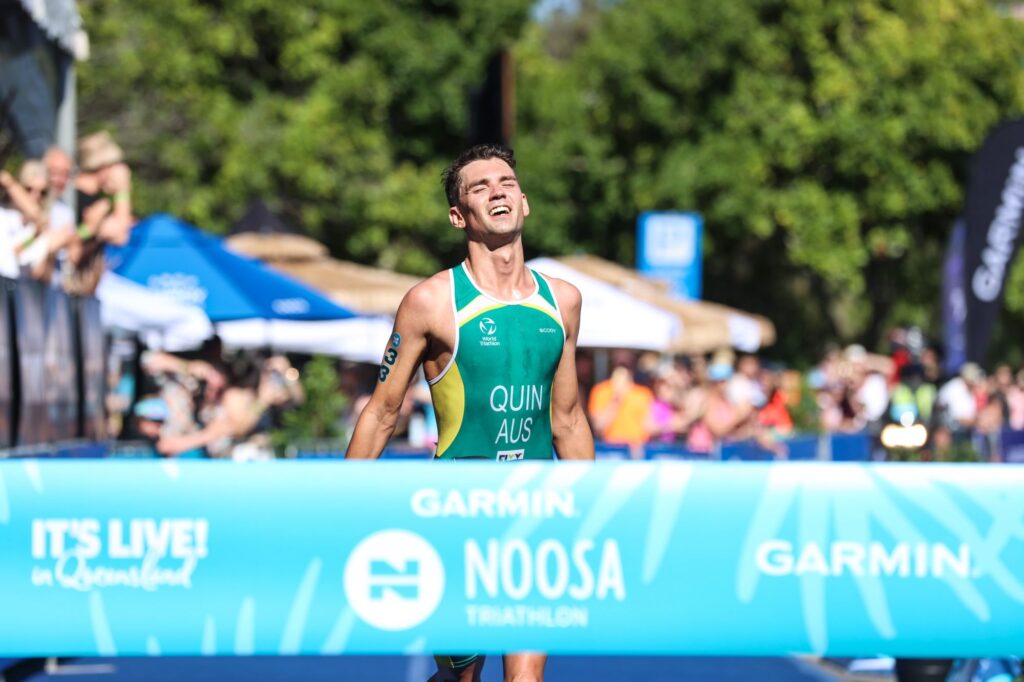 "I was racing ITU early in the year and was not able to get the results I wanted which was really disappointing," Quin said.

"Since deciding to switch to long course and after winning Noosa Triathlon and coming second in Melbourne, I feel like I have been on a real high.
"I know there are a lot of strong guys that will be out there racing [in Taupo]. I think I will just race my own race and stick to my pacing strategy and race plan. I will try not to worry too much about what everyone else is doing until the final 5km of the run and hopefully at that stage I will be able to contest for the win.
"Honestly, I would be disappointed not to win on Saturday but will be happy if I race to my full potential and fully empty the tank at the finish line."
Nutri-Grain IRONMAN 70.3 New Zealand – Men's Professional Field
20 – Jack Moody – NZL
21 – Sam Osborne – NZL
23 – Charlie Quin – AUS
24 – Edward Vinning – AUS
25 – Lucas Duross – NZL
26 – Matt Kerr – NZL
27 – Scott Harpham – NZL
28 – Simon Cochrane – NZL
29 – Benjamin Zorgnotti – PYF
30 – Mike Phillips – NZL
31 – Colin Yoann – NZL