Angharad Llewellyn was a relative dinosaur – at the ripe old age of 23 – when she took up triathlon six years ago and like many newbies, started her journey with a tentative return to the pool.
"I did lessons as a kid but never swim squad so I had to learn to swim again as an adult."
That, for context, is where the weekend warrior comparisons start and end when it comes to the New Zealand-born, Wales-infused and Canberra-based NZL rep.
Llewelly's racing CV very quickly included "World age-group champion", the 25-29 sprint title captured at the 2019 ITU Grand Final in Lausanne, and she's been rapidly making up for her late start in the sport ever since.
Victory in the sprint race at Canberra's 'Bring on Summer Triathlon Festival' on Sunday further highlighted her progress to the upper echelons.
While it was a local race, Llewellyn's 1:09:55 effort saw her win by a whopping 3mins 55secs and finish second overall. More importantly, it was a timely confidence booster ahead of Saturday's Asian Triathlon Cup Ipoh where the 29-year-old will line up alongside fellow Kiwi Olivia Thornbury, 90 minutes after Luke Scott flies the Kiwi flag solo in the elite men's race in Malaysia from 12.30pm NZT.
"For me this race is another opportunity to learn and get an indicator of where I'm at before a big training block ahead of the NZ summer kicking off in Wanaka [Oceania Cup sprint on Feb.17]," said Llewellyn.
"I'm really looking forward to racing, especially with a few other kiwis."
Born to a Kiwi mother and a fiercely Welsh father, Llewellyn's social media profile includes a line on how to pronounce her name ("Ang-harad"). Rest assured though, she's racing with black coursing through her veins.
"I still support the All Blacks in the rugby so it shows where my alliance lays," she says.
"We like to say that Dad got to have the Welsh names but we lived in New Zealand until I was three before we moved to Australia and then I would spend about a month a year in NZ seeing my cousins and grandparents growing up, they own a farm in the South Island, so it was always fun coming back."
Llewellyn's already been loosely indoctrinated into the Kiwi triathlon system, linking up with a number of Tri NZ elite squad members during a first extended offshore campaign earlier this year.
She can't wait to strengthen those friendly rivalries as the Oceania calendar ramps back up following the scheduling devastation caused by the pandemic.
"I did a block of racing in Europe and Canada over our winter and linked up with a lot of the Tri NZ HP athletes which was super fun. It was a really friendly and inviting group and I had a blast," said Llewellyn.
"I'm heading over to base myself in Wanaka for February and March and will travel to the Oceania races from there. I'm looking forward to seeing how much more I can improve and become more competitive against the other girls."
Llewellyn, who like Scott is coached by Tim Brazier, had a topsy-turvy start to 2022 with 14th, DNF and 11th placings in Devonport, Mt Maunganui and Taupo respectively before a 45th and DNF at European Cup races in Coimbra and Kitzbühel.
There was more middle-packing with a 12th place at Africa Premier Cup Larache, 23rd at the Canadian sprint championship and 40th at the Americas Cup Long Beach but Llewellyn knows she has to be patient learning her new trade.
"I'm relatively young in terms of racing age but not super young in actual age," she says with a smile.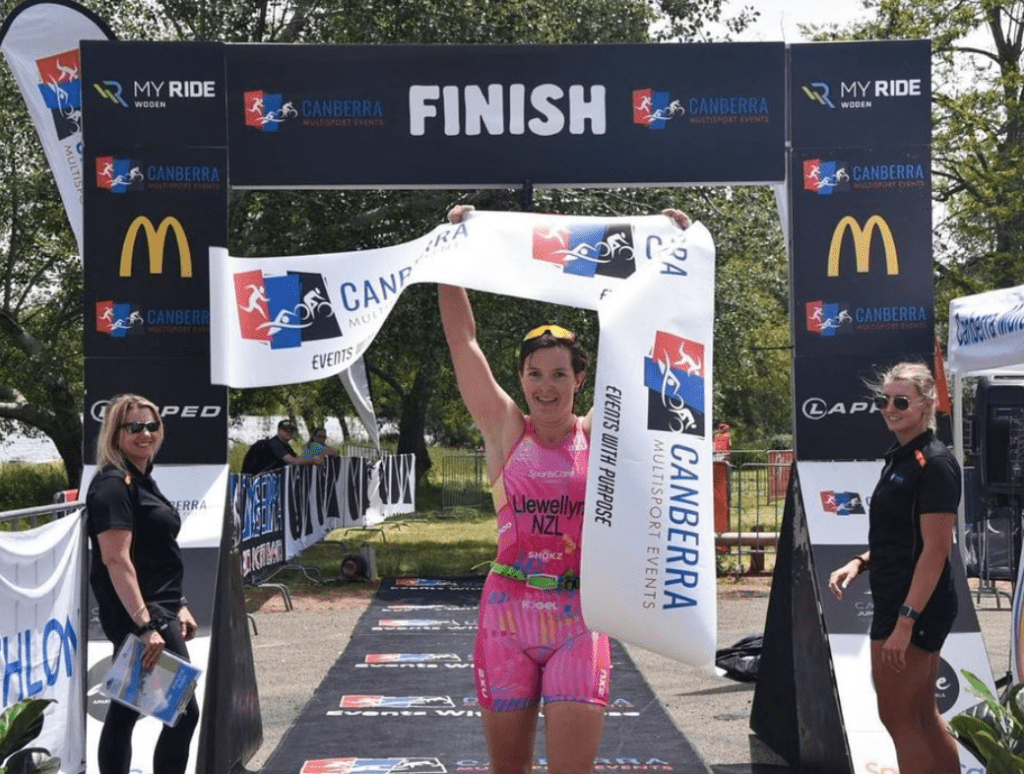 It's not surprising then that while others are tailing off for the year, Llewellyn can't get enough racing. Sadly that's been easier said than done recently.
She had intended to start her Southern Hemisphere season at the Garmin Noosa Triathlon earlier this month only for ongoing migraines to leave her bedridden for 24 hours, eventually forcing her late withdrawal.
"I've had a bad bout of sickness and then some health issues with the migraines which has interrupted my training in October so I didn't get to start at Noosa which was really disappointing. I'm just glad to get a local race under my belt before Malaysia."
The season-opening victory in Canberra gives her hope that she hasn't lost too much conditioning with an eye to Saturday's sprint distance test in Ipoh and short-course races beyond.
"A lot of people tend to go to the long course stuff at my age but I enjoy the fast stuff so I'm not ready to leave the World Triathlon racing yet.
"I had a great coach, [2004 South African Olympian] Megan Hall, while I was racing age group and then moved to Tim to take the next step for racing elite and he's stepped up my training and developed me so much already.
"But I know there is a lot more for me to improve on and I'm excited for that."