Images: Sean Beale/ www.seanbeale.com
By Kent Gray/Triathlon.kiwi
To Aussie Callum McClusky the spoils, to Kyle Smith first Kiwi blood of the summer and to Tayler Reid the poignant final word.
Friday night's Oceania Cup Wanaka podium place-getters delivered in spades on the race track and long after McClusky had outkicked comeback kid Smith and proud Gisborne boy Reid in a thrilling sprint finish.
McClusky was tangled up in an early bike crash but the world No. 127 stormed home with a 14:24 5km run split to claim his first World Triathlon podium since the 2019 Dnipro ETU Sprint Triathlon European Cup in Ukraine.

Just five seconds separated McClusky and Dylan McCullough in 4th place, underscoring just how competitive the sprint race was. The performance of Palmerston North 19-year-old Sam Parry in 6th, Janus Staufenberg in 9th (despite cracking his headset in the crash) and Lachlan Haycock in 10th were further Kiwi highlights.
The key narrative through a 2024 Olympics Games lens though was the mere second that separated Smith and Reid at the finish. It was a great start to Smith's 11th-hour bid to claim what is likely to be a second male spot for Paris in 18 months time. With Kiwi No.1 Hayden Wilde a shoo-in barring incident, the race is on to unseat Reid as the established No.2 and in that context, it was an early season blow for Smith.
"Yeah that was pretty hard. My last race was Kona, that didn't go so well [WD from the Ironman worlds] and I had to turn up the gears a couple for today, that was really hard," Smith told Triathlon.kiwi.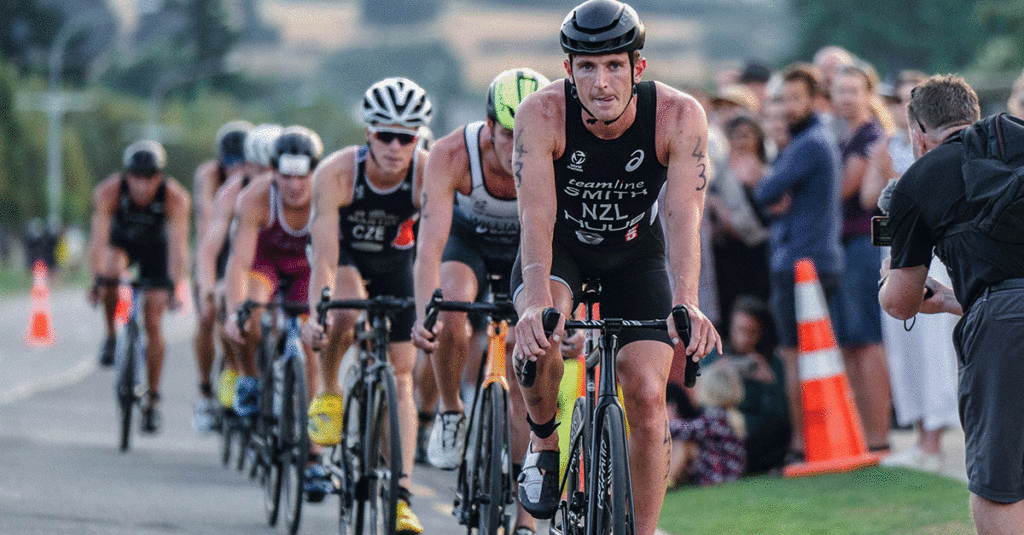 "Unfortunately I couldn't go with Callum, he was running incredible, he was running like a cut cat but that's alright, we had a good hit out for the first World Triathlon race back in a three years or so and off to a good start I guess."

You must be pleased to lay down an early marker for the selectors to ponder?

"It was always a goal of mine to get to the Olympics when I was a kid. And I stepped away from the sport in 2019, I didn't really step away I went to long distance but yeah, we're now 18 months away from Paris and I'm going to give it everything to get there."

The pace was on from the get-go in Lake Wanaka, a rude 750m awakening for an athlete who has been focused more recently on longer endurance racing.

"The swim wasn't so good, they just went off so hard, I forgot how furious that first couple of hundred metres is," Smith continued. "Managed to use my biking strength, we were riding really well as a group, the boys were really respectful and then it just became a running race and unfortunately Callum just had those extra legs today."
McClusky's 5km was impressively 30 seconds faster than the next quickest run time produced by McCullough.

"There were a few crashes on the bike so I had to get around them and lost a bit of time on the front guys so I had to work really hard on the run and luckily I got it," McClusky said.
"I was in the group behind and I caught them on the second lap [of three]. I just sat on them in the head wind and then I went in the tail wind and I got a little gap. But I didn't know I had it till the end because they were coming hard at the end in the sprint finish… I had to work the whole way."
McClusky will now be the man to beat as the elite summer of tri shifts to Oceania Cup Taupo next Saturday before the Oceania Mixed Relay Championship the following day.

Reid will be among the most fired up to avenge the Aussie and his old pal Smith.
"Oh yeah, that was so bloody hard," Reid said. "Good race with the boys, we really smacked that bike and that was really cool, all of us are doing big blocks of training, came out, smacked the end of the swim, came out onto the bike and me and Dylan [McCullough] were just ripping it, trying to tear the legs off everyone.

"Boys were running well together, got hit by that surge by Callum real…on that last lap and I just couldn't respond unfortunately and then bloody lost the sprint to Kyle. I don't lose too many sprint finishes so I'm pissed about that but the rest of the race was good."

It must be good to have Smith back in the mix, upping the ante with Paris looming?

"Yeah. I was really appreciative when he rolled up on the bike with us, especially when it was me and Dylan it was pretty hard. It was nice to have Kyle, it felt like old times us boys lapping out together. Unfortunately we couldn't get the Aussies on the line but it's alright."

Reid was asked to rate his form so early in the season but in trademark #GissyHard fashion turned the question around, remembering the folk back at home hit so hard by Cyclone Gabrielle. It was a fitting end to a thrilling night.

"I can't complain, I haven't really stopped the training, haven't buttoned it off, it's been really good. The only thing that has been playing on my mind is I'm out here in the sun and I'm really just thinking about everyone back home in Gissy.

"My heart goes out to everyone, hope they get the water going soon and yeah, just sending heaps of love to my family and everyone in Gissy. I wish I was back there doing the hard yards, the proper hard yards with you guys."