Photos: Lisa McClure/Canterbury Classic
By Kent Gray/Triathlon.kiwi
The Canterbury Classic delivered all it promised on Sunday and more – swimming as it turned out – with New Zealand reps Saxon Morgan and Brea Roderick predictably claiming the men's and women's (slightly more than) standard distance titles in Lyttelton.

Morgan brushed off a recent bout of Covid-19 to complete the undulating 1500m swim, 40km bike, 10km run in 2:15:57, though his watch measured the Corsair Bay swim at closer to 2400m. The 22-year-old certainly wasn't complaining with the extra training miles and had a stress-free 7:45 to spare back to Wanaka silver medallist Laurie Watson (2:23:42) who claimed the 20-24 Suzuki NZ South Island Standard Distance Championship title to boot. Cantabrian Tom O'Neil rounded out the overall podium en route to winning the 25-29 title in 2:36:24.
Roderick, meanwhile, finished her maiden standard distance triathlon in an impressive 2:25:45 considering the bonus freestyle and hilly terrain. That was good enough for third across the line overall behind Morgan and Watson and saw the 20-year-old win the women's title by 17:18 from Southlander Sophie Shallard (2:43:03). Canterbury's Olivia Ritchie (2:44:11) was a further 68s adrift in third overall to claim the Suzuki NZ SI Championship 25-29 age group with Shallard taking the 20-24 title.
The Canterbury Classic served as a secondary Tri NZ qualifier for September's World Triathlon Age Group Standard Distance Championship in Pontevedra, Spain while elites Morgan and Roderick appreciated the challenging hit out ahead of Oceania Cup Wanaka on Feb. 17 – the start of the elite Kiwi summer.
"I didn't know what to expect after Covid and a bit of a lack of fitness but I felt pretty good so happy with it. Body felt pretty good," Morgan said.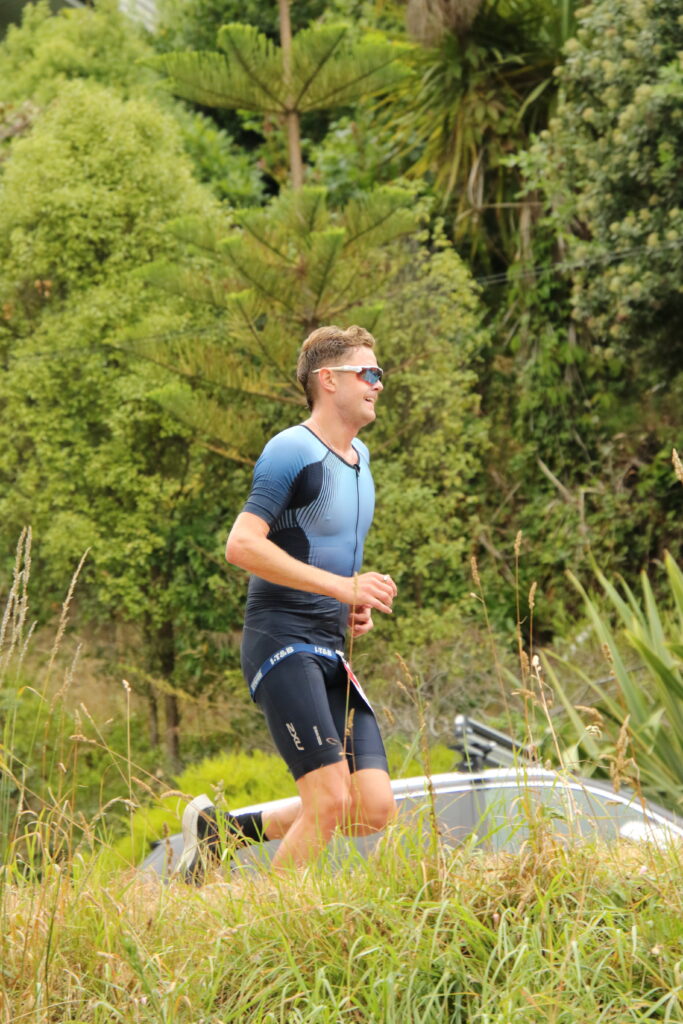 "The swim was good. It was a bit long, probably closer to 2½ k than 1½ but it was still good, a bit of extra training which was nice. The bike again was good, solo, good undulating hills and the run again, just did what I need to do, took it a bit easier which was nice.
"I could kind of go my own pace which was nice and focus on what I wanted to, basically just stay within a comfortable zone and not push myself too hard. Obviously, it's still pretty soon after Covid so I don't want to put my body under too much stress… it was quite nice not being too pushed coming into the run so I could just take it a bit easier."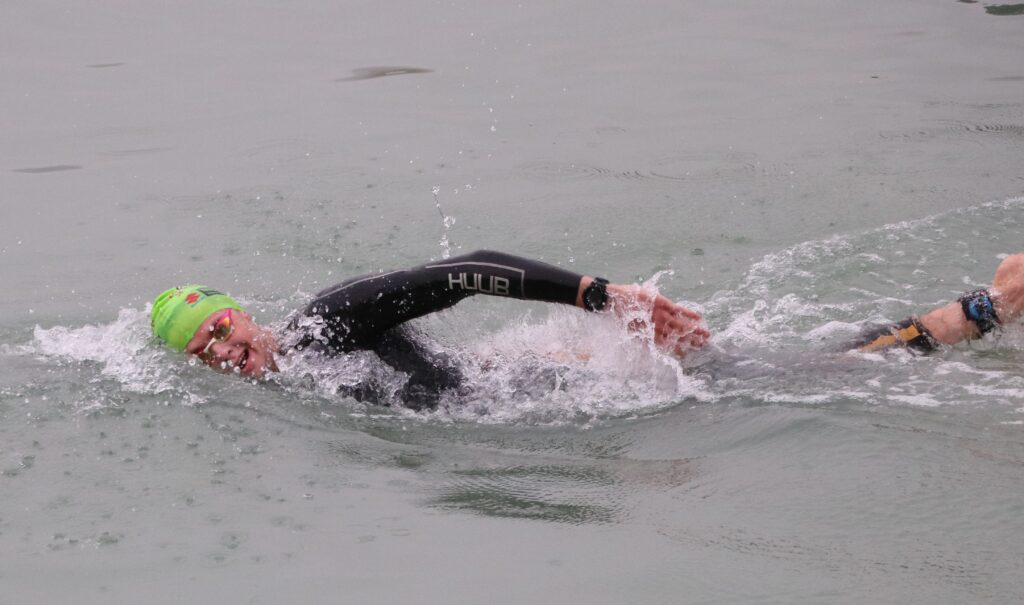 Morgan's swim split was 31:05, a decent chunk of which was taken summiting the nasty wee uphill kick into T1.
"It was like 29.45 out of the water, I think it was about probably about 2.3 to 2.4k rather than 1.5 but it was all good. Nice morning to be in the water. That hill straight out of the water gets the heart rate up that's for sure." Morgan continued before looking ahead to Wanaka.
"It's a good start to the year, slowly build the fitness back up, good starting point but definitely got a bit more fitness to gain before leading into the bigger events of the year.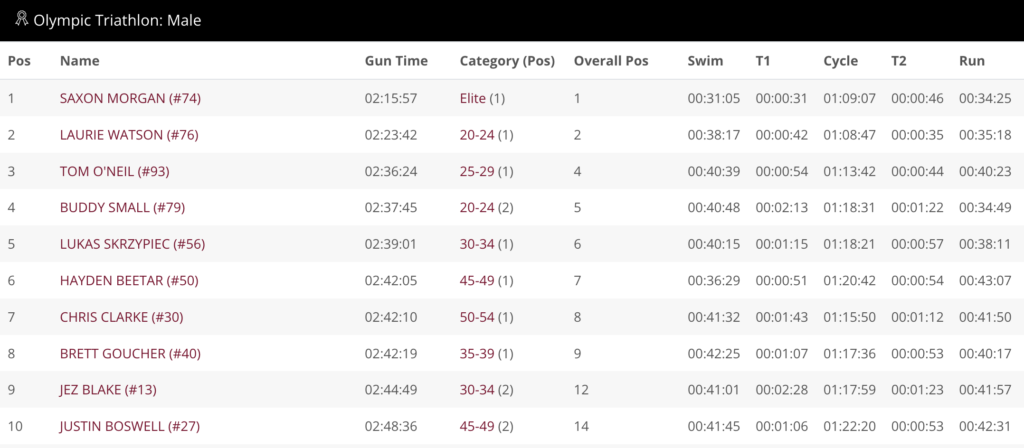 RODERICK 'HAPPY' AFTER SWIM CONFUSION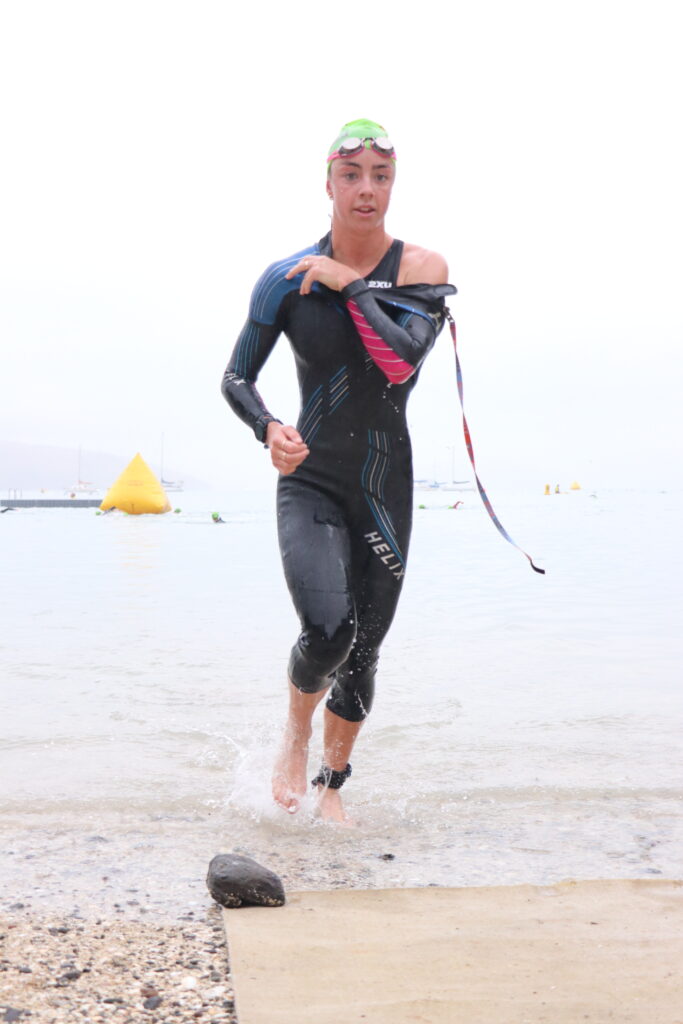 The additional swimming in Corsair Bay had Roderick sweating mentally as she started her first standard distance race after graduating from the junior (U19) ranks.
"As you can imagine I felt like I was swimming very slowly," Roderick told Triathlon.kiwi with a laugh.
"I genuinely felt like I was going so slow so to find out afterwards that we did an entire lap extra makes me feel a bit better. I felt pretty good, pretty strong on the bike, tried to ride to a good power and then just make sure I was fuelling enough with gels and water and then on the run I also felt really strong too so pretty happy with it overall."
Roderick's performance was especially impressive as it was her first race since finishing 5th at European Cup Alhandra in Portugal on September 4. It's a confidence shot heading into the Oceania Cup sprints in Wanaka and Taupo on February 17 and 25 respectively before World Cup New Plymouth on March 26.
"Today's a lot longer than what we'll do in Wanaka and Taupo so now it's time to shorten it up and work on some speed stuff for the shorter, more intense events but it's good to have that and kind of have done all the base work.

"Today proved there is a base there so it's good."