By Super League Triathlon
Vincent Luis continued his dominant form in Super League by coming from behind to take another convincing win in Malta.
If the crowd thought the men's race would be any less dramatic then the remarkable scenes in the women's, they'd be wrong.
It was Portugal's Vasco Vilaco who took the fastest time in the ITT, which gave him the first dive in the pursuit-style start for the Shortened Enduro. Luis would have to wait sixth-in-line to dive into the warm Maltese water after a mediocre ride in his ITT.
The Frenchman made up time in the swim and transitioned first onto his bike. A front-pack quickly formed, with Belgium's Marten Van Riel and Norway's Kristian Blummenfelt staying close to the pink jersey leader.
New Zealand's Hayden Wilde didn't have the best swim of his life, and his late exit out the water saw him fall behind on the bike leg. The 'Maltese Falcon', as he's known on the Super League circuit, delivered a big performance throughout the rest of the race to put himself in the leading group of four.
Blummenfelt saw his opportunity for a lead on the final run and manoeuvred a bold overtake, but Luis was saving himself for the sprint up the last hill, which saw him fire ahead of the Norwegian to take his victory; Blummenfelt had to make do with second place. Wilde and Van Riel were fighting up the final hill for the last podium spot, and it was the cheering crowd that boosted young Wilde ahead of the Belgian across the line.
The South African duo, Henri Schoeman and Richard Murray, were clearly still recovering from their recent illnesses, with Schoeman finishing just outside of the Top 10 and Murray suffering the race's first elimination after falling more than 90 seconds behind.
The intense pace and heat of the day proved too much for France's Léo Bergere and Hungary's Csongor Lehmann as they too faced the wrath of the brutal elimination rule.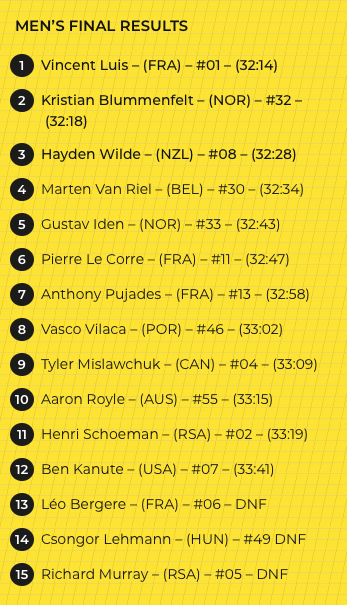 Current standings:
Vincent Luis – 30pts
Hayden Wilde – 25pts
Pierre Le Corre – 24pts
Kristian Blummenfelt – 21pts
Marten Van Riel – 20pts
COLOURED JERSEY HOLDERS (AFTER DAY 2):
Pink (Series Leader): Katie Zaferes (USA) / Vincent Luis (FRA)
Blue (Fastest Swim): Sophie Coldwell (GBR) / Vincent Luis (FRA)
Green (Fastest Bike): Rachel Klamer (NED) / Hayden Wilde (NZL)
Red (Fastest Run): Cassandre Beaugrand (FRA) / Hayden Wilde (NZL)
Grey (Fastest Transition): Yuko Takahashi (JPN) / Hayden Wilde (NZL)