Tayler Reid crowned U23 World Champion on the Gold Coast.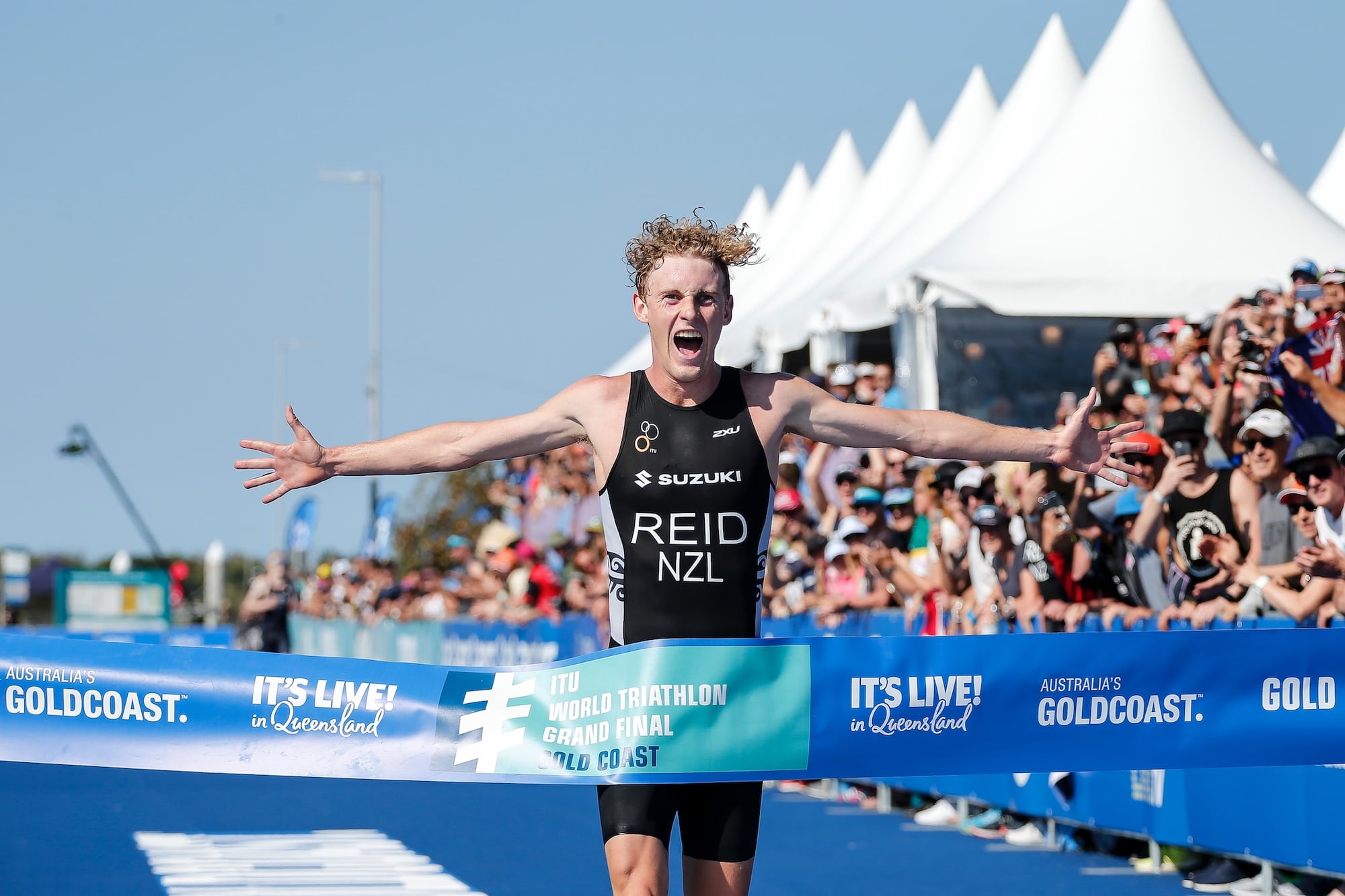 Published Date: 14 September, 2018
Triathlon New Zealand athletes capture three top ten spots at the 2018 ITU World Triathlon Grand Final including Tayler Reid grabbing the top podium spot.
Reid showed incredible determination on the run pulling away with 2km to go having been side-by-side with Britain's Samuel Dickinson and France's Leo Bergere for most of the 10km run.
"Today it all came together, I saw all my family on every lap, I just felt good, and I thought I am going to go for it" said Reid. "I came out of the water second and the boys were working well together putting lots of time into the fast runners. In the past I've  got too excited and I've gone out too fast, too soon so I was conservative on the bike and took my turns onto the run. Whilst I was running I was thinking World Champion and I just wanted it so bad. I took a risky move but I just felt good so I went for it, dug deep and went full gak to the finish-line."
Reid's coach Stephen Sheldrake is thrilled with his athletes performance.

"We sat down seven years ago and wrote down a plan to 2024 and on that pathway was medalling as an U23 athlete." said Sheldrake. "We have achieved that a year earlier than planned. People have talked about Tayler being a great swim/biker but not being able to run and today w'eve seen thats not the case. All he had to do today was get to the run having not burnt all his matches and we knew he'd be in a good space. I did think that maybe he'd gone too early on the run but he had the confidence and extended it out for the win with a perfectly executed race."

Hayden Wilde finished in ninth position after a hard swim left him well back getting onto the bike. 'I'm pretty disappointed with my swim coming in forty-five seconds down from the leader after a poor second lap battling other competitors in the water. said Wilde. "I got on the bike and worked hard catching the second group and saved some energy for the run. I think I  came of the bike in about thirtieth and ran myself into the top ten so I'm happy with that." 

Nicole van der Kaay finished in fourth position in the womens race after Taylor Knibb of the USA built up a three minute lead on the bike with a chasing pack of eleven riders including van der Kaay and the fast running French athlete Cassandre Beaugrand.  It soon became a battle for third for van der Kaay swapping that position with Italy's Angelica Olmo a couple of times.
It was a tough day, bitter sweet to get fourth just off the podium" said van der Kaay. "I'm happy with how I raced as I wasn't feeling super powerful, I gave it my all".
 
Mark Elliot, High Performance Director of Triathlon New Zealand is thrilled with the progress that's been made. "It's great to see three top tens today and it's a true reflection of the hard consistent work that these guys have put in since last year. They came out of a relatively average performance at Rotterdam as everyone was still growing.' Elliot went on to talk about each of the top ten finishes. "I've always known Taylor has the ability to be at the front and in the first 3-4km on run  he said he felt good so we were excited to see what was going to happen. It was great to see that once Hayden found himself in the second bunch he just sat up and realise he didn't need to force the pace and waste a lot of energy.  It was great to see that maturity from Hayden and that he could see the bigger picture. Nicole was out of the water in touch with some of the best swimmers on the WTS circuit and she always runs with confidence. She still has a couple of years in this age group which is very exciting too."

Claire Beard, CEO of Triathlon New Zealand said that is had been an exciting day for triathlon in New Zealand.
 "It's outstanding to see such amazing results from dedicated athletes performing so well on the international scene. What an exciting time for triathlon in New Zealand."
  
Full men's race results can be found here
 
Full women's race results can be found here

Pictured : Tayler Reid
Photo Credit : ITU Media / Wagner Araujo