The Triathlon New Zealand Suzuki National Championships are the pinnacle of events on our domestic calendar for all members. These races hold a special place in the heart of many triathletes around the country and are always hotly contested. Both with the Suzuki National Championships and secondary qualifying 2019 Age Group Team events, the Triathlon season is jam packed with awesome racing from top to bottom of the country.
Click here, or click the image below, to find out more about the Suzuki car giveaway.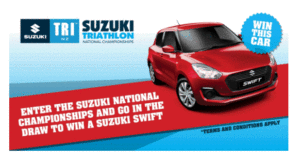 Currently Triathlon New Zealand are calling for Expressions Of Interest (EOI) for National Schools Triathlon and Duathlon Championships for the 2019/20 season.