Golden second day for New Zealand at Youth Olympic Games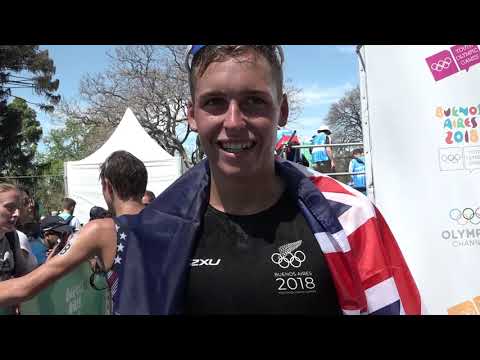 Published Date: 09 October, 2018
New Zealand Olympic Committee
Triathlete Dylan McCullough from Auckland has claimed New Zealand's first medal of the Youth Olympic Games, winning gold against a stacked field in Buenos Aires.
"It was a very special feeling crossing the line," McCullough said. "I didn't look back the whole run."
The 18-year-old broke away to a 13 second lead in the run, after a tight-fought bike ride with Italy's Alessio Crociani.
"At the changeover I could just hear everyone screaming 50 seconds! [The pack] are closing in," he said.
"I thought it was pretty touch and go heading into the run so yeah… to look back on the finishing straight and know I couldn't see them – it was very cool."
There's little time to celebrate, McCullough will line up alongside New Zealand teammate Brea Roderick for the Oceania team in the mixed relay, later in the Games.
McCullough's gold adds to New Zealand's strong history in triathlon at the Youth Olympic Games.
Aaron Barclay won at Singapore 2010, and Daniel Hoy placed second four years later at Nanjing 2014. New Zealand athletes also combined with the Australian pair in the Mixed Relay Team Event to win silver in 2010 and bronze in 2014.